Nov 1, 2011 — by LinuxDevices Staff — from the LinuxDevices Archive — 14 views
CSR says its new "SiRFusion" technology will combine information from satellite, Wi-Fi, cellular, and various sensors, providing reliable navigation even indoors. It will be offered next year on "SiRF starV" receiver chips, according to the company, which also announced availability of a "SiRFprimaII" SoC (system on chip) that includes both a navigation engine and an ARM Cortex A9-based application processor.
SiRF has been known for the wide adoption of its GPS platforms by PND (personal navigation device) and smartphone platforms. It was acquired in 2010 by CSR (formerly known as Cambridge Silicon Radio), which is continuing the announcement of products whose names challenge our capitalization abilities.
CSR has steadily boasted of the quick TTFF (time to first fix) offered by its GPS receivers — justifiably, according to reviewers — and its most recent SiRFstarIV model added dead reckoning. This meant the device could keep track of vehicles even when they passed through tunnels or "urban canyons."
Still, indoor operation remained problematical. That has increasingly become an issue, as location-aware apps spread like wildfire.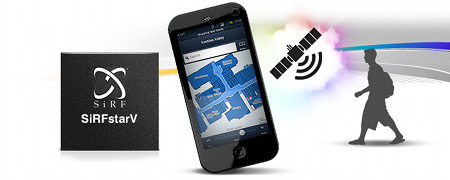 Forthcoming SiRFstarV chips will be the first to offer SiRFusion tech
(Click to enlarge)

So now, CSR is announcing what it calls its "SiRFusion" platform. Instead of relying solely on a GPS, Galileo, or Glonass satellite to determine position, this also garners information from Wi-Fi and cellular radios, plus accelerometers, gyroscopes, and compasses, the company says.
"By combining real-time Wi-Fi and satellite positioning information, pedestrian dead reckoning (using MEMS sensors), and crowd sourced location and aiding data from a cloud-based server, SiRFusion technology is able to achieve the rapid and more accurate indoor position fixes needed to make continuous indoor navigation a part of everyday life," CSR said in a Nov. 1 statement.
Kanwar Chadha, the SiRF founder who's now CSR's Chief Marketing Officer, was quoted in a PCMag.com interview as adding that the SiRFusion platform will also save battery power. When a mobile device is sitting indoors stationary at a desk, its location engine can be powered down until an accelerometer signals there has been movement, he reportedly promised.
According to CSR, SiRFusion will be offered in one or more SiRFstarV chips. Further details were not provided, but the previous SiRFstarIV is offered in both a GSD4e version, which includes a 109 MHz ARM7 CPU and is intended for devices such as cameras, and a GSD4t, which requires a host CPU to run navigation libraries.
Combining a navigation engine with an ARM Cortex-A9 core
CSR also announced a single SoC that melds a location engine with an ARM Cortex-A9 application processor. Clocked at up to 1GHz, the "SiRFprimaII" will run Windows CE, Android, or Linux-based operating systems compliant with the Genivi Alliance in-vehicle infotainment (IVI) spec. Indeed, the SoC is primarily aimed at automotive customers, according to the company.
The 40nm SiRFprimaII includes multi-GNSS (global navigation satellite system) baseband processor, capable of supporting all global navigation satellite systems, according to CSR, but is apparently intended to be combined with a separately available TriG GNSS radio. Other components in a complete solution include the CSR8311 Bluetooth and CSR6031 Wi-Fi solutions as well as CSR Synergy integrating software, the company adds.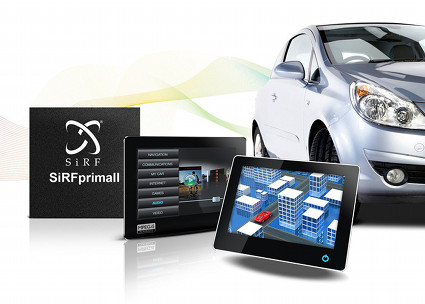 The SiRFprimaII
(Click to enlarge)
According to CSR, the SiRFprimaII offers DDR3 and NAND flash memory controllers, analog power management functions, a "superior" audio codec, plus an LCD touchscreen controller that drives displays up to 1280 x 720 pixels. It also provides hardware acceleration for 3D graphics and 1080p video decoding, says the company.
CSR claims the SiRFprimaII delivers "more than twice the throughput" and "three to four times more powerful graphics and multimedia acceleration," compared to its first generation SiRFprima SoC. That device, introduced in Feb. 2008, combined a GPS receiver with an ARM11 application processor and Imagination Technologies PowerVR MBX graphics IP.
In June 2009, SiRF announced the SiRFatlasIV, billed as a more affordable version of the SiRFprima that included the same location engine and a similar 500MHz ARM11 core. May 2010 brought the SiRFatlasV, claimed to offer even further integration, reduced power consumption, and a clock speed bump to 600MHz.
Meanwhile, SiRF is not the first vendor to offer a GPS-enabled Cortex-A9 SoC. We believe honors in that regard go to Samsung, whose 45nm-fabbed Exynos 4210 went into production earlier this year.
Further information
According to CSR, the industrial-grade SiRFprimaII SoC and TriG RF radio devices are "available now for products slated for manufacturing starting in 2012," and auto-qualified parts are planned for 2013. An evaluation board and form-factor reference design are available, including board-support packages, for Windows CE, Android, and Linux/Genivi operating systems, the company adds.
The SiRFstarV chips, which will be the first to utilize the SiRFusion platform, will be available in 2012, according to the company.
More information may be found on the SiRFprimaII product page and the SiRFstarV product page.
Jonathan Angel can be reached at [email protected] and followed at www.twitter.com/gadgetsense.
---
This article was originally published on LinuxDevices.com and has been donated to the open source community by QuinStreet Inc. Please visit LinuxToday.com for up-to-date news and articles about Linux and open source.