May 28, 2010 — by LinuxDevices Staff — from the LinuxDevices Archive — 36 views
CSR says it's now shipping a Linux-compatible SoC (system on chip) incorporating an ARM11-based application processor and a 64-channel GPS engine. The SiRFatlasV offers 500 or 664MHz clock speeds, supports VGA-resolution video, supports DDR2-400 RAM, and includes an on-chip audio DAC and power management unit (PMU), the company says.
Known for the wide adoption of its GPS platforms by PND (personal navigation device) and smartphone manufacturers, SiRF introduced its most recent such product, the SiRFatlasIV, in June of last year. Very shortly thereafter, the company was acquired by CSR (formerly known as Cambridge Silicon Radio), and now comprises the latter's U.S. base.
The new SiRFatlasV again uses an ARM1136JF-S computing core, now offered with a 664MHz clock as well as the former 500MHz speed. CSR compares the V and IV by saying that the newer device has reduced overall power consumption by 10 percent. In addition, BOM (bill of materials) has been reduced via integration of a number of external components, the company claims.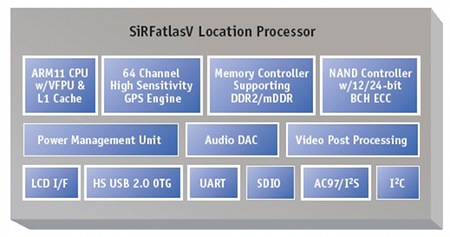 A block diagram of the SiRFatlasIV
(Click to enlarge)
Regarding power consumption, it's said the "SiRFAlwaysFix" technology employs proprietary power management and orbital (ephemeris) prediction algorithms. Significantly faster times to first fix result from always keeping the SiRFatlasV in a hot-start condition, without the GPS receiver having to be at full power, the company says. CSR's new "SiRFHibernation" technology, meanwhile, is claimed to cut off DRAM power completely when the system enters standby mode.
As for integration, the SoC now includes an on-chip audio DAC and PMU, says CSR. Single stereo and mono audio outputs are each said to offer a 93db S/N ratio and 70db total harmonic distortion ("A" weighted). The PMU features two switching DC/DC sources for the SiRFatlasV core and DRAM, plus four low-noise, low-drop-out sources for I/O, peripheral, PLL, analog and RF power, the company says.
According to CSR, the SiRFatlasV now supports DDR2-400 memory, meaning manufacturers can use low-cost commodity memory chips in their designs. Similarly, the new 8-bit NAND flash memory controller interface, with 12/24-bit configurable ECC support, allows the use of less expensive 3x-nm raw multi-level-cell (MLC) NAND flash memory chips, the company adds.
The SoC's GPS engine is apparently similar to that of the SiRFatlasIV, which in turn used a "high sensitivity" engine inherited from the earlier SiRFprima SoC. The 64-channel, multi-satellite system was claimed to be one of the first that supported both the American GPS and European Galileo systems.
An integrated VPP (video post processor) handles video rendering and display, supporting displays up to 800 x 480 pixels, H.264 video at resolutions up to QVGA (320 x 240), and VGA MPEG-3 playback, says CSR. It was not made clear, however, whether the SiRFatlasV employs Powervr IP from Imagination Technologies, as did the SiRF Prima for example.
Peripheral connectivity is said to include:
4 x SD/MMC+/SDIO, for Wi-Fi, digital TV, NAND storage, and memory cards
2 UARTs
2 x I2C
12-bit ADC with touchscreen controller
High-speed USB 2.0 On-The-Go
I2S
AC '97 audio
Ahmet Alpdemir, SVP for the automotive/PND business unit of CSR, stated, "We are very pleased with the customer and partner response to [the] SiRFatlasV. AtlasV is already in use by a number of leading original equipment and original device manufacturers, including GlobalSat Technology Corporation, Mango Research Corp., Mobile Devices, Topicon HK Limited and YF International Limited."
Kim Chau, senior partner manager for Windows Embedded at Microsoft, stated, "Microsoft is excited to be working with CSR to deliver rich, specialized application experiences on the SiRFatlasV navigation platform. CSR has created an optimized and developer-friendly Windows Embedded CE 6.0 platform for mobile navigation."
Availability
According to CSR, the SiRFatlasIV is available now "in high volumes," measures 13 x 10mm in a 285-ball grid array package, and supports both Linux and Windows CE 6.0. Pricing was not stated.
Further information on the SiRFatlasIV may be found on the CSR website, here.
---
This article was originally published on LinuxDevices.com and has been donated to the open source community by QuinStreet Inc. Please visit LinuxToday.com for up-to-date news and articles about Linux and open source.