Mar 25, 2011 — by Eric Brown — from the LinuxDevices Archive — 50 views
Sparkpad has begun selling customizable display computers at sizes ranging from eight to 15 inches, complete with a touch-ready, Lua-based Linux SDK and promised Android support. Sparkpad's Wi-Fi enabled tablets and panel PCs run on ARM11-based Telechips 8902 processors, and are touted as enabling customers to develop and deploy their own touch panels, digital signage systems, and tablets quickly.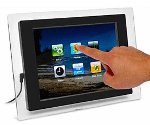 Sparkpad offers customers a free Linux software development kit (SDK), enabling them to create interactive touchscreen applications. The company then preloads the applications onto any number of Sparkpad devices "negating the need to engage in costly R&D or custom development projects with traditional embedded system manufacturers," says the company.
The Sparkpad platform is in use by several pilot customers, and also powers the Linux-based iGala digital picture frame (pictured above right), says Sparkpad. The iGala device was said to be the first consumer touchscreen photo frame to connect wirelessly to the Internet.


Eight-inch Sparkpad STB8-1210
The SparkPad tablets and panel-PC devices are built around the
Telechips 8902
processor, which has appeared on a variety of Linux, Android, and Windows CE tablets and mobile Internet devices over the last few years.
Although the Telechips is only an 800MHz ARM11 processor, it includes a GPU (graphics processing unit), a DSP (digital signal processor) for video acceleration, and an OpenGL 2.0 3D graphics accelerator. (For more information, see our December coverage of the seven-inch Coby Kyros Tablet MID7015 Android tablet.)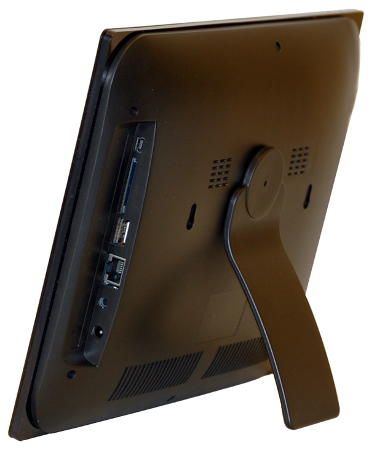 Rear view of 10-inch SCD10-1210S
(Click to enlarge)
Sparkpad offers a 10-inch touchscreen-enabled SCD10-1210S (above), as well as a 15-inch, non-touch, remote-controlled SCD15-1210S, both running Linux. It will soon offer an eight-inch Android-based touchscreen tablet called the STB8-1210 that clocks its Telechips 8902 to 600MHz instead of 800MHz.
The three display computers share features including 256MB DDR2 RAM, 2GB flash, 802.11b/g, an SD slot, and an 3.5mm audio port, says Sparkpad. While the 10- and 15-inch models offer Ethernet, as well as both USB and mini-USB ports, the eight-inch Android tablet lacks Ethernet, and offers only a mini-USB port. However, it is also the only device said to support streaming video.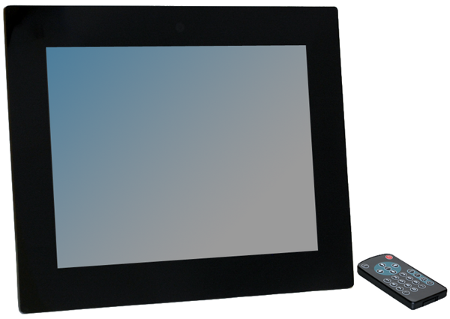 15-inch Sparkpad SCD15-120S
The 10- and 8-inch touch-enabled models use resistive technology and offer 800 x 600 resolution, says Sparkpad. The 15-inch, non-touch model moves up to 1024 x 768, says the company.


The Box SBX-1210
In addition to the Telechips-based display computers, Sparkpad offers a box computer that works with any third-party display called the "The Box SBX-1210." The Box goes off in a different direction with a 400MHz, MIPS-based Broadcom BCM7213 processor.
LUA-based Linux SDK, with Android coming soon
As noted, the Sparkpad devices are supported with a free, open source Linux SDK that offers sample code and instructions for customizing displays in the Lua scripting language. Lua, which underlies GUI frameworks such as FST's Fancy Pants and is widely used in game development, is a PHP-like, graphics-oriented, lightweight scripting language. Lua is also supported by Google's Android Scripting Environment.
Sparkpad SDK features include a Windows emulator, XML parsing, RSS ingestion, Wi-Fi setup, and OTA updates, says Sparkpad. Additional features are said to include image slideshows, media streaming, video playback, and calendar/clock functions.
A similar SDK supporting the eight-inch Android tablet will be coming soon, supporting Adobe Flash and HTML5, says the company.
Stated Drew Weaver, CEO and Co-founder of Sparkpad, "With Sparkpad, companies large and small can now deliver unique digital experiences to their customers without needing to know much, if anything, about hardware design, manufacturing logistics or embedded systems software development."
Availability
Sparkpad's 10- and 15-inch display computers are available now at variable pricing ranging from $240 to $255 (10-inch) and $280 to $295 (15-inch) in volumes under a thousand, with additional discounts available for larger shipments. The eight-inch Android tablet is "coming soon," says the company.
More information may be found at the Sparkpad website.
---