Feb 2, 2012 — by LinuxDevices Staff — from the LinuxDevices Archive — 11 views
Peek has discontinued its low-cost, email-and-texting service but is challenging hackers to "build something great" with the leftover handhelds, according to The Verge. The Peek devices include a 2.5-inch screen, a QWERTY keyboard, an ARM7-based processor, and a GSM cellular modem, according to the company.
The Peek handheld was introduced in 2008 to much acclaim, including winning the "Gadget of the Year" award from Time. The gadget's popularity stemmed from both its simplicity of operation and its low price: only $50 for the original Peek Classic — later offered by Amazon for just $20 — and $80 for a successor called the Peek Pronto (below).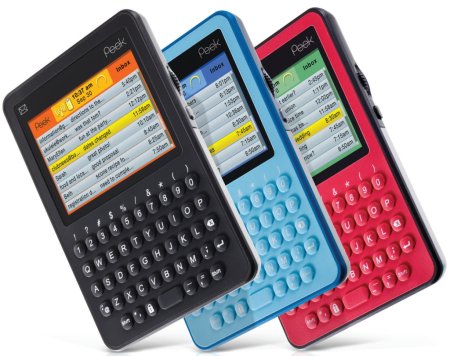 Peek Pronto
(Click to enlarge)

Meanwhile, use of Peek's high-speed wireless data network, providing unlimited email and text messaging, was priced at only $20 per month. But, according to a Feb. 2 story on The Verge, the service has now been shut down.
"The US market is crazy expensive and you cannot get a cheap easy connected device. You have to pony up $50 or more per month. That sucks, but Peek is too small to change that," Peek CEO Amol Sarva is quoted as saying.
Peek has left the hardware business and will now concentrate on selling services "designed to make inexpensive feature phones smarter." But, The Verge's Chris Ziegler added in a followup posting, the company has "a few thousand" Peeks in a warehouse, and hopes "somebody can [use them to] build something great."
Sarva is said to have added candidly, "the operating system sucks but is workable." In mid-2009, Peek challenged developers to create a Linux port for the device, but as far as we're aware, nothing ever came of it.
The device's operating system started as a Texas Intruments (TI) version of the real-time Nucleus OS, then was wrapped in a proprietary GUI and network libraries by Peek's developers. "The whole thing is built as a single image, thus the distinction between OS and [e-mail] app is blurred," according to an elinux.org page.
The Peek and Peek Pronto — along with a third Peek 9 device referenced by The Verge's Ziegler — were based on a Texas Instruments (TI) ARM7-based LoCosto processor designed for "ultra-low to entry-range wireless handsets."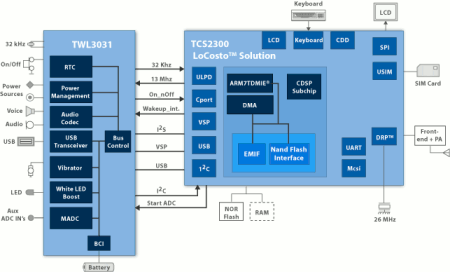 TI LoCosto block diagram
(Click to enlarge)

Introduced in March 2009, the Pronto version of the Peek measured 4.0 by 2.7 by 0.4 inches and weighed 109g, according to Peek. It offered a 2.5-inch QVGA screen, a QWERTY keyboard, and a rechargeable lithium-ion battery. It also included a cellular data-only radio that runs on T-Mobile's network.
The Peek Pronto was said to offer the following features:
Push email
Unlimited email and texting
Compatibility with Microsoft Exchange
View images/PDF/doc files
Access to up to five email accounts
Ability to search for emails on the device
50 percent improvement in speed of the software
Larger font size option
Further information
According to The Verge, Peek will throw in "some tools" to help hackers work with its remaining devices; presumably, the hardware will be provided free or at cost to those who want to tinker with it.
"Interested folks should contact Amol himself via email — amol at peek.ly — and he says that one of the company's developers will be in touch," Ziegler adds.
Jonathan Angel can be reached at [email protected] and followed at www.twitter.com/gadgetsense.
---
This article was originally published on LinuxDevices.com and has been donated to the open source community by QuinStreet Inc. Please visit LinuxToday.com for up-to-date news and articles about Linux and open source.