Aug 10, 2009 — by LinuxDevices Staff — from the LinuxDevices Archive — 1 views
Dell has decided to retreat from the 12-inch netbook market, declaring that "larger notebooks require a little more horsepower to be really useful." The Linux-compatible Inspiron Mini 12, is ready "to ride off into the sunset," according to Dell, but the company is also reintroducing its low-end Inspiron Mini 9.
Dell's Inspiron Mini 12, pictured below, was the first "netbook" to reach the market with a 12-inch display, though the company didn't use that moniker initially. Instead, it merely called the Inspiron Mini 12, which bridges the gap between smaller netbooks and conventional laptops, an "Internet companion."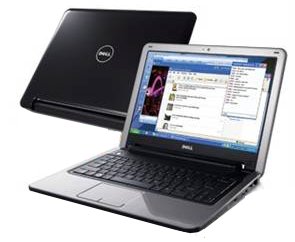 Dell's short-lived Inspiron Mini 12
Since the November release of the Mini 12, other vendors have dipped their toes into the 12-inch netbook waters, despite rumors that Intel and Microsoft look at larger netbooks with disfavor. For example, Lenovo offers a 12-inch screen on its IdeaPad S12, while Acer and its Gateway division have 11.6-inch devices in the form of the Aspire One A0751h and Gateway LT3013u. Unlike the Dell model, all these netbooks are Windows only.
But now, writes Dell's "chief blogger," Lionel Menchaca, the company has "decided that it's time for the Mini 12 to ride off into the sunset." Adding that "10-inch displays are the sweet spot for netbooks," Menchaca says, "Portability is one of the key points for netbook users. Larger netbooks require a little more horsepower to be really useful."
Ironically, while the Mini 12 had a 12-inch screen with 1200 x 800 resolution, it made its debut with even fewer horses than most smaller netbooks, which typically employ Intel's 1.6GHz Atom N270. The Mini 12 was offered with Intel's 1.33GHz Z520 and 1.6GHz Z530, which are more typically found in MIDs (mobile internet devices). The Mini 12 was further saddled with 1GB of soldered, non-upgradeable memory, and shipped with Ubuntu Linux or Windows.
While nothing in Menchaca's posting definitively rules out the release of future 12-inch, Atom-powered netbooks from Dell, rumors suggest that the manufacturer will be turning to Intel's CULV (Consumer Ultra Low Voltage) platform as a more powerful replacement. CULV products offer revamped Pentium, Core 2 Solo, or Core 2 Duo processors along with the GS40 chipset released earlier this year.
According to a purported Dell roadmap leaked by the Netbooknews.de website in April, Dell is set to release a new model called the Mini 11, which will feature an 11.6-inch display and a CULV processor. The device could employ Intel's single-core, 1.3GHz Pentium SU2700 processor, which has a 10-Watt TDP, and would feature hardware-based HD video decoding and an HDMI port (the latter features both courtesy of the GS40 chipset).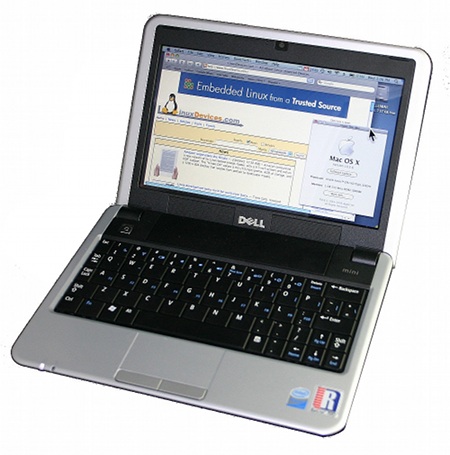 Dell's Inspiron Mini 9 has received a stay of execution
(Click to enlarge)
Meantime, despite rumors of its demise, Dell's first-ever netbook — the Inspiron Mini 9 introduced last September — refuses to die. As Menchaca writes in his blog posting, the Linux-ready Mini 9 is "available again on Dell.com for the time being." Despite its cramped keyboard, the Mini 9 continues to be popular, notably because it's relatively easy to install Apple's OS X on the device (as pictured above).
Features and specifications released by Dell for the now-discontinued Inspiron Mini 12 include:
Processor — Intel Atom Z520 (1.33GHz) or Z530 (1.6GHz)
Memory — 1GB of RAM (soldered-in, not expandable)
Display — 12.1 inch display with 1200 x 800 resolution
Camera — webcam (resolution unstated)
Storage — 60GB or 80GB hard disk drive
Networking — 10/100 Ethernet port
Wireless:

802.11b/g wireless networking
Bluetooth

Other I/O:

1 x VGA port
Audio headphone out and mic in
3 x USB

Expansion:

SD slot
2 x PCI Mini card slots (one occupied by WiFi card)

Dimensions — 11.77 x 9.02 inch footprint, thickness ranging from 0.92 to 1.09 inches
Weight — 2.72 pounds
Availability
To see Lionel Menchaca's blog posting regarding the "retirement" of the Inspiron Mini 12, go to the Dell website, here. To see the claimed Dell product roadmap leaked earlier this year, see Netbooknews.de, here.
---
This article was originally published on LinuxDevices.com and has been donated to the open source community by QuinStreet Inc. Please visit LinuxToday.com for up-to-date news and articles about Linux and open source.