Jul 23, 2009 — by LinuxDevices Staff — from the LinuxDevices Archive — 4 views

The Dutch company Point of View has announced a 10.2-inch netbook that runs Linux and includes Nvidia's Ion companion chip. The "Mobii Ion" comes with Intel's Atom 230 processor, an HDMI output, a 160GB hard disk drive, 802.11b/g wireless, and a choice of three- or six-cell batteries, the company says.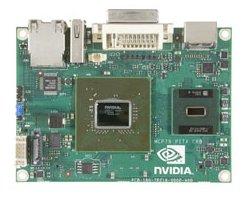 Intel's Atom processors are typically combined with the company's own northbridge and southbridge chips, which weren't designed with HD video playback in mind. Last December, Nvidia responded by announcing its Ion platform, which uses an Atom CPU, but jettisons the rest of Intel's chipset in favor of a single northbridge/southbridge companion chip (pictured at right) that includes a GeForce 9400 GPU.
Nvidia says Ion-based products can have DDR3 memory interfaces with frontside bus speeds of up to 1066MHz. Graphically, they support DirectX 10, offer resolutions up to 2560 x 1600 pixels, provide 1080p HD video playback, and deliver HDMI, VGA, DisplayPort, and dual-link DVI video outputs, the company says.
The Ion has now made it into a variety of products, as we detail later in this story. However, Point of View's Mobii Ion appears to be the first 10.2-inch netbook to use the chip. Given that the device has a typical netbook resolution of 1024 x 600 pixels, it can't play back true HD video on its own screen in any case, but an HDMI port has been included for driving external displays, says Point of View.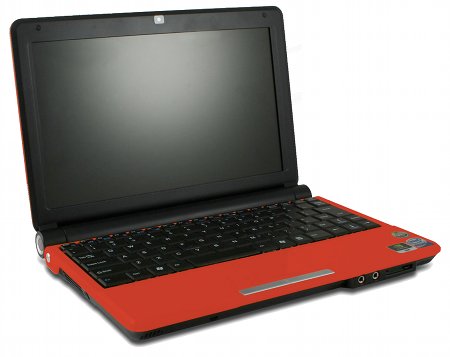 Point of View's Mobii Ion
Unusually, Point of View hasn't employed the 1.6GHz Atom
N270
that's typically found in netbooks. Instead, says the company, the Mobii Ion uses the Atom
230
, usually associated with AC-powered "nettops."
According to Intel, the Atom 230 has a TDP of 4 Watts, compared to the N270's 2.5 Watts. This fact has presumably impacted the Mobii Ion's battery life, said to be approximately four hours with a six-cell 4400mAh battery, or about half that with the standard three-cell 2200mAh battery.
Apart from its Ion chip and HDMI port, the Mobii Ion provides standard netbook fare, including 1GB of DDR2 RAM, a 160GB hard disk drive, and a 1.3-megapixel webcam. In addition to two USB 2.0 ports, the device has a gigabit Ethernet port and 802.11b/g WiFi, says Point of View.
The Mobii Ion does split from the herd in one other key respect: Its standard operating system is an undisclosed version of Linux.
Features and specifications listed by Point of View for the Mobii Ion include:
Processor/chipset — 1.6GHz Atom 230, with Nvidia Ion
Memory — 1GB of DDR2 RAM (expandability not cited)
Display — 10.2-inch display with 1024 x 600 resolution
Camera — 1.3-megapixel webcam
Storage — 160GB hard disk drive (5400rpm)
Networking:

LAN — Gigabit Ethernet
WLAN — 802.11b/g

Other I/O:

1 x HDMI
2 x USB 2.0
Mic and headphone jacks

Expansion — n/s, but standard Mobii has SD/MS/MMC card reader
Battery type/life — 4400mAh, six-cell battery pack offers four-hour life; 2200mAh pack is also available
Dimensions — n/s, but standard 10.2-inch Mobii measures 10.11 x 7.28 x 1.57 inches (257 x 185 x 40mm)
Weight — Under 3.08 pounds (1.4kg)

Other Ion devices …
So far, the Ion has primarily appeared on Windows-based devices, but some Linux devices have also appeared in addition to the Mobii Ion. Zotac's Linux-compatible Ionitx, an interesting Mini-ITX motherboard with an onboard DC-to-DC converter, uses the companion chip. Last month, ZaReason announced the first Linux-based nettop equipped with the Ion, with its HD-capable Ion Breeze 3770.
Acer was first to deploy the Ion, along with an Atom 230 processor in its Windows-based Aspire Revo, a 7.1 x 7.1 x 1.2 inch PC. The Revo, announced in May, was followed by a trickle of other devices.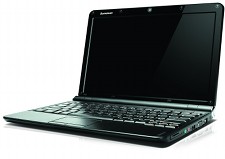 Lenovo's IdeaPad S12
(Click image for further information)
At last month's Computex show, Nvidia released a list of 21 devices using the Ion, and also showed a small-form-factor system that fits a custom motherboard, an Atom 230 processor, the Ion, up to 2GB of DDR3 memory, a 2.5-inch hard disk drive, and a Blu-ray drive into an actual porcelain vase . The fanless PC features a top-mounted power button and cooling slots, a slide-out optical drive, and bottom-mounted USB, RJ45, and HDMI ports .
Apart from a couple of relatively obscure devices from ODMs (original device manufacturers) — Telcast's TL-1000N and Weibu's N10A — the only other Ion-powered netbook we're aware of, however, has been Lenovo's IdeaPad S12 (above right). Set to ship "later this summer" in its Ion version, the S12 will have a "full size" keyboard and a 12.1-inch display, according to Lenovo.
Availability
Point of View did not cite pricing or availability for the Mobii Ion, but the device will reportedly ship next month for approximately $500. More information may be found on the company's website, here.
---

This article was originally published on LinuxDevices.com and has been donated to the open source community by QuinStreet Inc. Please visit LinuxToday.com for up-to-date news and articles about Linux and open source.