Nov 15, 2002 — by LinuxDevices Staff — from the LinuxDevices Archive — 19 views
Sharp Corporation has formally unveiled what is described as the world's first PDA with a full-color VGA-resolution (640×480 pixel) LCD display into the Japanese market. Another key feature of Sharp's new Linux handheld is its ability to be used in either a horizontal or vertical orientation.
The Zaurus SL-C700 has a 3.7-inch screen with 307,200 pixels — offering 2.5 times the brightness and 4 times the resolution of Sharp's previous Zaurus models, as well as of most other color PDAs. Additionally, the SL-C700 provides a full-fledged built-in mobile keyboard that's formatted in the manner of a normal notebook keyboard (although smaller).
As with previous Zaurus models, the SL-C700's software platform is based on Linux (Lineo Embedix) along with a Java virtual machine (Insignia Jeode) for enhanced software portability and world-wide open source developer support.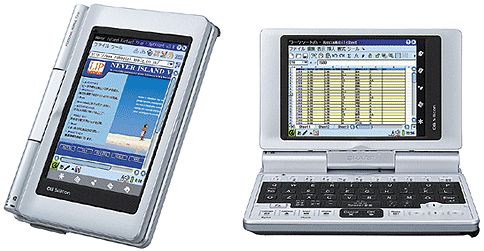 New Zaurus SL-C700 offers two formats of operation
Sharp has also included a number of unique PC connectivity and communication functions. The Zaurus Shot function lets user take snapshots (by 'printing' an image) of a connected PC screen. In addition, Sharp says users can easily adjust the SL-C700's connectivity settings to match a variety of network configurations, simplifying the task of accessing the Internet, browsing the web, and downloading email when moving from between environments (such as work and home). Another cool feature is the Zaurus Drive function, which turns the Zaurus into an external hard drive for transferring data to/from a PC via USB cable; the user simply drags and drops data files to/from the Zaurus icon on the PC.
The SL-C700 also comes pre-installed with word processor and spreadsheet software (HancomMobileWord and HancomMobileSheet) which provide the ability to read and write Microsoft Office formats (some restrictions apply), and the device is equipped with utilities for synchronizing Microsoft Outlook email and other data with a desktop PC.
A digital camera card and voice recorder kit are offered as options, along with a rechargeable battery and associated charger. Numerous other CompactFlash card expansion options are availabe from third-party providers, including ones for mobile phone, wireless LAN, dialup modem, Ethernet LAN, etc. The device also supports memory expansion via its second card slot for SD Memory Card or MultiMedia Card (MMC) devices.
Sharp plans to begin selling the Zaurus SL-C700 into in the Japanese market on December 14, 2002, and has planned a monthly production of 20,000 units/month. At this time, there is no indication of whether (or when) a version of the unique new Linux PDA will be made available outside of Japan.
A summary of specs appears below.
---
Summary of SL-C700 hardware and software specifications
Hardware . . .
CPU — 400 MHz Intel XScale PXA250 system-on-chip processor
Memory — 96MB total: 64MB Flash (approx. 30MB user area); 32MB SDRAM (work area)
Display — 3.7-inch, 640×480 pixels, 16-bit color LCD with backlight and touch-panel
Connectors — I/O port, stereo headphones, IrDA (115 kbps)
Card slots — SD Card slot; CompactFlash type II
Keyboard — 10.75-mm-pitch QWERTY keyboard
Power supply — 3.7 VDC, lithium-ion rechargeable battery
Power consumption — 3.8W
Operating time (approx.) — continuous display, 4 hrs 50 min (running Calendar function, operating temp. 25C, backlight at lowest brightness)
External dimensions — 4.7 x 3.3 x 0.7 in. (approx)
Weight — 7.9 oz (approx)
Software . . .
Operating system — Linux (Lineo Embedix); based on kernel ver. 2.4.18.
Java virtual machine — Insignia Jeode; includes two sample software programs
Personal Information Manager (PIM) suite — Address Book, Calendar, To Do
Image and text — Image Note (image viewing/handwritten memos); Memo (text file viewing/editor)
Communications — Mail; NetFront webbrowser)
Office suite — HancomMobileWord; HancomMobileSheet
Video and music players — Media Player
Voice recording — Voice Recorder (optional CE-VK1 is needed)
Utilities — File Manager, Clock, Calculator, World Clock, Help, System Information, Network Settings (including Internet Connection Settings Assistant), MI Zaurus Data Transfer, SL Zaurus Data Transfer, Sound Settings
PC synchronization Software — Intellisync for Zaurus (for synchronizing with MS Outlook), Zaurus Shot, Zaurus Drive, Backup/Restore, etc.
Other — Book Viewer, Sharp Space Town application guide, Terminal, User Dictionary, Backup/Restore, Screen Design Settings, Home Screen Settings, Key Settings, Secret Settings, Infrared Reception, Light/Energy Saver Settings, PC Link, Software Install/Uninstall, Date/Time Settings, Touch Panel Adjustment, 7-digit Postal Code Dictionary
Note regarding the display technology
Sharp describes the SL-C700's display as follows: "640 x 480 dots, 3.7-inch, 65,536-color, transmissive System LCD (with backlight and touch-panel operation)."
What's a "System LCD?" Good question! Here's what Sharp has to say about that . . .
About System LCD (CG-Silicon)

Based on Continuous Grain Silicon (CG-Silicon) technology, which has characteristics similar to those of monocrystal silicon, System LCDs have high electron mobility approximately 600 times faster than ordinary amorphous silicon and approximately three times faster than low-temperature polysilicon. CG-Silicon technology allows the LCD driver IC and other circuits, including LCD control/power supply circuits, I/O interface circuits, and signal processing circuits, to be built on the same glass substrate, thereby greatly reducing mounting area and the need for external parts. System LCDs contribute to making products smaller and lighter as well as raising their reliability. Also capable of ultra high-definition display, System LCDs are innovative displays that are destined to revolutionize mobile equipment. Continuous Grain Silicon is a next-generation technology developed jointly by Sharp and Semiconductor Energy Laboratory Co., Ltd. (head office: Atsugi, Kanagawa Prefecture, Japan; president: Shunpei Yamazaki)
---

This article was originally published on LinuxDevices.com and has been donated to the open source community by QuinStreet Inc. Please visit LinuxToday.com for up-to-date news and articles about Linux and open source.