Sep 13, 2004 — by LinuxDevices Staff — from the LinuxDevices Archive — views
The PC Reviver from Asterisk is an inexpensive device that intended to turn aging x86-based PCs into thin clients by replacing their hard-drive with a solid-state flash memory device that boots an embedded Linux OS. The "revived" computer can then be used as a network appliance for Citrix, Windows, Linux, and/or browser-based server-centric computing networks.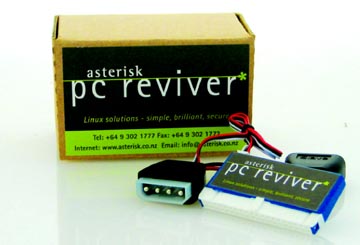 The PC Reviver is a complete boot device replacement
What's under the hood?
The $150 Reviver includes an integral 40-pin IDE header through which it plugs directly into the hard drive IDE connector pins on x86 PC motherboards. An integrated power connector attaches it to a standard hard drive power supply cable.


The PC Reviver plugs directly into the PC's IDE slot
The standard model comes with 64MB of flash memory based storage. A model with 128MB flash is also available; it includes a local version of Acrobat Reader, a popular file-viewing and printing application.
The device can "revive" any computer with a Pentium-class or better x86 processor (including AMD and VIA x86 processors). It requires 64MB of RAM, a PCI or AGP video card, and a PCI network interface card, Asterisk says.
What's the firmware all about?
The Reviver runs Asterisk Linux, which is binary and library compatible with Debian Woody, according to Asterisk. It is currently based on a 2.4.22 series Linux kernel. However, Asterisk spokesperson Chris Hegan says, "We will roll out 2.6 soon."
According to Hegan, the Reviver boots in as little as 15 seconds, or between 30 and 50 seconds during initial configuration with hardware detection enabled.
The Reviver's embedded Linux implementation includes about 50 open source software packages, according to Hegan, including XFree86, icewm, python, xvnc, rdesktop, Firefox, OpenSSH, xterm, and tn5250. NX support is planned, along with personal file storage on removable USB devices.
Another feature in the works is "free seating," which Asterisk will implement over the next three months, Hegan says. Free seating enables individuals to preserve their configurations and settings regardless of which machine on a network they log into.
The Reviver's Firefox browser includes support for HTTPS, and the device also supports encryption under Citrix RC4. Internally, the Reviver also includes OpenSSH, and in theory should support PPTP and IPSec VPNs, including MPPE-128 and all Freeswan/Cryptoapi algorithms. However, no configuration interface exists yet for setting up a Revived PC to use a secure tunnel or virtual private network.
Asked if a the PC supports central management, Hegan replied, "To a degree. It has a 'phone home' support mechanism built in which can be used to manage things like upgrades and troubleshooting by Asterisk over the Internet. This can also be used by larger organizations to centrally manage their distributed base of PC Reviver-powered terminals. Since the configuration utility is browser-based, it can be connected to from anywhere on the network."
The Reviver also includes a vnc server, enabling a support person to connect remotely to the framebuffer on the device and "hand hold" a user through any problems. The device's interface includes a questionmark icon in the corner of the screen which displays useful configuration information such as IP address.
The PC Reviver is available now for about $150. Special configurations are also available at "very modest charge-out rates," according to Hegan. These include local sound support, wireless support, CD-ROM support, and support for local printers, scanners, bar-code readers and other peripherals.
Asterisk is based in New Zealand.
---

This article was originally published on LinuxDevices.com and has been donated to the open source community by QuinStreet Inc. Please visit LinuxToday.com for up-to-date news and articles about Linux and open source.