Oct 17, 2005 — by LinuxDevices Staff — from the LinuxDevices Archive — 7 views

Coraid is shipping an ATA-over-Ethernet (AoE) NAS (network-attached storage) server that can connect size-unlimited heterogeneous networks to unlimited amounts of add-as-needed storage, the company says. The CLN/20 is powered by a modified Debian Linux NAS distro soon to be available separately.
According to Coraid, CLN/20 users can gradually add disks, as their storage needs grow, up to a maximum of 1 Petabyte (1,000 TB).

The CLN/20 is an Intel-powered 1U server appliance
The AoE protocol
Coraid says increasing speeds have made Ethernet a suitable and much less costly alternative to fiber optical networking in NAS applications. The company developed the open AoE protocol, and shipped its first AoE server in June of 2004.
According to Coraid, AoE is simpler than iSCSI, another protocol aimed at putting Ethernet to work in NAS.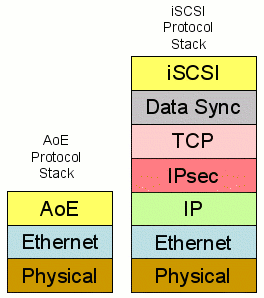 Coraid says AoE is a lighter protocol than iSCSI
An AoE driver was
merged
into the Linux 2.6 kernel in January. Most early adopters of AoE have been government research facilities, such as the USGS (US Geological Survey), NSC (National Supercomputer Center), and NASA, Coraid says.
The CLN/20

(Click to enlarge)
Unlike earlier, harddrive-equipped storage servers from Coraid, such as the 1U Etherdrive, SATA EtherDrive, and the original Etherdrive, the CLN/20 has no drives of its own. Instead, it works as a NAS server, or "NAS filer," brokering connections between PCs and networks of EtherDrive devices. Coraid says separating the storage server from storage devices eliminates "captive storage," a condition in which CPU rather than array capacity begins to limit storage server performance.
The CLN/20 uses AoE on the storage network side, and NFS on the client side. A planned free upgrade will add CIFS support as well. Meanwhile, NFS clients are available for Linux/Unix, as well as Mac and Windows.
According to Coraid, the CLN/20 can be used to create NAS volumes with as many as 983,040 drives. Drives can be added as needed, thanks to support for logical volume management.
The CLN/20 supports an unlimited number of clients, and file sizes up to 16TB. A planned 64-bit version should support much larger file sizes, the company says.
What's under the hood?
From a hardware perspective, the CLN/20 is a fairly standard 1U server appliance, based on an Intel Pentium 4 clocked at 3.2GHz. However, it boots from Flash and has 1GB of RAM that is used to cache frequently accessed files.
The CLN/20 supports RAID modes that include RAID-0 (striping), RAID-1 (mirroring), RAID-5 (striping with parity), and RAID-10 (striping with mirror). It also supports concatenated and linear RAID sets.
The CLN/20 runs a Debian-based Linux distribution called "Linux Distro for NAS." Coraid says the distribution is easy to configure, highly optimized, and scalable. It also includes a well-organized collection of how-to documents.
Availability
The CLN/20 is available now, pre-installed with Coraid's Linux Distro for NAS, for $2,495. It is also available with a 15-disk SATA+RAID EtherDrive storage appliance for $6,195, not including disks.
Coraid says it's Linux Distro for NAS will be available standalone later this month, and will be offered with support.
---

This article was originally published on LinuxDevices.com and has been donated to the open source community by QuinStreet Inc. Please visit LinuxToday.com for up-to-date news and articles about Linux and open source.