Oct 21, 2005 — by LinuxDevices Staff — from the LinuxDevices Archive — 390 views

A 122-year-old dairy equipment company has used embedded Linux in a robotic cow-milking system (the system is robotic, not the cows). The Voluntary Milking System (VMS) allows cows to decide when to be milked, and gives dairy farmers a more independent lifestyle, free from regular milkings, the company says.
DeLaval was started in 1883 by Swedish inventor Gustaf de Laval. It sells a variety of dairy supply and "cow comfort" products aimed at increasing dairy yields. It claims to lead the automatic milking machine market, with a 53 percent share, and says it has sold more than 1,000 VMSs, in all European countries, Canada, Japan, and Mexico.
According to DeLaval, a single VMS can milk a herd of 60 cows three times per day.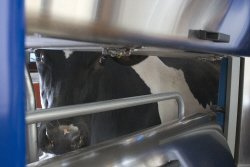 When a cow decides to be milked, she enters an entry lock where she is identified. If a sufficient amount of time has elapsed since her last milking, the cow is allowed to enter and given a dietary concentrate. A multipurpose robotic arm then extends underneath the cow and, guided by laser and photo sensors, cleans and dries each teat before attaching vacuum milking cups.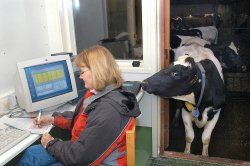 Milk flow, quantity, and milking time are monitored individually for each of the cow's four teats, and compared with historical values. Discrepancies are reported, and can be early indicators of illness or injury, the company says.
After milking, the vacuum cup lines are retracted, and the robotic arm sprays the cow's underside with a disinfectant solution. The gate then opens, releasing the cow to the feeding area, and the VMS system cleans itself before allowing the next cow to enter.
Delaval offers videos of the process, in various resolutions.
What's under the hood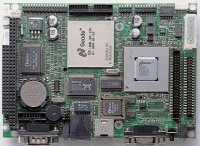 Advantech's PCM-5820
(Click to enlarge)
The VMS is powered by an Advantech PCM-5820, a 3.5-inch single-board computer (SBC) with an AMD Geode GX1 processor clocked at 200MHz. The board features 10/100 Ethernet, VGA and LVDS LCD ports, a CompactFlash socket, and PC/104 expansion.
The VMS uses 64MB of RAM, and boots from a 40GB hard drive — only 1 percent of which is actually used, according to Hans Hansson, DeLaval's technical manager of process management. The embedded computer interfaces with the robotic arm and other VMS subsystems using serial ports, while Ethernet connectivity allows remote monitoring.
Software side
The VMS is based on a 2.4.18 kernel with ext3 and some real-time extensions added, Hansson says. The filesystem is derived from Red Hat 7.3, and the graphical user interface is based on xfree86.
According to Hansson, early versions of VMS were based on an M68K CPU board, running OS9. "Later on we changed to an industrial standard PC-board," he says. "Along with that we also changed operating system. We went for Linux since some of us had worked with it and we believed that moving from OS9 to Linux would be rather easy."
DeLaval did most of the work porting Linux to the VMS itself, Hansson says. However, it did hire external personnel to write some device drivers, he adds.
Hansson says the move to Linux worked out very well, and that no serious challenges arose during the process of migrating from OS9 to Linux. The company would gladly use Linux again in future products.
---

This article was originally published on LinuxDevices.com and has been donated to the open source community by QuinStreet Inc. Please visit LinuxToday.com for up-to-date news and articles about Linux and open source.