Mar 2, 2001 — by Rick Lehrbaum — from the LinuxDevices Archive — 5 views
Coming soon, to a public location near you?
Ericsson Business Innovation has announced the "blip," a small self-contained device that communicates wirelessly with mobile phones, PDAs, and other kinds of mobile devices that are equipped with Bluetooth short-range wireless technology. Ericsson's plan is for blips to start "popping up everywhere," as a convenient means to deliver a wide variety of services to Bluetooth-enabled mobile devices.
Peter Lundin, director of the blip development project, envisions the gadget adding a whole new dimension to mobile communications. "By gearing communications to particular times and situations, we have created a platform for a range of new services," says Lundin. "Within a few years, 'blipping' while on the move will be as common as home surfing is today."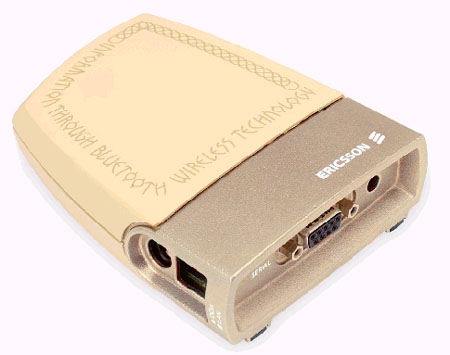 the Ericsson blip
What's a blip?
blip stands for "Bluetooth Local Infotainment Point." The device is a tiny networked computer system with a built-in Bluetooth two-way radio. That allows it to provide information transfer to and from Bluetooth-enabled wireless devices (phones, PDAs, etc.) that come within its communications range. The blip thus establishes a localized wireless LAN, which users can freely access via their Bluetooth-enabled mobile devices.
Like the transmission/reception "cells" of the cellular phone network, the communication range of each blip is limited. In the case of the blip, though, that range is within a radius of just thirty feet. Fortunately, a future implementation of the Bluetooth standard will increase that distance by a factor of ten within several years.
One thing that distinguishes the blip from alternative wireless communication solutions is its highly constrained range. Ericsson promotes this as an advantage rather than a detriment, however, emphasizing that it enables the blip to deliver location- and situation-specific services. Consequently, says Ericsson, the blip will serve as a welcomed "filter" in the otherwise "cluttered world" of wireless media and information.
Another noteworthy limitation of the first generation blip (the Model C11) is that it can be accessed by only one mobile device at a time. That, too, will change — with access by up to seven simultaneous devices to be supported by a future model (the C1).
What can the blip do?
Ericsson expects the blip to enable new uses for mobile devices that fall within two categories. The practical applications, which Lundin calls "active blipping," are uses like locating travel information, being guided through a museum, and booking airline tickets. Then there are what Lundin terms "killing-time blipping" — entertainment-focused activities like downloading music and games while waiting for a plane, bus, or train.
To Lundin, The possibilities seem endless. "Five years from now the blip will be seen as a natural part of the lives of many people," says Lundin. "From the moment they get up in the morning to when they get on the bus to go home in the evening many people will have used a blip on several occasions without even thinking about it."
Here are just a few of the many possibilities . . .
Advertising — consumers passing by a blip-enabled billboard might download a movie preview, details about a new car, or donate money to a charity.
Traveller's aid — people waiting for a plane, bus, or train can download information about their destination city, check times and ticket availability for shows, book hotel rooms, or make restaurant reservations. The blip might also provide information about departure delays and offer the opportunity to rebook tickets.
Shopping mall — through a blip-based information point in a central location or individual shop window, shoppers might locate products, download discount coupons, purchase movie tickets, or make restaurant reservations.
A rapidly growing market
Ericsson expects the market for blip to expand in direct proportion to the growing use of Bluetooth technology in mobile phones and PDAs. How large is that market likely to be?
To answer this, Ericsson points to data from a recent Merrill Lynch study which predicts that 80 percent of all advanced mobile phones and other handheld devices will be Bluetooth-enabled by the end of 2003. Another indication of a coming explosion in Bluetooth connectivity is the fact that more than 2,000 companies have now joined the Bluetooth Special Interest Group.
An open platform (with Linux inside)
With an eye toward stimulating widespread growth in the market for both the blip and its underlying Bluetooth technology, Ericsson is encouraging the development of numerous third-party applications. It is this strategy that led Ericsson to make the blip an open platform, and to choose Linux as the device's internal (embedded) operating system.
Third-party developers will therefore have convenient and inexpensive access to the tools they need to support a wide range of unique opportunities and situations. A full set of tools for third-party application development will be offered to developers in the form of the blip Software Development Kit (SDK), and will be supported by a special developers area of Ericsson's blip website.
What's inside the blip?
The blip is actually a tiny computer system, based on a 32-bit reduced instruction set computer (RISC) CPU chip. It runs an embedded form of the Linux operating system developed by embedded Linux specialist Lineo, called uClinux. Here's a summary of the blip's hardware and software specifications . . .
Hardware

CPU: ARM7 TDMI based 32-bit RISC; 22.5 MHz clock rate

Memory: 2 MBytes RAM and 2 MBytes Flash (solid state storage)

Serial port: 115.2 Kbps; RS232

Ethernet port: 10BaseT port; 10 Mbps data rate

Bluetooth interface: 1.0b, Class 2; 2.4 GHz; 10 meter range

Mechanical


Size: 117 x 88 x 32 mm

Weight: 300 g

Power: 4.5 – 15 VDC; less than 300 mA operating current

Software


Operating system: uClinux

Library functions: uClibc

Ericsson Bluetooth Host Stack

Open source GNU cross development toolset (binutils, gcc, and gdb/Insight configured for arm-elf)

Windows-based maintenance tool, used for updating data and applications stored in the blip
When can I get blipped?
The blip will be launched by Ericsson Business Innovation internationally before the end of 2001. Although the first blip version (the C11) will be general purpose in nature, later models will provide more specialized capabilities.
In addition to selling the blip itself, Ericsson plans to distribute a number of content solutions for use the device, developed by both Ericsson and selected third-party partners.
Please note: As of March 2002, the Ericsson "Blip C11", as it was initially introduced, is no longer in production and will be replaced later this year by a new device named "Blip Net", according to Per Jakobsson senior investment manager of Ericsson's Business Innovation group. LinuxDevices.com will provide an update to this article when details of Blip Net become available.
---

This article was originally published on LinuxDevices.com and has been donated to the open source community by QuinStreet Inc. Please visit LinuxToday.com for up-to-date news and articles about Linux and open source.