May 21, 2008 — by Eric Brown — from the LinuxDevices Archive — 5 views

A company called Fiire is shipping a home automation, media control, and security system based on the open source LinuxMCE distro. Built around a dual-core AMD Athlon X2-based box called the Fiire Engine, the Fiire system also includes FiireStation thin clients and a Z-Wave-based FiireChief controller.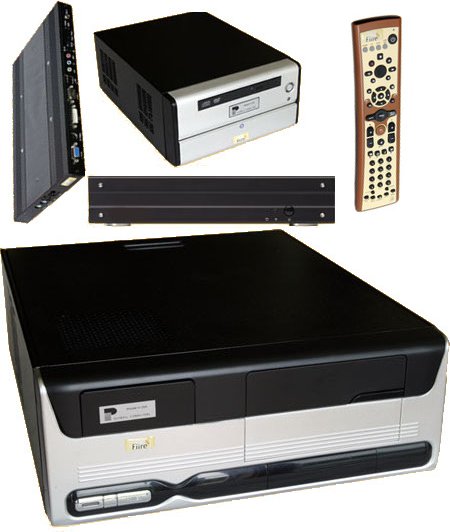 The whole Fiire Crew
Some media control vendors that use Linux, such as Control4, have started challenging proprietary market leaders by partially opening up their system to developers. Fiire, however, boasts a far more open system. The key is its embrace of LinuxMCE and its "large, strong community of open source developers who are constantly improving it by adding features, polishing rough edges, and fixing any glitches," says the company.
Last summer saw the release of LinuxMCE 0704, which is based on Kubuntu. It offers features including whole-house high-definition video distribution, optional alpha-blended graphics, and gyroscopic remote control.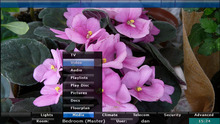 LinuxMCE 1704 screen showing alpha-blended graphics
(Click to enlarge)
The Fiire system distributes media throughout the home to every room equipped with a FiireStation thin client, says Fiire, delivering up to 6TB of stored media, as well as streaming several high-def movies simultaneously to any FiireStation. Supported media is said to include HD PVR, HD cable or satellite video, DVDs, music, photos, and YouTube and other online content. The system is set up so that all A/V gear can be hidden away together, says the company, and in each room all that is needed is a flat panel TV and a FiireStation hidden behind it (when using the wallmount versions).
The Fiire software offers media management, complete with catalogs of cover art, all accessible via the FiireChief remote. By pressing the FiireChief's 'Follow Me' button, selected media follows the user throughout the house, delivering the media to the closest FiireStation. By bringing the remote close to a FireStation, it automatically binds to it and controls whatever A/V devices are connected to it.
In addition to handling media, says Fiire, its system controls lighting, climate, a preexisting home security system, surveillance cameras, and phones, including VoIP phones. Controllable tasks include:
Linking events, such as lighting, to time of day or arrival or departure
Setting up a VoIP phone system, with auto-attendant and voice mail, that routes calls to each family member's mobile phones when they are out
Receive mobile phone alerts on security events, and view security camera footage
FiireEngine
The core of the system is the FiireEngine, only one of which is required per house. This server appliance runs all the LinuxMCE-based back-end software, provides diskless boot images to the FiireStations, and controls peripherals such as RAID storage, phones, and home control systems. The FiireEngine is based on the AMD dual core, 45W Athlon X2 BE-2350 Low Voltage, which Fiire says is optimized for quiet operation, low-heat output, and low power consumption.

FiireEngine (rear view)
The FiireEngine uses its internal 160GB storage for its own software — media storage is handled via up to six e-SATA (external serial-ATA) ports, providing a potential capacity of 6TB. The appliance is said to include nVidia 6200 graphics processors that provide high-def playback and de-interlacing of 1080i.
The following are some specs listed for the FiireEngine:
Processor: AMD 45W Athlon X2 (Dual-Core) BE-2350
Memory — 1GB
Storage — 160GB (for OS)
RAID storage for media — 6 x e-SATA ports for drives or drive cage (not included), for potential 6TB external storage
Networking — 2 x gigabit Ethernet ports
Audio — Stereo audio, plus SPDIF optical and coax/RCA
Video — nVidia 6200 graphics with DVI, VGA, Component, S-Video and composite connectors
Operating system — LinuxMCE 0704
FiireStation and FiireChief
Each FiireStation is designed to control a single TV. It offers the equivalent power of "a standard medium-performance PC," and in fact can be used as a regular Linux PC, says the company. However, it too runs LinuxMCE 0704, and it offers more advanced video decoding hardware than a mid-range PC, with 1080i de-interlacing, OpenGL 3D effects, and alpha blending. The system includes video drivers licensed by Fiire specifically for LinuxMCE, plus licensed MPEG decoders and DVD playback. The FiireStation is said to draw as little as 9 Watts, or about 1/20th what a Windows Vista Media Center PC consumes, says Fiire.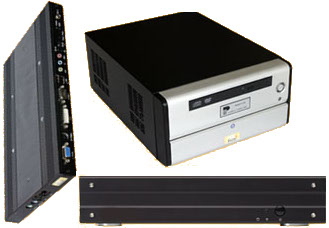 FiireStations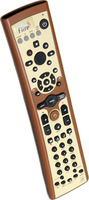 The FiireChief
(Click to enlarge)
The FiireStation is available in three versions: the high-end, 1-inch fanless vent-less wall or VESA mount model; a 2.2-inch wall mount version; and a set-top box (STB) version. Whereas the 1-inch model uses an unnamed, 5-Watt processor, the STB and 2.2-inch models both use a 15-Watt 1.5Ghz Via processor, and have similar components.
All three models are equipped with 512MB of RAM, and include a gigabit Ethernet port, four USB 2.0 ports, two PS/2 ports, and one COM port. They offer Via UniChrome Pro II PC graphics, and Via Vinyl 6 channel audio, with line in, line out and mic. The STB and 2.2-inch versions have room for extra connections, including component video and S/PDIF for digital audio, and the STB model can be ordered with a DVD/CD player and a TV tuner/capture card.
The FiireChief controller is used for both the FiireEngine and FiireStation, and any remote can work in any room. Equipped with Z-Wave technology, a competitor to ZigBee, its RF wireless connection offers a range of about 50 feet, is omni-directional, and does not require line of site. In addition to the typical remote control buttons, it offers three "gyro" buttons that Fiire claims can be used for all system functions in conjunction with gestural movements. In addition, it offers I/R remote capability, and includes a USB dongle for direct connection to a Fiire Engine, Fiire Station, or any LinuxMCE PC running UI2.
Availability
The Fiire system is shipping now. The FiireEngine starts at $800 (without external drives). The FiireStation is available in an STB version ($500), a 2.2-inch wall mount version ($500), and a 1-inch thick wall-mount version ($900). The FiireChief costs $150.
---

This article was originally published on LinuxDevices.com and has been donated to the open source community by QuinStreet Inc. Please visit LinuxToday.com for up-to-date news and articles about Linux and open source.