Oct 26, 2004 — by LinuxDevices Staff — from the LinuxDevices Archive — 33 views
Fluke Networks has used embedded Linux to build a handheld network analyzer intended to help network technicians and administrators install, maintain, and troubleshoot 10/100/gigabit enterprise networks. The EtherScope can quickly map, scan, and test live copper-based Ethernet LANs for configuration, wiring, and other problems.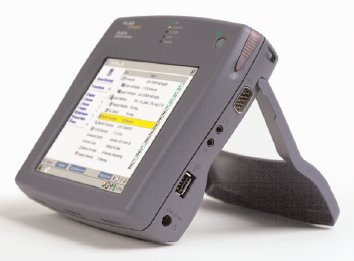 The EtherScope features both local touchscreen and Web-based interfaces
The device includes a graphical user interface operated through a touchscreen 640×480 LCD display, as well as a built-in Web interface that lets users control the unit or view reports remotely.
According to Fluke, the EtherScope can discover up to 1,000 network devices, which it compiles in an internal database. It also discovers each device's nearest switch, said to aid in resolving issues and tracking configuration changes. Discovered devices can be organized by subnet, NetBIOS domain, or IPX network. Switches can be scanned for traffic statistics, errors, and connected devices on each port.
The device can spot duplicate IP addresses and other configuration errors, frame errors, autonegotiation failures, and high-utilization segments, Fluke says. It can also perform tests on live network cables, offering tests for "length, wire map, shorts, split pairs, and pin-to-pin connectivity via wire map," Fluke says.
"Wire map" involves plugging both ends of an Ethernet cable into the device, which then tests for proper cable function.
Test results can be documented in XML-coded Web reports. "Measurables" include network attributes, baseline performance, device inventory, a problem log, and switch-port statistics, according to the company.
The device also includes a variety of standard network diagnostic tools, including key device ping/monitor, traceroute, trace switchroute, IP ping, ftp, telnet, and a web browser.
Below are links to screenshots showing various capabilities and features. (Note that the graphical user interface is based on Trolltech's Qtopia, popularized by its use in the Sharp Zaurus Linux PDAs.)
What's under the hood?
The Etherscope is based on an Intel XScale PXA255 processor, clocked at 400MHz. It also includes a Xilinx FPGA (field programmable gate array) that loads various binary "overlays" dynamically, according to what the device is being used for, according to Engineering Manager Tom Ferguson.
"We did the Ethernet driver in the FPGA, because the device does fundamentally different types of testing," said Ferguson. "For example, Ethernet scanning is very different than parametric cable testing with TDR (time domain reflectrometry)."
Hardware protocol acceleration enables the device to map networks very quickly. Discounting start-up time, the EtherScope can map a 200-device network in less than a minute, according to Furguson.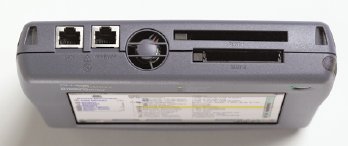 The EtherScope includes a variety of I/O ports, including:
Hub/NIC connector (RJ-45)

Wiremap connector (RJ-45) — (for the other end of the Ethernet cable being checked)

RS-232C PC/Printer port (DB-9)

USB connector (external keyboard or mouse)

CompactFlash Card slot

PCMCIA slot

Microphone and headphone jacks

Kensington lock
The compact device measures 8 x 6.5 x 2 inches (20 x 16.5 x 5 cm) and weighs 1.9 pounds (0.9 kg).
Software side
On the software side, the device runs a 2.4.19 Linux kernel sourced from kernel.org. Fluke engineers applied the ARM-K patches for XScale, and performed other customizations in-house, without any commercial support, said Project Manager Michael Morgan.
The software environment is based on Qtopia cross-platform graphics framework. The EtherScope also uses the Konquerer Web browser, along with the GoAhead embedded webserver. Morgan adds that the device's software "draws from" a number of other open source projects.
Additionally, EtherScope's software environment leverages pre-existing proprietary Fluke software, such as "ActiveDiscovery," ported to Linux from OptiView, a Fluke network analysis tool based on Windows XP. The company plans to develop Windows and Linux versions of ActiveDiscovery in parallel after migrating to a library-based architecture, according to Morgan.
Fluke has developed other Linux-based products in the past — including the WaveRunner, a wireless test and measurement tool based on a customized Linux environment for the Compaq/HP iPaq. However, because of its relatively low pricing, the company expects EtherScope to achieve wider distribution. "Pricing was a key consideration for us. We conducted formal pricing studies as well as detailed comparisons to other roducts, including our own. That research indicated we could reach significantly more customers with a value pricing model," Ferguson said.
"Curb appeal" is another reason the company expects EtherScope to do well. "People just want to grab it, because of the size, bright display, and design of the GUI. It's very inviting. It demo's itself," said Ferguson.
Fluke President Chris Odell said, "Network technicians and administrators spend on average 25-45% of their time in reactive troubleshooting. EtherScope solves emergencies faster."
Jeffrey Nudler, senior analyst with Enterprise Management Associates, said, "The network technician will be pleasantly surprised at the levels of troubleshooting information the EtherScope provides. Its ability to detect devices and afterward examine various parameters, combined with EtherScope's easy-to-use GUI, will be helpful."
Kerry Hampton, Network Manager for Vigo County School Corporation in Terre Haute, Indiana, said, "The entire unit is impressive; particularly the context pane. Once the tool is plugged-in it takes about two seconds to check for termination of the cable run at the workstation. Fast!"
"With EtherScope I can quickly look at a summary screen to see what the network is doing," said Scott Crocker, Network Administrator for Resultants International in Williamsville, NY.
Availability
The EtherScope is available now, priced at $5,495. It comes with a holster, neckstrap, cables, CDs, printed manuals, and a stiff-shell case with fabric cover.
---

This article was originally published on LinuxDevices.com and has been donated to the open source community by QuinStreet Inc. Please visit LinuxToday.com for up-to-date news and articles about Linux and open source.