Apr 27, 2006 — by LinuxDevices Staff — from the LinuxDevices Archive — 3 views

Glyph Technologies used Linux and key open source audio software packages to build a personal monitoring system aimed at letting musicians create their own monitor mixes from local and networked audio sources. The GPM-216 runs a real-time Slackware implementation, and uses Jack, Alsa, and LADSPA software.


The GPM-216 is a 16-channel personal monitor/mixer
(Click to enlarge)
Glyph is best-known for data storage products aimed at the digital audio recording and post-production industries. However, it formed a "Music Gear, Inc." (MGI) sister company in 2005, in order to branch out into the music recording and production markets, it says. The GPM-216 is the first product produced by Glyph's MGI sister company.
Glyph/MGI describes its GPM-216 as a self-contained, 16-channel monitoring network. Musicians plug instruments and microphones into its front-panel audio ports, and the device digitizes these inputs for distribution to other units over a network using standard Ethernet cables. Musicians can use their device's front-panel mixing controls to adjust the relative levels of each audio channel on the network, creating the mix that helps them perform or record at their best, the company says.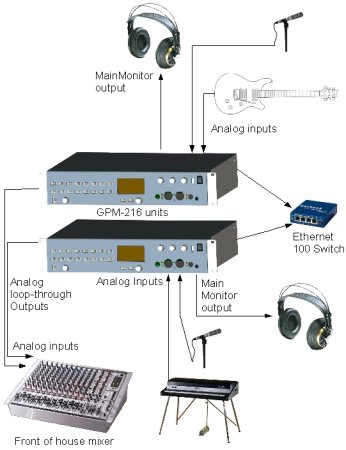 GPM-216 wiring diagram
(Click to enlarge)
The GPM-216 additionally offers front-panel mounted connectors for headphones or earbuds, and line outs on the back for powered wedges or other audio gear. Send/return loops allow musicians to patch in external effects or EQ for their overall mix, or apply them to their own input channels.
What's under the hood?
The GPM-216's embedded computer is based on an AMD Geode [email protected], clocked at 1.4GHz. AMD's Geode NX line of embedded processors use the same dies and packaging as its Mobile Athlon chips for laptops, but with tweaks to process technology and transistor selections that result in lower power consumption at reduced clock rates.
The GPM-216 boots from 128MB of CompactFlash, and has 256MB of DDR333 RAM, underclocked to 266MHz.
Digital interfaces include 10/100 Ethernet and USB. Analog audio interfaces include mic/line input and output on XLR and 1/4-inch connectors; headphone output; and auxilliary send/return master insert points on 1/4-inch connectors.


GPM-216's back-panel I/O
(Click for port descriptions)
On the software side, the GPM-216 runs a "homebrew" embedded Linux implementation based on Slackware 9, but upgraded to use a 2.6.10 kernel, with real-time preemption patches. The company was able to do the port themselves, without outside assistance, according to CTO Bradley Justice. Project engineers were Roy Flacco and Joel Pennell.
The GPM-216 runs an Apache webserver, and its primary interface for configuration over the network is based on HTML and Java. The unit itself uses a character-based LCD interface, with user input via pushbuttons and rotary encoders.
The GPM-216 uses 24-bit, 48kHz sound chips, with drivers from the ALSA (advanced Linux sound architecture) project. Its audio interface is based on JACK (Jack audio connection kit), a powerful open source software package that, in conjunction with a real-time POSIX kernel such as Linux or Mac OS X, can broker and enforce low-latency connections between audio applications and devices.
Other open source audio software used in the GPM-216 includes tuneit, a musical instrument tuner than can be built as a JACK plugin, and the TAP (Tom's audio processing) reverb plugin for LADSPA (Linux audio developer's simple plugin API).
Justice comments, "This is high-quality software that has been tremendously useful to us. I would like to thank the engineers who have put in many hours of hard work to make it available."
Why Linux?
Justice says Glyph/MGI selected Linux in order to make use of the rich assortment of audio software currently available. He adds, "We have been very happy with the stability and performance of Linux. Our software is very network-intensive. At maximum load, a unit will process 10,500 incoming audio packets per second, while generating 1,500. Linux handles this flawlessly. Coupled with rapidly maturing audio support, Linux is the best choice for our product."
Asked about the future of Linux in the industry, Justice replies, "In our space — professional audio — I expect Linux to become increasingly important in the near future. With JACK and ALSA, along with recent advancements in kernel latency, Linux has matured into a very attractive platform for serious audio development."
Availability
The Glyph/MGI GPM-216 is widely available now, at street prices of about $850.
---

This article was originally published on LinuxDevices.com and has been donated to the open source community by QuinStreet Inc. Please visit LinuxToday.com for up-to-date news and articles about Linux and open source.