Jan 4, 2001 — by Rick Lehrbaum — from the LinuxDevices Archive — 14 views
G.Mate Inc. describes the Yopy PDA as a "multimedia PDA based on the Linux OS and Yopy Windows" — a device which "focuses on organizing your life while emphasizing multimedia functionality." The Yopy integrates the functions of Internet and email access (via mobile phone), digital voice recorder, MP3 (audio) and MPEG (video) player, video games, plus a full set of PDA applications — all within a compact… PDA-sized package.
Besides containing a genuine Linux operating system, the device boasts a 4-inch full-color backlit LCD screen, does its computing business with a "powerful" 206 MHz 32-bit Intel StrongARM processor, provides both RS232 serial and USB expansion interfaces, and offers a CompactFlash Type II (CF-II) socket for memory or I/O expansion.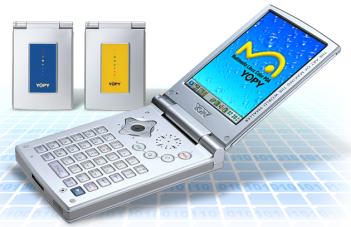 Yopy's CF-II expansion slot will be key to a wide range of uses. Among the CF-II cards that will be supported in the Yopy are a digital camera card, a Merlin CDPD wireless modem, and cards for Bluetooth, GPS, Flash memory, IBM "microdrive" 1GB+ hard disk, as well as most 16550A-compatible cards such as 56K fax modem, bar code reader, scanner, etc.
G.Mate has made a big point of having selected Linux as the Yopy's embedded operating system. The company will initially bundle a full suite of Personal Information Management (PIM) and other applications with the Yopy — including typical PDA-type apps for to-do, schedule, address, notepad, dictionary, calculator, time, and alarm functions — plus software for handwriting recognition, web browsing, email, voice recording, audio/video file playing, and video games (including Galaxa). In addition, G.Mate hopes to foster the emergence of an enthusiastic community of Linux developers who will create many more apps for the device.
What's it made of?
Some features of the Yopy's hardware are . . .
CPU: 206 MHz StrongARM SA-1110 32-bit system-on-chip processor

Memory: 16MB SDRAM; 32MB Flash (expandable to 64MB)

Display:

4.0 inch "True Color" backlit TFT LCD

240×320 pixel resolution

64K colors

IrDA port, supports SIR (up to 115.2 Kbps) and FIR (4Mbps)

RS232C serial port

USB port, up to 12 megabits/sec data rate

16-bit stereo sound CODEC

Built-in speaker and microphone plus audio in/out jacks

CompactFlash Type II slot for memory or I/O expansion

Size: 128mm x 83.5mm x 22 mm

Battery: 1400 mAh rechargeable Li-ion battery

Quick start and scroll buttons simplify use

Docking cradle includes RS232C and USB ports for synchronizing with PC; provides automatic battery recharge
Open source / Linux strategy
G.Mate's website carries the following message, which speaks to their commitment to Open Source software in general, and Linux in particular:
We will do our best to have Linux environment developed and expanded further by sharing Linux PDA solution G.Mate has developed with the developers and by giving them opportunities to apply their creative and invaluable ideas to Linux PDA. We really appreciate continuous interest and help of many Linux lovers and developers.
To support the hoped-for Yopy developer community, G.Mate has created the Yopy Development Kit (YDK-1000), which is sold through the company's website. The YDK-1000 includes the Yopy itself, plus the device's software development environment, Linux source package, and full documentation. The price for the development kit is US $590 (reduced price), plus shipping.
The development setup is based on connecting a host x86 PC (running Red Hat or Debian Linux) to the Yopy with a serial cable. The development environment provides a serial console interface, transfers files via Telnet, FTP, and PPP, and will support remote debugging using GDB.
How much will it cost, and when can I get one?
Although no pricing for end user units appears on G.Mate's website, the Yopy is expected to retail for between $400 and $600. In light of the fact that development kits (including the Yopy) will not begin shipping until after January 21, 2001, it's a safe bet that the Yopy won't be available for normal end user purchase until well into the second quarter of 2001. But, if I were you, I'd get my order placed right away!
---

This article was originally published on LinuxDevices.com and has been donated to the open source community by QuinStreet Inc. Please visit LinuxToday.com for up-to-date news and articles about Linux and open source.