Mar 16, 2004 — by LinuxDevices Staff — from the LinuxDevices Archive — 15 views
Industrial terminal and data collection device vendor Intermec plans to ship what it believes to be the first low-cost batch data collection terminal based on embedded Linux. The ruggedized "CK1" key-entry handheld runs a 2.4 uClinux kernel, supports off-the-shelf use as barcode scanner and linear imager, and is extensible through several application development environments. The CK1 targets parcel pickup and delivery, retail inventory management, medical/pharmaceutical applications, or light industrial use.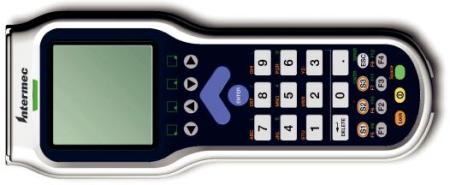 Intermec's CK1 batch data collection terminal
Another market for Linux?
Embedded Linux may be able to provide a lower-cost and more capable and flexible alternative to DOS and other proprietary, non-multitasking OSes typically used in batch terminals. Unlike more expensive RF-enabled (wirelessly networked) devices, batch terminals collect data in batches, syncronizing with inventory and other computer systems when docked. "Batch terminals are used by customers who don't need real-time inventory control," says Intermec Sr. Product Manager Jeff Hovorka, who adds that a typical user might be "a contractor stocking greeting cards" in a supermarket.
Market research from VDC suggests that the market for rugged PDAs and wearables as a whole is set for 25 percent to 35 percent compound annual growth (CAGR) through 2007. According to Havorka, the batch terminal market is growing more slowly than the RF-enabled terminal market, but still represents a growth market, expected by VDC to reach $750,000 million in 2004.
Development process
Havorka says it based the CK1 on a reference design from Unitech, a Taiwanese ODM (original design manufacturer). "When we told them our price point, and the features we needed, they showed us this," notes Hovorka.
The Unitech design includes a Linux implementation developed by Taiwanese embedded Linux start-up Esfia. Unitech, along with RealTek and two venture capital firms, invested $2 million in Esfia last October.
The CK1 features an integrated bar-code scanner, and comes pre-loaded with bar-code scanning and linear imaging software. Additional functionality can be developed using a Windows-based rapid application development system from Belgian firm MCL. Those wishing to customize the device more fully can purchase a Linux-based software development kit from Esfia, according to Hovorka. The design supports English and other western languages, Japanese, traditional Chinese (Big 5), and simplified Chinese, with Thai support under development.
Hovorka notes that a software engineer at Intermec also contributed to the CK1's software design and implementation.
Product details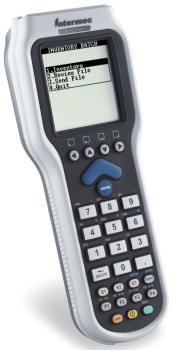 The CK1's physical design (click image at right for larger view) was created by an Intermec industrial designer. "We own the fenders," notes Hovorka. The device measures 7.2 x 2.7 x 1.4 inches (190 x 72 x 36mm), and weighs 8 oz. (250 grams). It's slim-handled design facilitates one-handed operation, and a pistol grip is available for scan-intensive use.
The ruggedized CK1 will survive multiple 4-foot (1.2m) drops onto concrete, Intermec claims, and can operate at temperatures from 14 to 140 degrees Fahrenheit, survive storage at -4 to 158 degrees Fahrenheit, and recharge from 32 to 122 degrees Fahrenheit (-10 to 60, -20 to 70, and 0 to 50 degrees Celsius, respectively). The device meets the IP42 rain and dust resistance standard, too, Intermec says.
The CK1 is based on an ARM 7 processor clocked at 67 MHz. It includes 1 MB of NOR Flash containing the bootloader, BIOS and NorWriter. It also includes 8 MB of Nand Flash containing the OS and Flash file system. The OS footprint is 3.5MB, leaving room for user-developed applications. The SDRAM size is 16MB. "Other devices at this price point have a total device footprint of 1-2MB," notes Hovorka.
The CK1 includes a monochromatic, backlit 160×160 pixel LCD capable of displaying 16 lines of 20-column text. The device also includes a three-color software-programmable status LED and a 29-key keyboard with "shift alpha."
The device is powered by a rechargeable 900mAh Lithium Ion battery, and includes "auto-suspend" power management. Claimed battery life is "up to 12 hours," with recharging times of three to four hours.
"Numerous docking options" are available, including a single-slot RS232 direct dock that supports TCP/IP over PPP; and a multi-slot USB charging dock. Support for GPRS is expected when a bluetooth module under development enables the device to connect with bluetooth-enabled cellphones. Supported modem protocols include X-, Y-, and Z-modem.
Availability
The CK1 is currently in beta testing at undisclosed customer sites, according to Hovorka, who expects Intermec to ship the device in April, with suggested list price of $795. "Depending on our suppliers' discount structures, user price could be as low as $500," he adds.
Intermec also expects to ship "in mid-2004" a bluetooth module that will enable the device to communicate with belt-worn bluetooth label printers, or syncronize via a bluetooth link to a GPRS-enabled cellphone.
---

This article was originally published on LinuxDevices.com and has been donated to the open source community by QuinStreet Inc. Please visit LinuxToday.com for up-to-date news and articles about Linux and open source.