Apr 1, 2003 — by LinuxDevices Staff — from the LinuxDevices Archive — 3 views
Inventel (Paris, France) has recently introduced several Linux-based gateway, router, and access point products for the SOHO (small office / home office) and consumer markets, including the DW-B-200 wireless access point and the DVW-250 residential gateway for voice and data communications.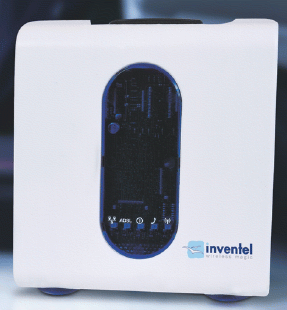 The DW-B-200 access point (pictured at left) is said to combine the functions of an ADSL modem, router, firewall, and the two most popular wireless technologies — 802.11b and Bluetooth.
A built-in webserver facilitates remote management of the device, firmware updates, and opens up the possibility for other web- and Internet-based capabilities. Additionally, Inventel intends to encourage development of various third-party applications that run on the device's internal Linux-based operating system, to implement functions such as authentication, billing, security, and more.
According to its data sheet, key functions implemented by the DW-B-200 include . . .
ADSL

Embedded ADSL Modem

ADSL G.dmt (ITU G.992.1)

ADSL ANSI T1.413

Annexes A (POTS) or B (ISDN)

Protocols

PPPoA (AAL5/RFC2364)

PPPoE (AAL5/RFC2684-RFC2516)

IP Bridged (AAL5/RFC2684)

IP Routed (AAL5/2684/Routed)

Ports

USB 1.1

Ethernet RJ45 10/100-BaseT

802.11b wireless

WLAN 802.11b

Throughput 11 Mbps

Range: 30 to 100 m indoor, 100 to 300 m outdoor

Bluetooth wireless (option)

Profiles: SPP, LAN, DUN, PAN

Protocols: L2CAP, SDP, RFCOMM, BNEP

Encrypted with safer

Throughput 723 Kbps

Range: up to 100 m

Router

Masquerade for internet access sharing

Static routing tables
DHCP server & client

Security

Embedded firewall

NAT / PAT

VPN Passthrough

IPSec Passthrough
The DVW-250 residential gateway has a similar appearance to that of the DW-B-200, and provides gateway services for both telephone- and broadband-connected Internet. The device also offers communications services for up to five DECT handsets. Additionally, an 802.11b, 802.11a, or 802.11g interface can be added via a PC Card expansion slot, allowing users to upgrade the DVW-250 to become a wireless access point.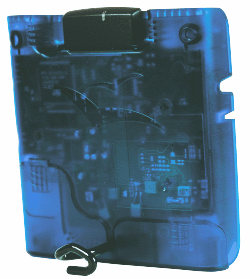 What's inside?
Inventel's gateway, router, and access point products are based on either ARM or MIPS processors, and have memory resources that consist of 16MB of SDRAM and 4MB of nonvolatile Flash memory. Wireless interfaces, including 802.11b and Bluetooth, are added by means of an externally accessable PC Card slot.
In addition to the embedded Linux operating system based on the 2.4 Linux kernel, other open source software embedded in the Inventel devices includes a thttpd webserver, dhcp client and server, ppp client and server, ftp client, and the BusyBox utility suite.
Why Linux?
Key reasons Inventel selected Linux as the embedded operating system for these gatewall, router, and access point devices were the availability of Linux source code, plus the extensive support Linux provides for multiple processor architectures, according to Inventel software developer Xavier Debreuil.
Rather than going with a commercially available embedded Linux toolkit, the company opted to develop the required Linux-based embedded operating system using internal resources.
"We are very glad to have [used embedded Linux], and would do it again," Debreuil noted.
Debreuil sees a bright future for embedded Linux in his crystal ball. "With ARM and MIPS cores being used in most new embedded processors for our market, Linux will be the embedded operating system solution, since it includes most of the functions needed to run a router," he predicted.

This article was originally published on LinuxDevices.com and has been donated to the open source community by QuinStreet Inc. Please visit LinuxToday.com for up-to-date news and articles about Linux and open source.