Feb 7, 2003 — by LinuxDevices Staff — from the LinuxDevices Archive — views
IR Data (Irvine, CA) recently unveiled a Linux-based portable wireless server at the Consumer Electronics Show (CES) in Las Vegas. Dubbed the Wireless Zone, IR Data's new gadget takes advantage of Linux, Apache, and other open source technologies to creates its own 802.11b wireless (WiFi) hot zone, within which it can deliver web pages, demonstrations, presentations, and other data to other… wireless-enabled devices and systems without requiring Internet access.
Expected applications for the Wireless Zone include . . .
Trade-show demonstrations
Business presentations
Product demonstrations
Technical training and collaboration
Mobile database systems
Data and contact logging
. . . and many more.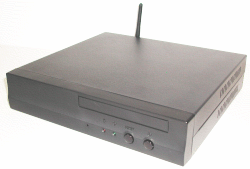 How it works
Basically, the Wireless Zone implements an 802.11 wireless access point, and additionally provides webserver, DHCP, and DNS services for the local wireless client devices within its range. Users of wireless-enabled devices in the vicinity of the Wireless Zone can thus access web pages (even entire websites) and other data hosted on the device.
As an example, consider the use of the Wireless Zone in a sales setting. In this case, the device might be used to host sales presentations, product brochures, specification sheets, database information, or graphic presentation materials can be instantly accessible to customers using their own (wirelessly-enabled) PCs or laptops. Anything from the vendor's website could easily be loaded into the device.
For normal operation, there is no need to attach a screen or keyboard to the Wireless Zone. Updates to the device's internal website are conveniently accomplished using the integrated CDROM drive: simply insert the update CD and when the website update is complete, the CD is ejected. Updates and maintenance can also be done via FTP services, in a similar manner to an Internet-accessed webserver.
What's inside?
The Wireless Zone contains a single-board computer (SBC) based on a VIA Technologies Cyrix C3-800 (x86 compatible) processor, which provides all required computer functions. Beyond the embedded SBC, the system also contains a 20GB hard drive for storage, a CDROM drive for loading data, and an 802.11b interface card for communications. (For those interested in SBCs, the board is the VIA Mini ITX form-factor tiny PC-compatible motherboard.)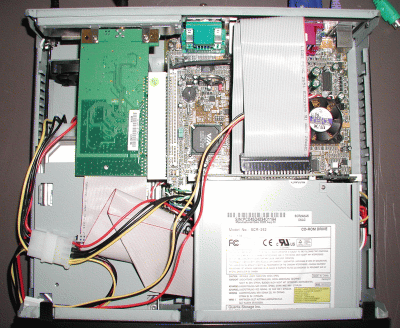 The system runs a customized Linux kernel derived from Red Hat's Linux distribution. The server and software configuration functions are provided by various Linux applications; these include such stalwarts as Apache, BIND, DNS, DHCP, and others.
Why Linux?
"Linux met our design point, and our product requirements," recalled IR Data president and founder Douglas Bradford. "There was no other operating system that we could obtain source to customize for our environment and run Apache so well."
"This project was a pretty straightforward project like all UNIX projects of the past," Bradford added. "Mature stable Linux development tools made this new product development possible, any other operating system would have required a lot more time to complete — and in the product development arena, time is money."
"We used GPL sources and made lots of modifications. Of course, we have followed the spirit of the GPL license and released modifications that we have already made to GPL code," said Bradford. "We also developed some new code that we are keeping proprietary for now."
What does Bradford think about the emerging role of Linux in the embedded market?
"We think it is great. Our money and our products are betting on Linux."
---

This article was originally published on LinuxDevices.com and has been donated to the open source community by QuinStreet Inc. Please visit LinuxToday.com for up-to-date news and articles about Linux and open source.