Jul 26, 2005 — by LinuxDevices Staff — from the LinuxDevices Archive — views
A 1990's Linux start-up that resurfaced as a Linux system management software vendor is now shipping a Linux-powered device aimed at simplifying Linux system administration. The Intrepid M is the first hardware product from Levanta — formerly LinuxCare — and the "world's first Linux management appliance," according to the company.

The Intrepid M is Levanta's first hardware product
LinuxCare
was a fun and friendly Linux startup founded in the late 90s by Art Tyde, Dave LaDuke (who went on to found
Sputnik
), and Dave Sifry, and located down in the basement of a converted fashion mall in San Francisco's South of Market district. LinuxCare was notable for employing a large number of key open source developers, including PHP creator Rasmus Lehrdorf, SAMBA creator Andrew Tridgell, Lycoris creator Joseph Cheek, and many others. Among LinuxCare's contributions were a beautiful 8-foot tall printed map of the Linux kernel, and extremely useful business-card-sized Linux rescue CDs. (For more fascinating LinuxCare history, be sure to check out the "Related Stories" section at the end of this story.)
Levanta abandoned its old LinuxCare name a little more than a year ago, to reflect a growing focus on its "Levanta" server management software product. Levanta (both company and software product) were initially highly focused on IBM Z-series Linux servers, a focus that later expanded to include a broad range of commodity hardware. The Intrepid M, for example, supports blades, servers, workstations, and even virtual servers, according to David Dennis, product marketing director.
Dennis says the Intrepid M has been successfully beta-tested by customers that include Boscov's, a department store chain with 41 New England locations and an online store, and CUNY (City University of New York). Additionally, computer game publisher Electronic Arts reportedly uses Levanta software to re-allocate computing resources according to demand for its various online game rooms.
What'll she do?
Levanta calls the Intrepid M "the world's first Linux management
appliance." The device can be used to provision servers or workstations with standard or custom Linux OS stacks and applications, deploy software updates and patches across multiple machines, or migrate software or entire systems from one machine to another. Additional claimed capabilities include:
Change-tracking to support testing, security, or compliance needs
System snapshots, with rollback "in minutes," even to very old snapshots
Rapid disaster recovery, even of unbootable machines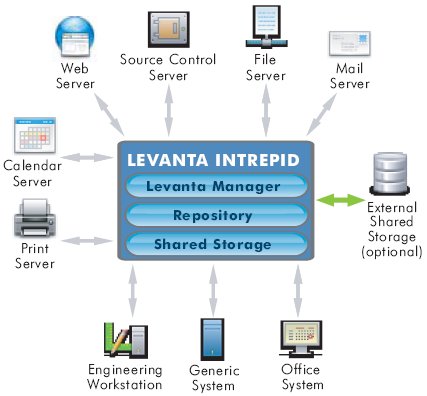 The Intrepid M comes pre-loaded with Fedora, and templates for various kinds of servers
The Intrepid M has a significant amount of redundant storage that serves as a network repository for managed software. It comes stock with Fedora Linux pre-loaded in the repository; however, SuSE and RedHat can be added "simply by feeding it distribution CDs," according to Dennis.
The Intrepid M comes stock with pre-defined templates for various kinds of servers and workstations. The templates are based on open source software, including Apache, Samba, CVS, Perforce, Postfix, Sendmail, Qmail, and Open Office. Users can also add their own software, and create their own templates, Dennis says.
What's under the hood?
The Intrepid is based on a Pentium 4 of unspecified speed, and has 1GB of RAM and two RAID controllers. The first RAID controller manages an array comprised of two internal SATA drives that house the Intrepid's own Linux operating system and the Levanta application software. The second controller manages four internal SATA drives configured in a RAID-5 array, which acts as the data store for managed software. The device has 1.4 terabytes of total storage capacity.
I/O ports include two gigabit Ethernet ports, and a USB port "for diagnostic and support purposes," Dennis says. The Intrepid M also includes a small, full-color front-panel LCD display powered by Xorg software, and used for initial configuration and system status read-out.
In addition to its small LCD display, the Intrepid has a browser-based interface used to remotely set up and manage sophisticated network settings, Dennis says. Additionally, the device comes with a Java/Swing and JRE client-server application used by administrators in day-to-day system administration.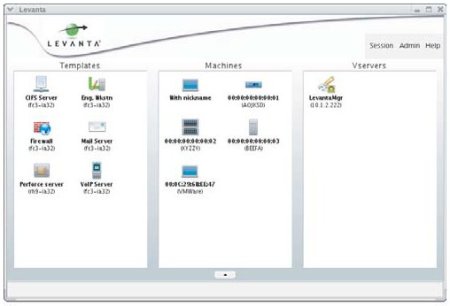 The Levanta includes a client application written in Java, as well as browser and local LCD interfaces
Why Linux?
The Intrepid M itself is based on a widely available but unspecified version of Linux that was "well-suited for the device out of the box," according to Dennis. He adds, "The minimal amount of additional work we had to do was all done in-house, and mostly concerned device driver development for custom hardware components."
Dennis says that porting the Levanta software to an appliance form-factor was "a very smooth operation," which he credits to the maturity of Levanta software as a standalone product. He says the company chose Linux because it provides the optimal combination of power, robustness, and flexibility needed in a mission-critical appliance.
"The fact that Linux was free was also a benefit," Dennis adds. "It would have been near impossible for a startup company like us to bring our Intrepid appliance to market without using Linux," he adds.
Availability
The Levanta M is available now, priced at $7,500, with licenses for 10 managed targets. Licenses for additional machines are $250 each. Rackmount rails are also available for an additional $200.
---

This article was originally published on LinuxDevices.com and has been donated to the open source community by QuinStreet Inc. Please visit LinuxToday.com for up-to-date news and articles about Linux and open source.