Aug 11, 2005 — by LinuxDevices Staff — from the LinuxDevices Archive — 40 views

Rajant Corp.'s Linux-powered BreadCrumbs are small, rugged, battery-powered, self-configuring, mobile wireless mesh repeaters/routers capable of instantly establishing meshed 802.11b wireless networks. They're aimed at military, police, fire, paramedic, rescue, and emergency-service uses, and can be deployed on moving vehicles on the… ground and in the air.
Once the wireless meshes are established by the BreadCrumbs, the ad hoc 802.11b WLANs work with most wireless devices, including laptops, PDAs, wireless cameras, VoIP (voice-over-IP) phones, digital radios, and sensors, according to Rajant.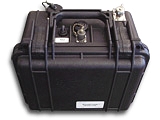 The BreadCrumb XL is the heaviest model, at 10 lbs.
The BreadCrumb, introduced in 2004, has been used by the US Army in the war in Iraq, according to Rajant CTO Paul Hellhake. The devices assist in coordinating troop and weapons movements, and are used for communication among military units in rooting out terrorist activity in that country, Hellhake said.
Rajant's BreadCrumbs were also part of last December's tsunami disaster relief effort in Thailand, Hellhake added. "One BreadCrumb system was connected to seven local voice over Internet protocol (VoIP) systems in Thailand at one of the main relief centers, [and] then used a satellite uplink to the Internet," Hellhake said. "That allowed families of victims 24/7 access to information about their loved ones in the disaster."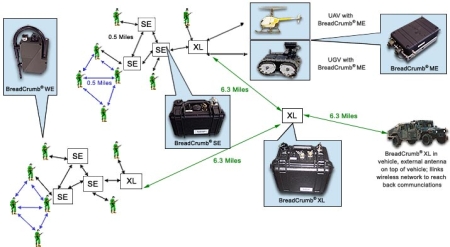 The big picture: A typical US Army deployment may include multiple BreadCrumb devices
(Click above image to enlarge)
Rajant makes four BreadCrumb models:
BreadCrumb XL — High-powered BreadCrumb with greater radio range for use at mobile command posts or headquarters.

BreadCrumb SE — Standard portable repeater that provides network backhaul and network availability for a certain area.

BreadCrumb WE — Very small, lightweight device with integrated antenna and rechargeable battery designed to be completely mobile and worn by an individual war fighter.

BreadCrumb ME — Lightweight and self-powered for aerial missions.
The company lists the following key features and functions for the BreadCrumb line:
Embedded computer:

CPU — Intel XScale PXA255 processor, running at 200 MHz
RAM — 32 MB
No internal disk; runs from 16-32 MB Flash memory
No display; units operated remotely
Input/output interfaces — USB, Ethernet (some units have multiple ports)
Expansion — PC/104, PCMCIA, MiniPCI
Embedded operating system — Familiar Linux (2.4 kernel)

Communications capabilities:

Two internal radio cards
Frequency — 2.4 GHz unlicensed (XL, SE, WE are two channels; ME is one-channel)
Bandwidth:

XL and SE — up to 22 megabits/sec shared bandwidth nodes
WE — 11 megabits/s
ME — 22 megabits/sec

Range:

XL — 10 km
SE, WE, and ME — 0.2-0.5 miles

Dimensions / weight:

BreadCrumb XL — 11 x 10 x 7 inches / 10 pounds
BreadCrumb SE — 8.5 x 7.25 x 3.75 inches / 3.2 pounds
BreadCrumb WE — 7.25 x 5 x 2.5 inches / 2.5 pounds
BreadCrumb ME — 6.25 x 4 x 1.5 / 1.5 pounds
The BreadCrumb's ingredients
At the heart of the BreadCrumb is an InHand Elf3 single-board computer (SBC) running a modified version of the Familiar Linux distribution, based on a Linux 2.4 kernel and customized in-house by Rajant engineers. The Elf3 SBC is based on an XScale PXA255 embedded processor, running at up to 400MHz.
The Elf3 SBCs used within the BreadCrumbs are essentially standard off-the-shelf components, Hellhake said. "During testing in harsh environments, we had a few half-cent-type components fail, and those were replaced by InHand and incorporated into all the rest of their boards as standard," Hellhake said. "So the boards are plug-and-play, so far as we're concerned." The main factor in selecting the Elf3 was its "very low power consumption," Hellhake added. "We require these units to be on constantly, often in very adverse conditions, so power performance was the No. 1 determinant for us."
Why Linux?
Reliability was the major factor, Hellhake said. "That would pretty much send us away from Windows," he said with a laugh. Another factor was the "reality" of the routing that needed to take place."We had to touch parts of the operating system," Hellhake said. "We looked around at several different real-time systems, and Familiar [Linux] seemed like a natural fit to create our own build. We knew Linux was the right place to start, and we have had no problems to speak of as a result."
The BreadCrumb's software runs in 32 MB of RAM memory, Hellhake said, and it's more than enough for efficient operation. "We use some temporary tables to manage the device algorithms, and we still have a nice [memory] overhead," he said.
Rajant had to add some its own "hooks" into the kernel for its user space applications, such as the special mesh routing software it required, Hellhake added. That was another advantage of using Linux, he said.
Hardware considerations
Rajant was assisted in its development efforts by its SBC vendor, InHand. "Rajant's wireless and power requirements were the most important challenges we had to meet to build the BreadCrumb," recalled InHand CTO Andrew Girson. "Elf3's power optimization, coupled with its wireless capabilities, minimize the number of BreadCrumb ground stations and the setup time."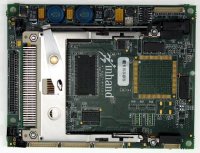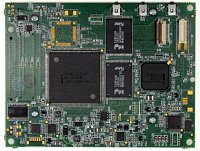 Front and back views of the Elf3 SBC
(Click each image to enlarge)
InHand provided the following list of features for the Elf3, most of which are included in the BreadCrumb devices, the company said:
CPU — 400 MHz Intel XScale PXA255 processor
Flash memory — 16-32 MB, Intel Strata Flash with bootloader and on-board programming
SDRAM –32-64 MB with self-refresh and backup
Serial ports — 3 (1 RS-232, 1RS-232/CMOS, 1 CMOS)
USB — USB Slave and Host (optional with 2 downstream ports)
Bluetooth — onboard module (optional)
GPS — On-board module (optional)
Miscellaneous interfaces — daughtercard connector with parallel and serial interfaces for custom designed peripherals; synchronous serial interface (SSP or SPI)
Expansion slots — 2 PCMCIA slots (3V and 5V)
Embedded OS support — Linux and Windows CE
Rajant plans to market the BreadCrumb to local public-safety agencies in North America and abroad, CTO Hellhake said.
---

This article was originally published on LinuxDevices.com and has been donated to the open source community by QuinStreet Inc. Please visit LinuxToday.com for up-to-date news and articles about Linux and open source.