May 8, 2001 — by Rick Lehrbaum — from the LinuxDevices Archive — 1 views
New England startup Memora Corp. is attempting to create a new product category — the "personal server" — and hopes to thereby grab the leadership position in that niche. A name reminiscent of "personal computer," the term "personal server" is meant to convey the idea of an appliance-like device that performs a range of useful services and can be easily installed and operated by nontechnical end users… in their homes.
Accordingly, Memora's initial product offering, the Servio Personal Server, is being billed as "the first 'personal server' for the home." The Linux-based device integrates a combination of services increasingly desired in many of today's well-connected homes, including such functions as: residential gateway, firewall, (wired and wireless) network server, email services, and multimedia (and other) file storage and sharing. Plus, it offers secure external access via the Internet to email, Web pages, and designated files.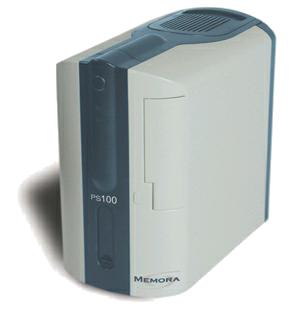 Memora cofounder Antonio Rodriguez contends that "personal servers" are needed because "the PC platform is incapable of effectively managing the growing flow of digital content from the many devices, file formats, and channels that consumers use today."
For that reason, Memora's founders set out to develop an easy-to-use home appliance that could fill that gap by "providing consumers with a single point of presence for organizing, accessing, and sharing their digital information when, where, and with whomever they choose." With personal servers, "we are able to offer high-speed access to your content anywhere, not only on your own local network but on the Internet at large," says Rodriguez.
How it works
The Servio Personal Server is basically a small (and unique looking) computer system, not too different from an ordinary desktop PC. It's dimensions are 12 x 14 x 6 inches (height x depth x width).
However, instead of running Windows and being accessed using a monitor and keyboard, the Servio runs Linux and several other open source programs (including the Apache web server, Mysql, and the Exim mail server) and comes preconfigured for appliance-like operation out of the box.
You connect the Servio between a broadband connection (DSL or cable) and the local (wired or wireless) network within your home. Then, you turn the device on and let its auto configuration program discover your specific network settings. Finally, using any PC browser, you enter your name and a public name for your Servio. Assuming everything went as expected, you're now ready to create accounts for friends, associates, or family members and begin sharing photos, video clips, music, and other files.
What's inside
Initial Servio models are based on a 600 MHz (or faster) Intel Celeron processor with 128MB of memory and a 30 gigabyte hard disk, with larger hard disks to be offered as future options. External input/output connections consist of two fast Ethernet (10/100 Mbit/sec) ports and two USB ports. Typically, one Ethernet port connects to a DSL hookup, while the other goes to an in-home LAN. The two USB ports let you connect the Servio to wireless LANs and other external interfaces.
According to Rodriguez, the real power of the Servio comes from a set of browser-based applications developed by Memora that integrate email, database, and Web services within a unified, easy-to-use, and powerful content management solution. Information submitted by users to the device is automatically organized according to data type and prepared for viewing from either within the home or over the Internet. "You can invite friends, family, and colleagues to see your pictures, watch your video, or listen to your music — all through a secure, password-protected environment," according to Rodriguez.
Why Linux?
Asked why Memora decided to use Linux, Rodriguez lists three key reasons: "Linux is rock solid as a server; there's tons of available software; and there's zero cost."
"We have tried very hard not to make extensive customizations to core pieces (i.e. the kernel, Apache, Reiser FFS, etc.) beyond available patches, because maintaining these modifications would be out of the realm of the possible, given our current available resources," explains Rodriguez. "Memora would not have been possible without open-source software," he adds.
"We are very conscious of that, and hope that the market affords us the opportunity to pay the community back in a major way," says Rodriguez. "In the future, we'd like to do something for the USB support within the kernel — especially relative to reading/writing of camera memory cards — and we also want to provide some assistance to the various video-for-linux projects."
Future plans
Memora is also committed to working with the open source community and intends to launch a developer program in order to encourage the development of new applications for the Servio Personal Server that sit on top of its Linux-based application layer. To facilitate this, the company has developed Java bindings for the Memora API, and will soon add bindings to other high-level languages such as Perl and Python.
A long term goal is to develop media-specific devices called "Memora Media Pods" that will be used for home playback and recording, thereby "allowing users to cut the tether between themselves and their PCs," according to Rodriguez. Another idea is to develop what might be considered an intelligent universal remote control, based on a wireless PDA-like device, that can be used to control the flow of digital content among all the various record and playback devices within the home.
"We know one thing," says Rodriguez. "We can't do this alone. Numerous companies have tried and failed to make a go of a vision like ours alone. We need all sorts of help from the embedded community, in much the same way that the Linux community has helped us get where we are today."
When (and where) can I get one, and for how much?
According to company officials, you can order a Servio PS100 on their website for delivery within 5-7 working days, at a price of $1,495.
---

This article was originally published on LinuxDevices.com and has been donated to the open source community by QuinStreet Inc. Please visit LinuxToday.com for up-to-date news and articles about Linux and open source.