Aug 19, 2005 — by LinuxDevices Staff — from the LinuxDevices Archive — 32 views

ThingMagic is shipping a Linux-powered RFID reader based on a software-defined radio (SDR). The company says the Mercury4 can read any RFID tag format, including those not yet invented, and can be adapted to meet regional regulations. Additionally, it can read 266 million tag-instructions per second, ThingMagic claims.
The Mercury4 includes wired and wireless Ethernet interfaces, enabling it to route data into networks, databases, and business applications.
The device uses a software-defined radio (SDR) to read RFID tags. The SDR is based on a Texas Instruments DSP chip running a proprietary RFID stack called "MercuryOS."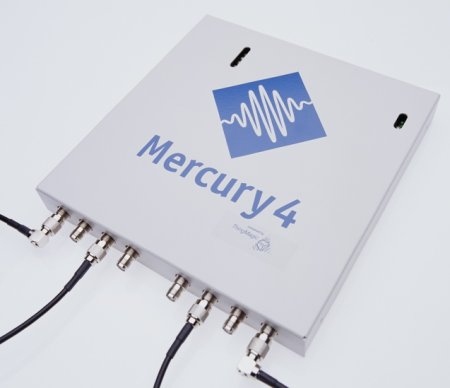 The Mercury4 RFID reader has a software-defined radio
(Click to enlarge)
According to ThingMagic, the Mercury4 reads all variants of EPC Class 1 and 0, including the new "rewriteable" Class 0 tag, as well as ISO 18000-6B and UCODE EPC 1.19. The unit's digital signal-processing software can be updated as needed to support additional RFID radio protocols as they emerge, such as EPC Generation 2 and ISO 18000-6A, the company says.
SDR also enables Mercury4 to support multiple frequencies, and regional regulatory variations, ThingMagic said. The first release of Mercury4 supports North American UHF regulations, but subsequent versions will support HF, European UHF, and Japanese UHF options, the company says.
What's under the hood?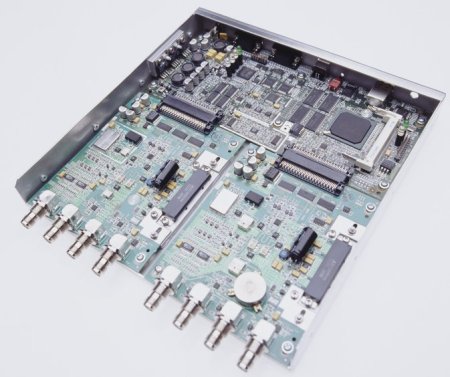 The Mercury4's embedded computer electronics
(Click to enlarge)
The Mercury4 is based on a 266MHz Intel
IXP4xx
, an NPU (network processor unit) with integrated acceleration of network functions. It also includes a TI TI55xx DSP clocked at 300MHz. The system boots from 16MB of Flash, and has 64MB of DRAM. Input/output interfaces include RS-232 serial and RS-485 multi-drop serial interfaces, 10/100 Ethernet, a USB device interface, and an 802.11b/g miniPCI card.
Embedded Linux software
On the software side, the device runs a 2.4.1 Linux kernel, alongside the company's "MercuryOS" DSP stack.
The Mercury4 offers a secure web interface and an SSH interface. It also supports Zeroconf, a collection of network device interoperability standards known in the Apple universe as Rendezvous.
ThingMagic's VP of engineering, Margeret Wasserman, said the company selected Linux due to "cost, source availability, availability of compatible source code, and drivers. We continue to use it for new in-house projects."
Wasserman adds, "Our Linux integration went smoothly. We have had good success adding new features to our device from open source. It was somewhat challenging to get the gdb agent running on the embedded device so that we would have a live debugging environment."
ThingMagic did the Linux port/support with internal staff, Wasserman said. She added that Linux runs on the Intel IXP420, but that "we do not run an RTOS on the TI 5502 DSP; the DSP code is our own proprietary RFID-specific code."
As for her predictions for the future of Linux in the embedded market, Wasserman said: "On devices with sufficient processor speed and memory, Linux is likely to be the predominant embedded operating system going forward."
Availability
The Mercury4 reader, introduced in 2004, is now available in products from licensed partners.
In a related story, Two Technologies this week shipped its JETT-RFID+, a handheld RFID reader based on Windows CE that also employs a field-upgradable SDR architecture.
---

This article was originally published on LinuxDevices.com and has been donated to the open source community by QuinStreet Inc. Please visit LinuxToday.com for up-to-date news and articles about Linux and open source.