Aug 10, 2010 — by Eric Brown — from the LinuxDevices Archive — views
[Updated: 11:50AM] — Verizon Wireless and Motorola announced that an update to the latter's Droid smartphone will go on sale tomorrow. A keyboard-enabled alternative to the new Droid X, Motorola's Droid 2 runs Android 2.2 on a 1GHz processor, and includes a 3.7-inch WVGA display, five-megapixel camera, 3G mobile hotspot capabilities, and an improved slider keyboard.
The Droid 2 goes on pre-sale tomorrow for $200 with rebate and contract, which is the same price applied to the higher-end Droid X. It will be available in Verizon Wireless stores the next day.
We'll soon see whether the demand will come anywhere close to that of the recent iPhone-like hysteria over the Droid X. The phone sold out in huge numbers the first day, and is still in short supply.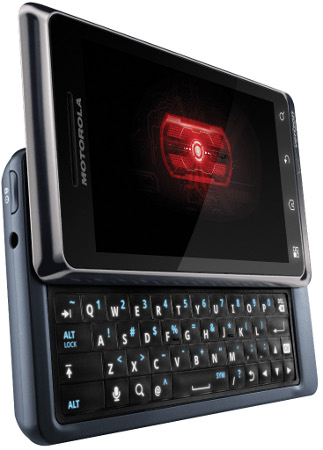 Motorola Droid 2
(Click to enlarge)
The Droid 2 lacks the 4.3-inch display of the Droid X, sticking with the Droid's 3.7-inch WVGA touchscreen. Its five-megapixel camera (same as the original
Droid
) can't match the Droid X's eight-megapixel model, either, but other features are fairly similar.
The Droid 2 is the first phone to ship with Android 2.2 ("Froyo"), offering features such as faster performance, push corporate email, improved social messaging features, and Adobe Flash Player 10.1. The latest report from Motorola says that the Android 2.2 upgrade won't hit Droid X users until September.
The Droid 2 measures 4.58 x 2.38 x 0.54 inches, which is about the same as the Droid, but shorter, narrower, and fatter than the 5.01 x 2.61 x 0.38-inch Droid X. The phone weighs the same as the Droid, weighing in at just under six ounces, but due to its keyboard, is a bit heavier than the Droid X.
The redesigned QWERTY keyboard may be the biggest draw here, although it would not take much to improve upon the much-maligned Droid slider. Just glancing at the photos side by side (below) suggests that the arrangement is improved.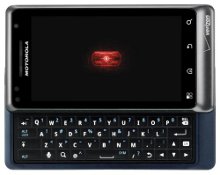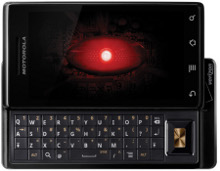 Droid 2 (left) and original Droid (right), showing redesigned keyboard


(Click on either to enlarge)
The Droid 2's keyboard is now more symmetrical by eliminating the under-utilized directional navigation key with center select, which takes up room on the right side of the original Droid's slider. To compensate, standard directional keys have been integrated in the typical lower-right section of the keyboard.
Most importantly, the redesign enables Motorola to implement larger, raised keys "for more responsive typing," says the company.
The Droid 2 is listed as offering a 1GHz processor. Based on earlier leak reports, this is likely the Texas Instruments (TI) Cortex-A8-based OMAP3630, which also shipped with the Droid X.
Like the Droid X, the Droid 2 ships with 8GB of onboard flash memory, but it offers only an 8GB pre-installed memory card for its 32GB microSD slot instead of the Droid X's 16GB, says Motorola.
As noted, the 3.7-inch 854 x 480 display is the same as the Droid. Wireless features include support for Verizon's CDMA 800/1900 and CDMA EV-DO 3G cellular services, as well as 802.11b/g/n, Bluetooth 2.1, and aGPS. Accelerometers are said to be available, as are proximity, light, and eCompass sensors.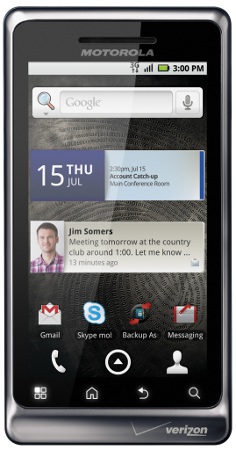 Droid 2 with slider closed
(Click to enlarge)
The Droid 2's five-megapixel camera offer dual LED flash and supports DVD-quality 720 x 480 video capture and playback at 30 frames per second, says Motorola. The phone is also said to offer DLNA network discovery and media streaming connectivity to compatible devices such as a HDTVs, game consoles, or PCs. Supported video formats are said to include H.263, H.264, MPEG4, WMV9, and WMV10 formats.
The phone's 1400mAh battery supports up to 575 minutes talk time and 315 hours standby, says Motorola. Additional features are said to include a USB 2.0 port and 3.5mm audio port.
Like the Droid X — once it's upgraded to Android 2.2 — the Droid 2 supports Verizon's optional 3G Mobile HotSpot service, which taps into "Froyo's" tethering capability. The $20 per month service lets users share 3G bandwidth with up to five compatible Wi-Fi devices. This service is unavailable when upgrading the original Droid to Android 2.2.
The Droid 2 also ships with an optional "multimedia station" which transforms the phone into an alarm clock or digital picture frame, says Verizon. A car mount for using the phone's Google Maps Navigation app is also said to be available.
Specifications listed for the Droid 2 include:
Processor — 1GHz processor (likely the TI OMAP3630)
Memory — 8GB internal flash; 8GB card for microSD slot capable of 32GB
Display — 3.7-inch 854 x 480 (WVGA) with pinch-to-zoom
Input — QWERTY slider
Wireless communications:

CDMA 800/1900, CDMA EV-DO 3G cellular
Bluetooth Class 1.5, v2.1+EDR
Wi-Fi (type unstated)
aGPS

Camera — 5 megapixel with dual LED flash
USB — USB 2.0 High Speed
Audio — 3.5mm audio port
Options — 3G Mobile HotSpot (tethering for five Wi-Fi users); Multimedia station; car mount
Software/firmware highlights:

Android 2.2
Webkit HTML5 browser
Adobe Flash 10.1
MAP/POP, Gmail, MSN Hotmail, Yahoo!, AOL, Exchange
SMS/EMS/MMS, email
DLNA
FOTA/OTA (over the air sync)

Battery — 1400mAh for up to 575 min. talk time and 315 hours standby
Dimensions — 4.58 x 2.38 x 0.54 inches (116.3 x 60.5 x 13.7mm)
Weight — 5.96 ounces (169 g)
The Droid 2 offers Android 2.2 features including speech-to-text input and a virtual multi-touch keyboard with Swype support, says Motorola. The phone fully supports Froyo's push corporate email capabilities, and offers features such as remote wipe and password enforcement, says the company.
Pre-loaded social networking widgets are said to let users sync and stream feeds and updates from Facebook, Twitter, and MySpace to a single screen in real time. In addition, Android Market is available along with Google Maps Navigation and other Google apps.
Additional apps are said to include NFL Mobile (downloadable), Skype mobile, and Blockbuster On Demand, as presented using V CAST Video.
There's no mention of MotoBlur, although the phone appears to have the same toned-down version that is offered by the Droid X, and which has received criticism in the phone's otherwise glowing reviews.
A story in AndroidandMe yesterday notes that Motorola co-CEO Sanjay Jha has recently stated that his company would not focus on the custom user interface skin for Android going forward.
Jha is quoted as saying during the Q&A of Motorola's second-quarter earnings call, "With MotoBlur, we have found that being able to convey the value proposition around MotoBlur is not an easy thing to do in a 30-second ad spot. We have decided that we will focus on the value proposition of products and not MotoBlur as a brand name in its own right. MotoBlur continues to be important and I think you will see increased functionality in MotoBlur."
As the story notes, Google has said that Android 3.0 ("Gingerbread") will make UI skins unnecessary, although HTC has vowed to continue on with its Sense UI layer. These and other skins, such as Sony Ericsson's UX, have been criticized for slowing down Android, needlessly duplicating features, and fragmenting the Android experience.
In fact, one reason why the original Droid may have been so popular was the fact that it was free of such encumbrances.
R2-D2 Droid edition
Verizon Wireless will offer a limited-edition R2-D2 version of the Droid 2, available only online in September. Based on the chirping, beeping R2-D2 Astromech Droid from the Star Wars Saga, the special edition will feature exclusive Star Wars content and external hardware designed to match R2-D2's physical design,s ays Verizon.
Visitors to the upcoming Star Wars Celebration V in Orlando, Fla., can see a preview of the limited edition and sign up to receive alerts when the phone is ready for sale.
Stated Bill Ogle, chief marketing officer of Motorola Mobile Devices and Home Business, "We listened to consumers and are providing an even more robust experience built on Android 2.2 that includes a new keyboard, increased processing power, Adobe Flash Player 10.1 and 3G Mobile HotSpot capabilities to send, access and share information even quicker than before."
Availability
The Droid 2 by Motorola will be available for pre-sale on Aug. 11 at Verizon Wireless' website, here, and will be in Verizon Wireless stores on Aug. 12 for $200 after a $100 mail-in rebate with a new two-year customer agreement.
In addition to subscribing to a Nationwide Talk plan ($40 a month) or a Nationwide Talk & Text plan, customers must subscribe to an Email and Web for Smartphone plan ($30 a month, unlimited). The optional 3G Mobile HotSpot service costs $20 per month.
More information on the Droid 2, including specs, may be found at this Motorola site, here. More on Droid phones may be found at Verizon's interactive, animated "Droid Does" site, here.
---
This article was originally published on LinuxDevices.com and has been donated to the open source community by QuinStreet Inc. Please visit LinuxToday.com for up-to-date news and articles about Linux and open source.