Jun 10, 2010 — by Eric Brown — from the LinuxDevices Archive — 2 views
Motorola co-CEO Sanjay Jha announced that his company will release an Android smartphone equipped with a 2GHz processor by the end of the year, say industry reports. Also this week, Apple announced the iPhone 4, Sprint amended its sales estimate for the launch of the HTC Evo 4G, and the Samsung Galaxy S debuted in Asia, says eWEEK.
Sanjay Jha, CEO of Motorola's consumer business and mobile devices division, tipped an upcoming 2GHz Android smarthphone via a speech at the Executives Club of Chicago yesterday, according to several reports, including one from ConceivablyTech. Other publications covering the event quoted Jha as adding that Motorola would roll out two to four Android phones with videoconferencing capabilities this year.
According to Wolfgang Gruener, writ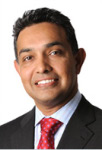 ing in ConceivablyTech, Jha (pictured) offered no more details about the 2GHz phone. But, Gruener adds, another Motorola executive who asked to remain anonymous said the device would "incorporate everything that is technologically possible in a smartphone today."
Like the iPhone 4, which Apple announced on Monday, the phone will offer a gyroscope, and it will also "add an Nvidia Tegra-based graphics processor with full Flash 10.1 hardware acceleration," writes Gruener. The Motorola source was also quoted as saying that the phone would support 720p output, "HD screen resolution," and a camera "with more than five megapixel" resolution.
It is unclear what the "2GHz" processor in the touted device will be. It could be a yet-to-be-announced version of Nvidia's ARM Cortex-A9 Tegra 2 processor, currently clocked at 1GHz and beloved by Android tablet makers. Or, as Gruener's story suggests, it could be an evolution of the 1GHz Qualcomm Snapdragon. (Motorola has been rumored to be switching from its usual Texas Instruments OMAP3430 processor to a 1GHz Snapdragon for an upcoming "Droid Xtreme" phone.)
A Reuters report on the Chicago address, meanwhile, quotes Jha as saying that Motorola will ship two to four phones with front-facing cameras that could be used for mobile videoconferencing.

In addition, Reuters reports Jha as saying the original, hot-selling Motorola Droid (pictured) is still in high demand on Verizon, but that production is being limited by industry-wide supply chain constraints due to a shortage of touchscreens from Samsung Electronics. (HTC is also having production troubles with its HTC Droid Incredible due to the display shortages, the story adds.)
HTC Evo 3G and iPhone 4 launch
The first major Android smartphone to offer a front-facing videocam, as well as videoconferencing software support, appears to be HTC's Evo 4G, which went on sale on June 4, supporting Sprint's 4G network. On June 24, meanwhile, the decidedly non-Android (and non-Flash) Apple iPhone 4 will ship with its own front-facing camera and "FaceTime" video calling software.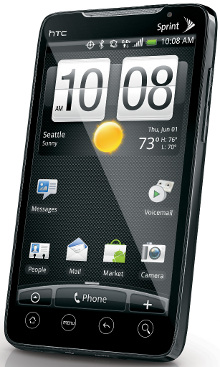 HTC Evo 4G
Announced on Monday by Apple CEO Steve Jobs, the iPhone 4G — which despite the name, doesn't support 4G networks like the Evo 4G — offers a faster ARM-based A4 processor. The processor is capable of 720p video encoding at 30fps, according to several stories on the launch in our sister publication,
eWEEK.
Other new iPhone 4 features include a larger battery with seven hours of talk time, an upgrade to 802.11n WiFi, a thinner profile, and a five-megapixel camera paired with a rear illuminated sensor, says eWEEK. The iPhone 4 is also said to offer a three-axis gyroscope that could be used for camera stabilization, gesture-based user interfaces, and dead-reckoning aids for GPS, says the story.
eWEEK and other publications have been actively comparing the iPhone 4 and the HTC Evo 4G, and not just because they're both launching around the same time. The Evo 4G currently represents the state-of-the-art in Android phones, according to many.
Equipped with a 1GHz Snapdragon, the Evo 4G offers 1GHz of internal flash, and an 8GB flash card. As reported back in March when it was announced, the device offers a 4.3-inch display that pushes the envelope on size, and its full feature list includes a mobile WiFi hotspot router and an eight-megapixel camera.
Most important, of course, it's the world's first 4G smartphone, with download speeds rated at somewhere between 3-6Mbps, or two to 10 times faster than 3G networks. The Clearwire 4G/WiMAX network used by Sprint covers more than 30 million people and should expand to 120 million people by the end of the year, says Sprint.
Apple brings iPhone up to Android par — or does it?
While the iPhone 4G offers some interesting novelties, it still doesn't match up to the Evo 4G, or other high-end Android phones due to ship this year, according to another eWEEK story by Don Reisinger. Aside from the lack of 4G support, the iPhone 4G's 3.5-inch screen is still considered small. (Some, however, see the Evo 4G's 4.3-inch screen as being too large, leading to lower battery life and unwieldy dimensions.)
Meanwhile, Apple is just now moving up to a five-megapixel camera, while high-end smartphones are pushing forward to eight megapixels, writes Reisinger. Despite the faster processor, Apple made no claims about multitasking, he adds. What's more, there's no removable battery, and the FaceTime video calling feature only works over WiFi with other iPhone 4 users, writes Reisinger.
Another eWEEK writer, Wayne Rash, offers a kinder evaluation of the iPhone 4, but says that the enhancements only bring the phone up to par with the best Android phones.
This is perhaps the challenge — or possibly the advantage — of the iPhone. While there are dozens of Android phones from different vendors, meeting different needs and price points, there's only one new iPhone every year, and it can't be so high-end that it's priced out of range for the mainstream consumer.
Evo 4G off to a hot start — but not that hot
In an embarrassment comparable to Apple's WiFi outages during the iPhone 4 launch, Sprint has backed away from its earlier claims that the Evo 4G's first-day sales were "three times the number of Samsung Instinct and Palm Pre devices sold over their first three days on the market combined," according to another eWEEK story posted yesterday.
Au contraire, Sprint amended this week: Sales were actually six times greater than launch day sales of the Samsung Instinct, but slightly less than twice that of the Pre's launch-day sales a year ago, or about 50,000 units, says the story. This is a solid start, but it is unlikely the phone will hit Droid-like sales, considering the still relatively small size of Sprint's 4G network.
Samsung Galaxy S ships in Asia
If the Samsung Galaxy S (right) had begun shipping in t

he U.S. instead of South Korea, pundits might be comparing the iPhone 4 to it instead of the Evo 4G. According to another eWEEK story, the Galaxy S went on sale on June 6 on South Korea's SingTel network. Following its launch in Asia, the device will spread to over 100 global mobile operators, and has already received a million pre-orders in Europe, says eWEEK.
Although the phone does not support 4G networks like the Evo 4G, the Galaxy S offers a 1GHz processor, 802.11n, Bluetooth 3.0, and other high-end features. The device is also equipped with a four-inch display employing Super AMOLED display technology, as well as Samsung's mDNIe (mobile Digital Natural Image engine) for improved viewing angles.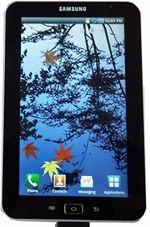 Like the Evo 4G and iPhone 4, the Galaxy S provides a second front facing videocam in addition to its standard five-megapixel camera. The phone is also said to support 720p video recording at 30fps.
Meanwhile, Samsung officially confirmed the rumors of an Android-based Samsung tablet, due later this year, says eWEEK. According to Engadget, which supplied the image at right, the Samsung Galaxy Tab offers a 7-inch screen equipped with AMOLED technology — possibly a tablet first - and runs Android with Samsung's TouchWiz UI. The tablet was said to have been leaked on Twitter Samsung South Africa.
Availability
The ConceivablyTech story on Sanjay Jha's Chicago surprise announcement about a 2GHz Android phone may be found here, and the Reuters story should be here.
The eWEEK story on the iPhone 4 announcement should be here. Don Reisinger's eWEEK critique of the phone should be here, and Wayne Rash's more pro-Apple opinion on eWEEK may be found here.
The eWEEK story on Sprint revising its sales estimates on the HTC Evo 4G launch may be found here, with links to several other stories about the Evo 4G.
The eWEEK story on the Samsung Galaxy S debut in Korea should be here.
---
This article was originally published on LinuxDevices.com and has been donated to the open source community by QuinStreet Inc. Please visit LinuxToday.com for up-to-date news and articles about Linux and open source.