Nov 18, 2009 — by Eric Brown — from the LinuxDevices Archive — views
Verizon Wireless sold 250,000 units of its Droid by Motorola phone, according to eWEEK, which has also given the Droid a rave review. Meanwhile, the rumor of a Google-branded Android phone refuses to die, Palm's CEO trash-talks the Droid, and tomorrow Google will unveil its Linux-based Chrome OS, say various reports.
After the Droid by Motorola's Nov. 5 launch, Verizon Wireless sold 250,000 units of the smartphone in its first week, making it the fastest-selling Android phone launch to date, says mobile analytics firm Flurry.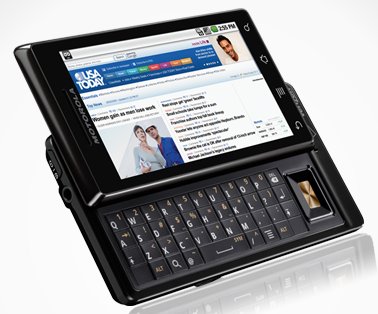 Droid by Motorola
As reported by Clint Boulton in a story in our sister publication,
eWEEK,
Flurry had earlier recorded only 60,000 units shipped for T-Mobile's HTC-made Androider, the MyTouch 3G. Of course, the Droid doesn't match Apple's iPhone 3GS, which was said to have sold 1.6 million units on the AT&T network in its first week. On the other hand, notes the story, Apple already had an installed base from earlier iPhone sales, and Apple launched its handset in eight countries in the first week, compared to only the U.S. for the Droid.
The story also noted that Broadpoint AmTech analyst Mark McKechnie reported in a research note yesterday that it expects Motorola to sell another 200,000 Droids by Black Friday and 150,000 to 200,000 more during the remainder of the holiday season, bringing the total yearly sales to 600,000.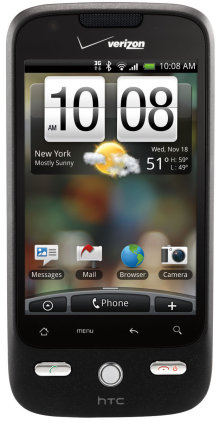 eWEEK review: Mot's Droid beats Eris
Flurry's sales report does not list figures for the lower-cost, Droid Eris (pictured at right), a version of the HTC Hero developed for Verizon that also went on sale on Nov. 5. According to a recent review by Boulton, comparing the Motorola Droid with the Droid Eris, the latter, with its HTC Sense UI offers more interface customization capabilities than the Mot phone. The Eris also has the advantage of being $100 cheaper, and considerably lighter in the pocket. (The Motorola Droid, in Boulton's words, is "the type of device that, if you have a small hole in the pocket of your chino pants, will only make it larger over time.")
Although Boulton liked both phones, in the end he opts for the Droid by Motorola due to its physical keyboard, larger screen, and more convenient camera controls and other design features. (By comparison, Boulton had trouble with the virtual keyboard offered on both phones, and did not like the feel of the Eris' "lousy" trackball.) Boulton is also a big fan of the new Google Maps Navigation feature available for Android 2.0, not currently found on the Eris.
In a subsequent eWEEK story posted today, Boulton takes issue with recent comments made by Palm CEO Jon Rubinstein in an interview with The New York Times. The Times story quotes Rubinstein knocking the Motorola Droid, questioning its mainstream market appeal, and dismissing the device as a "techie phone," writes Boulton.
Considering the Droid's huge first week of sales, and referring to his own experience, Boulton suggests the allegation is sour grapes on Rubinstein's part. After all, only five months ago, it the Palm Pre that was the "Droid" of the moment, hyped and hailed as an iPhone killer.
Early Pre sales were strong, though not at Droid levels, with estimates of hitting the 150,000-unit mark in sales after the first 18 days, and surpassing 300,000 units by August. Since then, however, the bloom has come off the Pre rose a bit. Despite praise for the innovative, Linux-based WebOS operating system, Palm has been slow in churning out WebOS apps, and the Palm Pre itself has had some technical issues.
In further signs of Droid fever, eWEEK's Don Reisinger weighed in yesterday with "10 Reasons Why Even the iPhone Can't Stop Android's Rise." In addition to covering points made in earlier "10 Reasons" columns about Android, Reisinger notes that developers aren't happy with Apple and are turning to Android, and that vendors are increasingly tuning into the advantages of open source software.
He also notes that wireless carriers are championing Android as competition for AT&T and the iPhone. This is said to be especially true of Verizon Wireless and T-Mobile, which were both "snubbed by Apple," writes Reisinger.
The Google-branded Android phone redux
Just as we had concluded that The Street's rumor of a Google-branded commercial Android phone was actually referring to Google's recently released, HTC-made Android Developer Phone 2 (ADP2), which is a $400, unlocked, developer-focused version of the MyTouch 3G, TechCrunch's Michael Arrington is now claming The Street had it right.
According to Arrington, sources have "absolutely confirmed" that Google is building its own branded phone to be sold in early 2010 "directly and through retailers." The phone "will be produced by a major phone manufacturer but will only have Google branding," writes Arrington.
Arrington continues, "Google is dictating every last piece of it. No splintering of the Android OS that makes some applications unusable. Like the iPhone for Apple, this phone will be Google's pure vision of what a phone should be."
Arrington lacks further information on the phone, but suggests that the likely manufacturer is Samsung or LG, as opposed to Google's go-to vendor HTC.
Google Chrome OS to be unveiled tomorrow?
If the Google Phone is still open to conjecture, TechCrunch's report that Google will show off its Google Chrome OS tomorrow appears to be on more solid footing. According to the story yesterday, Google will unveil the cloud-oriented, Linux-based netbook operating system at its headquarters in Mountain View, Calif. on Thursday morning.
The plan is to show some demos, as well as provide a "complete overview" of the new open source OS, which Google still plans to launch next year, says the story. Earlier this week, TechCrunch had suggested that the unveiling was in store this week, and suggested that Google would be releasing some code associated with the project. Yesterday's story, however, suggested that a code release was still possible, but less likely, and that a more complete early release of software might occur in early 2010.
When Google announced Chrome OS in July, the search/advertising giant said that it planned to release some code later in the year, with a final version in the second half of 2010. Aimed initially at netbooks and low-end desktops, the OS was said to combine the Linux kernel with Google's Chrome browser, and was to be separate from Android.
At the time, Google said that Chrome OS would run on both x86 and ARM processors, and be characterized by "speed, simplicity and security." Chrome OS was further described as being oriented toward cloud-based services and storage, while offering a minimal UI. Boot-up to the web was said to be as short as a few seconds, and the operating system was billed as being free of viruses, malware, and security updates.
Perhaps the most interesting claim was that Google Chrome OS apps could also run on any standards-based browser on Windows, Mac, and Linux OSes, "giving developers the largest user base of any platform."
Although still vaporware so far, Google Chrome is already being called a Windows killer by some analysts, as well as the last great hope for the Linux desktop. In a recent interview with LinuxDevices, ABI Research's Jeffrey Orr projected that, based on the fast expected growth for ARM-based netbooks, "Chrome OS will probably lead the way" among all netbook distributions in the coming years, bypassing Windows 7 and the current Linux leader, Ubuntu. ABI has also projected that Linux already has 30 percent of the netbook market, and that it will overtake Windows on netbooks by 2013.
Availability

eWEEK's story on Flurry's projection of 250,000 Droid by Motorola units sales in its first week may be found here, and its review of the Motorola Droid and Droid Eris should be here.
Boulton's eWEEK story on Palm CEO Jon Rubinstein's trash-talk about the Droid may be found here, and Don Reisinger's take on why the iPhone can't stop Android should be here.
Michael Arrington's TechCrunch story on the rumored Google Phone should be here, and their story on the Chrome OS launch should be here.
---
This article was originally published on LinuxDevices.com and has been donated to the open source community by QuinStreet Inc. Please visit LinuxToday.com for up-to-date news and articles about Linux and open source.