Nov 5, 2009 — by Eric Brown — from the LinuxDevices Archive — views
After ABI Research projected that Linux will take a 32 percent share of netbooks in 2009 and will overtake Windows in 2013, we spoke with ABI analyst Jeffrey Orr on the findings. Orr notes the rise of international consumers and ARM Cortex-A8-based netbooks, and discusses Ubuntu, Moblin, Android, and Chrome OS.
In mid 2008, there were several estimates, including those from major netbook vendors themselves, that Linux represented between a quarter and a third of total netbook sales. Since then, however, there have been reports that due in large part to Microsoft cutting the price of Windows XP, Linux share has dropped considerably.
Although we didn't believe Microsoft's claims that Windows controls 97 percent of the netbook market (recently revised to 93 percent), we must admit we were somewhat surprised by ABI Research's claim yesterday that Linux has 32 percent. After all, over the last year, we've watched as one major netbook vendor after another — including early market leaders Acer and Asus — has scaled back or canceled U.S. sales of netbooks with Linux pre-installed.
Yet, as Orr noted in a ComputerWorld story — and repeats below — the perceptions of U.S. based observers are skewed by the local computing scene and its domination by Microsoft. Sales of low-cost netbooks are being increasingly driven by sales outside of the U.S. where Windows is not as prevalent, and especially in developing countries where PCs in general are still something of a novelty. In many of these markets, the $15 to $20 price differential compared to Windows XP makes all the difference.
ABI is also estimating that due to the rise of international sales and ARM-based netbooks, Linux will overtake Windows in netbooks by as early as 2013. This seems a bit early to us, unless Windows 7 turns out to be an absolute hog on netbooks, but we're listening.
Today, we spoke with ABI Research's Jeffrey Orr to learn more about the trends behind the research:
LinuxDevices: Does the ABI estimate of 32 percent netbook market share for Linux in 2009 represent a trend up from last year and early 2009? We have been hearing a lot about Linux losing share in the netbook market, with Microsoft suggesting Linux share is as low as four to seven percent.
Orr: There may have been a dip in Linux netbook share last year, but Linux has rebounded, in large part due to international sales. We tend think about ourselves here in the U.S., and I'm always having to check myself and say hey, we're not the market. It matters what's happening out there.
LinuxDevices: It's true that from the perspective of a U.S. consumer, where Linux netbooks are rarely seen in retail stores, the 32 percent figure seems high. Are you also including users who buy a Windows-based netbook, but wipe Windows to load a Linux distro?
Orr: No, we're not counting those users, although we figure they are probably only a couple of percentage points.
LinuxDevices: Are you counting Linux-based fast-boot environments running on Windows machines? For example, how would you count a dual-boot set-up such as the one Acer is providing for its Aspire One AOD250-1613 netbook, where Android is added to a Windows system as a fast-boot installation that could easily be used for day-to-day computing tasks?
Orr: No, we are only counting the primary operating system, so those systems are counted as Windows. Going forward, however, as we see these more robust Linux-based fast-boot environments paired with Windows, the accounting will get more difficult.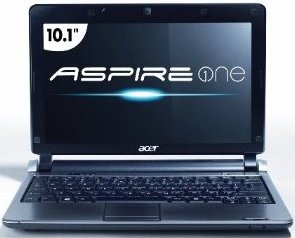 Acer's hybrid Windows/Android Aspire One AOD250-1613
LinuxDevices: You have stated that Linux will overtake Windows on netbooks by 2013, and suggested this was largely due to the growing international sales where users are less tied to Windows. Are these users also primarily turning to cheaper ARM-based netbooks, and are they already showing up in the 2009 figures?
Orr: This year, ARM-based netbooks will only represent about four percent of total units. We estimate that the Intel Atom will ship in 90 percent of netbooks sold this year, and the remaining six percent are based on other x86 processors, such as Via's chips. Yet, next year there will be a lot of netbooks shipping on ARM Cortex-A8-based processors, and by that we're including the Nvidia Tegra and Qualcomm Snapdragon.
You've got Texas Instruments and Freescale already out there, and you also have Ericsson, Marvell, and Broadcom getting involved. I believe we're going to see them all on netbooks. They're not all going to have the same level of success, but they will be there, with faster boot times and better battery life than the Atom, and unless Microsoft does something about it, they will almost all be running Linux. I think Microsoft really should consider porting a version of Windows 7 to ARM.
LinuxDevices: So is it all over for x86 on netbooks?
Orr: No, Intel will continue to do well. It has a new round of Atom processors coming out, which should continue to improve their offering. I'm not in a position to say who's going to win, but the category is interesting, and going forward, there is a lot more choice on the ARM side.
LinuxDevices: Will Android play a big role on netbooks, or is it just a stepping stone to Google Chrome OS?
Orr: For our 2009 numbers, Android, which is counted under Linux, only represents three percent of the market. That will grow a bit, especially as more ARM-based netbooks appear, but I think it really is a stepping stone to Chrome OS, assuming the new OS lives up to expectations. Android will play a larger role on smaller, pocketable mobile devices such as smartbooks, which we count as being more like MIDs.
LinuxDevices: So Chrome OS is going to be the winner on netbooks?
Orr: Chrome OS will probably lead the way, but it's up in the air until we see traction. Google made the right move in not forcing Android into the netbook space. Instead, with Chrome OS it is trying to design an operating system that is designed for netbooks. There's a lot of work that would need to be done on Android to bring it to market as the primary operating system for netbooks.
LinuxDevices: You also mentioned Moblin and Ubuntu as playing a role. How about other Linux distros?
Orr: Right now, it's mostly Ubuntu pre-installed on Linux netbooks, and that's probably the way it's it going to go until we see Chrome OS.
LinuxDevices: By Ubuntu, are you talking about their new Moblin version of the Netbook Remix or their native version? How much of an impact will Moblin have?
Orr: Moblin fits into the mix, but so far the traction is not there. I need to see more Moblin out there before we can make projections.
Availability
More information on ABI Research's "Netbooks, MIDs and Mobile CE Market Data" study may be found here.
---
This article was originally published on LinuxDevices.com and has been donated to the open source community by QuinStreet Inc. Please visit LinuxToday.com for up-to-date news and articles about Linux and open source.