Jan 30, 2006 — by LinuxDevices Staff — from the LinuxDevices Archive — 13 views
TimeSys has enhanced its embedded Linux developer services, adding support for a MIPS Technologies 32-bit RISC core with built-in DSP (digital signal processor) capabilities. LinuxLink for 24KE cores is available now, and has already been used by MIPS to create Linux distributions to be bundled with its "Malta" development boards that will ship in March, TimeSys says.
MIPS 24Ke
MIPS32 24KE processors are based on the 24K microarchitecture, along with DSP ASEs (application-specific extensions). MIPS claims DSP ASEs boosts signal processing up to 200 percent in applications such as voice and speech processing, narrow- and broad-band networking, digital audio, graphics, video, and imaging.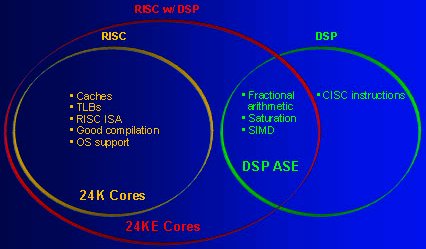 MIPS 24KE cores include DSP ASEs
SoCs (system-on-chips) built with 24KE processors are suitable for use as standalone processors in set-top boxes, DTVs, DVD recorders, voice switches, IP phones, digital cameras, printers, modems, residential gateways, and automotive telematics, according to MIPS. The company launched the 24KE line in May of 2005.
LinuxLink
LinuxLink is a "continuously updated" online code repository and service for embedded Linux developers who are creating and maintaining custom Linux distributions. The service aims to provide users with with the latest Linux kernel enhancements from silicon providers, along with pre-built (cross-compiled), validated open source software packages collected from a variety of sources around the Internet.
The subscription-based LinuxLink service additionally includes a processor-optimized cross-development environment, alerts to relevant updates, and access to TimeSys's Developer Exchange, where interactive support is available from TimeSys, MIPS Technologies, and the open source community, the company says.
TimeSys launched LinuxLink in August of 2005, subsequently adding support for Intel storage processors and Freescale ColdFire MCUs (microcontrollers).
LinuxLink for 24KE
TimeSys says its LinuxLink subscription for the 24KE core family includes a 2.6 Linux kernel developed by MIPS Technologies. It also includes the MIPS SDE (software develoment environment), an enhanced GNU toolchain required to exploit DSP ASEs. The SDE comprises a C/C++ compiler, assembler, linker, libraries, utilities, and source-level debugger.
The LinuxLink subscription additionally includes ongoing updates and notifications about relevant patches from MIPS and TimeSys, TimeSys says.
According to TimeSys, MIPS itself used LinuxLink to create Linux distributions aimed at optimizing embedded application performance on processors in the MIPS32 4K and 24K core families. MIPS will bundle these distributions pre-installed on a hard drive with each MIPS Malta development board shipped in March.
According to TimeSys, embedded developers can use the MIPS-created distributions as a starting point, or choose from a number of "flexible" LinuxLink licensing options, in order to receive "the latest updates, community support, and development and test tools."
The MIPS Linux distributions created with LinuxLink are available for processors based on MIPS 4KEc, 4KSd, 24Kc, 24Kf, 24KEc, and 24KEf cores.
MIPS CTO Mike Uhler stated, "LinuxLink is ideal for rapidly turning the latest MIPS Technologies-developed optimizations into a commercially-supported Linux solution."
TimeSys CEO Larry Weidman stated, "LinuxLink brings the latest Linux features and optimizations to MIPS Technologies' customers in continuously updated, commercially supported subscriptions that aid and empower embedded development efforts."
Availability
LinuxLink subscriptions for the MIPS32 24KE core family are available now, priced at $3,000 per processor, per year.
---

This article was originally published on LinuxDevices.com and has been donated to the open source community by QuinStreet Inc. Please visit LinuxToday.com for up-to-date news and articles about Linux and open source.