Feb 7, 2011 — by Eric Brown — from the LinuxDevices Archive — 153 views
The Video Electronics Standards Association (VESA) has announced a new embedded version of the DisplayPort interface standard aimed at tablets, netbooks, notebooks, and all-in-one desktop PCs. Intended to replace LVDS, the Embedded DisplayPort Standard (eDP) version 1.3 offers a new Panel Self-Refresh (PSR) that can save system power and extend battery life in portable devices, the organization says.
In addition to the external DisplayPort interface, which has come on strong over the last year, VESA defines two internal interfaces — embedded DisplayPort (eDP) and an internal DisplayPort (iDP). eDP is an interface designed to connect motherboards or modules to embedded displays, while iDP interface is similar, but is instead designed to connect a digital television system-on-chip (SoC) to the TV panel.
Both aim to replace low-voltage differential signaling (LVDS) in their respective markets. Advantages for the industry include the fact that a single-lane (twisted pair) connection can support a resolution of 1680 x 1050 pixels, says VESA.
eDP 1.0 was approved by VESA in Dec. 2008, introducing power-saving features such as seamless refresh rate switching. This was followed in Oct. 2009 with version 1.1. Version 1.2 was approved in May 2010, adding support for DisplayPort 1.2 data rates, 120Hz sequential color monitors, and a new display panel control protocol that operates on the AUX channel.
Version 1.3 is expected to reach market in devices "as early as 2012," according to VESA. The new version adds a Panel Self-Refresh (PSR) feature that is touted as offering even greater power savings in portable devices. In addition, eDP v1.3 is said to "add clarity" on how to use the new 5.4Gbps DisplayPort main link data rate, known as HBR2 (High Bit Rate 2), says VESA.
The organization appears to be keeping technical details on these eDP 1.3 features under wraps except to members and licensees. However, details on eDP 1.2, including diagrams like the one below, are available from the link at the bottom of our story.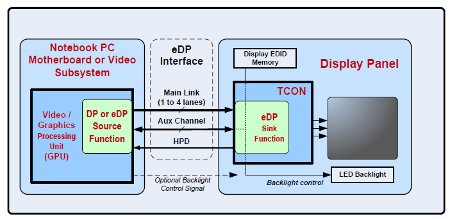 eDP 1.2 functional diagram
(Click to enlarge)
According to a new In-Stat study on the DisplayPort standard cited by VESA, Intel and AMD announced in December that by 2013, the two companies will no longer support LVDS (Low-Voltage Differential Signaling), in favor of scalable and lower power digital interfaces, such as DisplayPort.
The chipmakers were joined in this vow by PC manufacturers including Dell, Lenovo, Samsung and LG. The companies are said to announced they will stop using LVDS in 2013, and will discontinue use of legacy DVI and VGA connectors in 2015, replacing them with DisplayPort and HDMI.
Meanwhile, the new external DisplayPort 1.2 standard will start to appear in devices this year, offering enhancements including higher resolution support, enhanced stereo 3D capabilities, and multi-monitor support from a single connection, says VESA.
In-Stat forecasts that external DisplayPort device shipments, including those using eDP, will see a CAGR growth rate of over 100 percent from 2009 to 2014. However, one emerging DisplayPort specification, called Wireless DisplayPort, which employs 60GHz WiGig technology, "will not be a factor in the market in the near future," says In-Stat.
Stated Brian O'Rourke, principal analyst, In-Stat, "As OEMs prepare to retire legacy technologies, such as LVDS, eDP offers a feature-rich replacement that is cost effective and ready for high volume implementation. This, combined with the growing demand for high performance mobile devices, suggests eDP will continue to gain traction among PC OEMs."

Availability
The eDP v1.3 specification is now available for purchase from VESA, and is provided free of charge to VESA member companies, says the organization. Portable PC devices utilizing eDP v1.3 are expected to become available for purchase as early as 2012.
More information may be found at VESA's website. A technical presentation on the earlier EDP 1.2 may be found in this VESA PDF.
The In-Stat study "DisplayPort: DP, eDP, and iDP Set to Change Display and PC Landscapes," may be found here.
---
This article was originally published on LinuxDevices.com and has been donated to the open source community by QuinStreet Inc. Please visit LinuxToday.com for up-to-date news and articles about Linux and open source.