Jan 23, 2008 — by Eric Brown — from the LinuxDevices Archive — 1 views

Free videos of presentations from the Consumer Electronics Linux Forum (CELF) Embedded Linux Conference Europe 2007 / 9th Real-Time Linux Workshop are now available. Topics include boot time, real-time preemption patches, graphical libraries, and file systems for flash storage.
(Click for larger view of Linz luminaries)
The videos were recorded at the Linz, Austria event in November 2-3, 2007, by Free Electrons, an embedded Linux training and consulting company in the south of France. Like other material available from Free Electrons, the videos are published with the agreement of the speakers under the Creative Commons Attribution — Share Alike 2.5 license.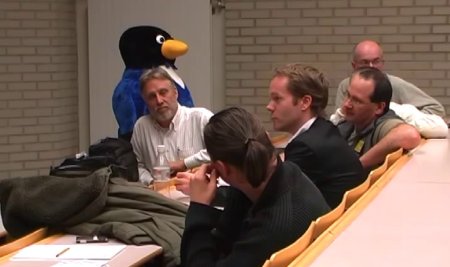 Only the penguin knows for sure…
(Click to enlarge)
The videos include:
Detection & resolution of real time issues using TimeDoctor — by Francois Audeon (NXP)
Fancy and fast GUIs on embedded devices — by Gustavo Sverzut Barbieri (INDT)
arch/ppc, arch/powerpc and device trees – a walk through a port — by Hugh Blemings (IBM)
Free software, licensing and business processes — by Shane Martin Coughlan (FSF Europe)
Introduction to LogFS — by Jorn Engel
WebKit on Linux and how it compares to other open source engines — by Holger Freyther (Trolltech)
Status overview of real-time — by Thomas Gleixner (Linutronix.de)
Kernel summit report — by Thomas Gleixner
Writing DirectFB gfxdriver for your embedded system — by Takanari Hayama (igel)
Improving JFFS2 RAM usage and performance — by Alexey Korolev (Intel)
YAFFS — by Wookey
Parallelizing Linux boot on CE devices — by Vitaly Wool (Embedded Alley Solutions)
Linux suspend-to-disk objectives for consumer electronic devices — by Vitaly Wool
Evaluation of Linux rt-preempt for embedded industrial devices for automation and power technologies – a case study — by Morten Mossige, Pradyumna Sampath, Rachana Rao (ABB)
Assessment of the real-time preemption patches (RT-Preempt) and their impact on the general purpose performance of the system — by Arthur Siro (DSLab/OSADL)
Panel: the ideal embedded Linux distribution — by Tim Bird (Sony)
Availability
The videos are available for free download here, and additional background can be found here.
The videos were encoded using royalty-free Ogg-Theora Codecs. According to Free Electron's Michael Opdenacker, this year Jan Gerber, the developer of ffmpeg2theora, added denoising support to the tool, improving quality and frame rate, and enabling anyone to directly denoise DV camcorder input and generate Ogg-Theora video in a single step.
Last month, CELF published a call for papers for the next conference, to be held April 15-17 at the Computer History Museum in Mountain View, California. The deadline for presentation submissions is February 5th.
In November, LinuxDevices.com published the full text of 28 papers given at the 9th Real-Time Linux Workshop.
---

This article was originally published on LinuxDevices.com and has been donated to the open source community by QuinStreet Inc. Please visit LinuxToday.com for up-to-date news and articles about Linux and open source.