Apr 19, 2001 — by Rick Lehrbaum — from the LinuxDevices Archive — views
In my writings about past Embedded Systems Conferences, I've characterized the impact of Linux on the embedded market as a "disruptive technology" that was rewriting the rules of the game. Not any more — the disruption now appears to be complete! Linux is now a full-fledged, mainstream participant in the embedded market, judging by the software, hardware, and tools exhibited at this year's annual… embedded technology mega-show.
Not that this was a big surprise, for a recently released subscriber survey conducted by Embedded Systems Programming magazine already exposed embedded Linux as the #2 embedded OS in terms of "consideration" for new designs, and #4 in terms of actual usage. The clear impression I got from this ESC is that Linux has now attained the status of being among the top three embedded operating systems — which is right where it needs to be at this point in time.
Just to be absolutely clear about what I'm saying, in my opinion the "big three" embedded OSes are, at the moment: (1) VxWorks, (2) Embedded Linux, (3) Embedded Windows — or (1) VxWorks, (2) Embedded Windows, (3) Embedded Linux — depending on how you count. These days, I doubt if you can find an embedded software or hardware vendor that doesn't attribute "must-support" status to Linux, or a developer who doesn't feel compelled to investigate Linux as an embedded OS option in the course of a new product development cycle.
So Linux has, it seems fair to say, traversed a path all the way from "what's Linux?" to "disruptive technology" to "established leader" — in the short span of about 18 months. Put simply: Embedded Linux has arrived! Quite an accomplishment, for such a brief period of time.
In fact, last week's ESC Official Show Guide had, for the first time, an entire product category devoted specifically to "Embedded Linux" (there isn't one for Embedded Windows or VxWorks, by the way). That category included the following 40 companies who weren't, by any means, all the companies at ESC that showed or promoted Embedded Linux oriented products:
Accelent Systems, ACCESS, ACT/Technico, Advantech, AMD, ANT, Applied Data Systems, Arcom Controls, Baton Rouge International, Berkeley Design Technology, Cirrus Logic, Datum, EDS Applied Engineering Solutions, the ELC's "Pavilion 101", Force Computers, GDA Technologies, General Micro Systems, Grammer Engine, INDesign, Intel, Intelligraphics, Intrynsic Software, Lineo, LynuxWorks, MontaVista Software, Motorola Computer Group, NEC Electronics, NetSilicon, NewMonics, OnCore Systems, OpenSystems Publishing, Paragon Innovations, Red Hat, Sci-worx, Sophia Systems, TQ-Components, V3 Semiconductor, ZF Micro Devices, Zilog, and Znyx Networks.
And that doesn't include the companies which exhibited in the ELC's "Pavilion 101" — RidgeRun, Tuxia, Forth Systeme, Embedded Linux Journal, Trolltech, PalmPalm, and WiPro — who were not allowed to have their own company listings in the show guide.
So that's the good news. The bad news, on the other hand, is that it's no longer feasible for me to cover "all things Linux" in my customary review of Linux at the Embedded Systems Conference. Therefore, I have endeavored to provide a representative cross section of what I found. My sincere apologies, in advance, to all those companies and products which have not been included!
The ELC at ESC
The Embedded Linux Consortium (ELC) created quite a stir with its proposal for a unified Embedded Linux Platform specification. The annual ELC membership meeting was attended by 75 members of the Embedded Linux Community, and featured a keynote talk (by yours truly) on The State of Embedded Linux and a report on finances, membership, and other administrative details. Of note, membership in the ELC — which was formed roughly one year ago — has now reached 125.
The ELC's Embedded Linux Superbooth called "Pavilion 101," which was the most popular destination at the show for developers wanting to learn more about Embedded Linux.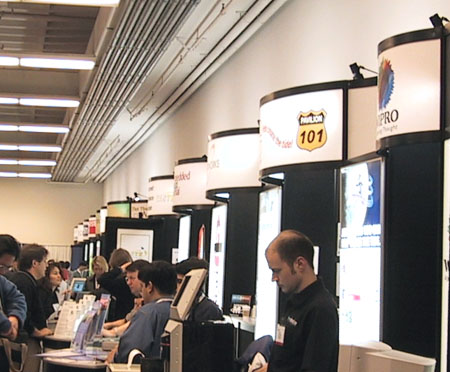 Above: The ELC's "Pavilion 101" booth occupied nearly half of one aisle
— Continued —
Story navigation . . .

This article was originally published on LinuxDevices.com and has been donated to the open source community by QuinStreet Inc. Please visit LinuxToday.com for up-to-date news and articles about Linux and open source.