Apr 16, 2010 — by Eric Brown — from the LinuxDevices Archive — 27 views
Z3 is shipping a Linux-based multi-format video encoder that's said to support 1080p H.264 HD encoding with latency as low as 70 milliseconds. The Z3-MVE-01 Multi-format Video Encoder is based on a separately available, Linux-ready DM368-RPS design kit, which includes a DM368-MOD module that incorporates Texas Instruments' new DM368 DaVinci system-on-chip.
Lincoln, Nebraska-based Z3 (pronounced Z-cubed) develops OEM-ready multimedia system-on-modules and multimedia products based on the Texas Instruments (TI) DM3x line of processors, which combine an ARM9 core with a video processing DSP, among other components. Early last year, Z3 launched a computer-on-module (COM) called the M365-MOD, based on TI's 300Mhz TMS320DM365 (DM365) SoC (system-on-chip).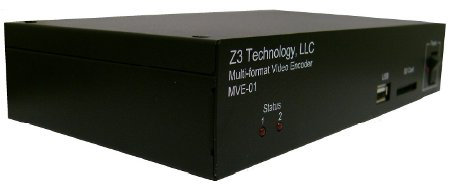 Z3-MVE-01
(Click to enlarge)
Pictured above, the Z3-MVE-01 video encoder moves up to the recently announced
TMS320DM368
(DM368) DaVinci processor, which is already part of an
IP camera design
from Appro Photoelectron and a
DVR reference design
from UDWorks. The DM368 is a faster, higher-resolution, version of the DM365, providing multi-format HD video encoding, including support for 1080p H.264 video.
Pin- and software-compatible with the DM365, the Linux-ready DM368 combines a 432MHz ARM926EJ-S core, and offloads video encode/decode functions to DSP-driven HD video accelerators. (For much more on the DM368, including a block diagram, see our coverage from earlier this week, here.)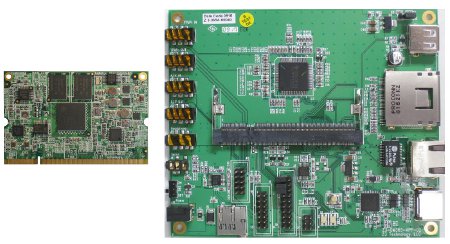 DM368-RPS kit, with the DM368-MOD module on the left and the application board on the right
(Click to enlarge)
The Z3-MVE-01 encoder device is based on Z3's Z3-DM368-RPS Rapid Product Design System, which includes a DM368-MOD module (pictured above, at left). The module is similar to the aforementioned M365-MOD, except with a DM368 processor instead of a DM365. Available separately, the DM368-RPS development kit includes a prototype application board (pictured above, at right), says the company.
The module ships with an open source Linux 2.6 distribution, including a mini file-system, boot from NAND flash, and a flash programming tool. It also offers the XML-focused UBL (Universal Business Language) technology. In addition, the module ships with a software demonstration kit that is said to demonstrate the following capabilities:
Up to 1080p H.264 + AAC streaming based encode and decode @ 30fps
Up to 1080p H.264 + AAC AVI file based encode and decode @ 30fps
1080i MPEG-2 + MPEG audio file decode @ 30fps
1080i MJPEG + Audio file decode @ 30fps
The DM368-RPS application board, meanwhile, includes microSD and SD slots, as well as HDMI 1.3 output, an Ethernet port, and a USB port, says Z3. The board also provides an analog front end for YPbPr video capture at up to 1080i, as well as analog video and audio input/output jacks, says the company. Documentation and schematics are also said to be supplied.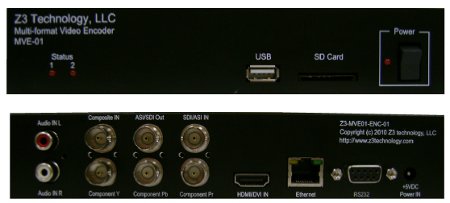 Z3-MVE-01, front and back
(Click to enlarge)
The Z3-MVE-01, which measures just 4.5 x 8.0 inches (114 x 203mm), offers video encoding with latency that's below 70 milliseconds, Z3 claims.
The Z3-MVE-01 supports H.264 high profile encoding, offering resolutions up to 1920 x 1080 at 30fps, says Z3. Compatible with 1080i, 1080p30, and 720p, the device is also said to offer standard definition encoding for ISDB-T and DVB-H terrestrial video formats.
Video inputs on the Z3-MVE-01 include composite, component, HD-SDI, DVI, and HDMI, says Z3. The device's input video re-sizer is said to support 1/2, 2/3, and 3/4 of standard resolutions.
The Z3-MVE-01's output interfaces include Ethernet and ASI, and the system can output RTP or MPEG-2 Transport Stream video, says the company. The Z3-MVE-01 is said to be further equipped with an SD card, USB port, and an RS232 serial port.
Stated Aaron Caldwell, CEO, Z3 Technology, "Z3-MVE-01 offers OEMs a robust 1080p30 embedded encode system in a compact form-factor."
Availability
The Z3-MVE-01 system, as well as the Z3-DM368-MOD and DM368-RPS kit are available now, says Z3, which did not disclosed pricing. More information on the Z3-MVE-01 may be found in this PDF, here, and more on the DM368-RPS kit may be found here.
---
This article was originally published on LinuxDevices.com and has been donated to the open source community by QuinStreet Inc. Please visit LinuxToday.com for up-to-date news and articles about Linux and open source.