Oct 12, 2006 — by LinuxDevices Staff — from the LinuxDevices Archive — 48 views

Opengear has launched a low-cost, Linux-based, four-port remote power switch with serial and browser control interfaces. Combined with the company's inexpensive remote access server, the IP Power 9258 lets administrators securely monitor and control all the servers, PCs, routers, switches, and devices at small branch… offices, the company says.
(Click for slightly larger view of IP Power 9258)
Opengear founder and uClinux pioneer Bob Waldie notes that Opengear's SSL-based remote access servers are capable of serially controlling power switches and UPS equipment (uninterruptible power supplies) from a variety of manufacturers, including Rose, DataProbe, and ATC. However, he adds, "What we couldn't find is a real entry level IP power switch for companies with lots and lots of small remote sites."
The IP Power 9258 appears to be a very basic four-port IP power switch that is available with 100-120-Volt U.S./Canadian plugs, or with 220-250-Volt European/Australian plugs. Both models are rated for devices that draw up to 6 Amps.


U.S./Canadian and Australian models
The IP Power 9258 has a secure web interface that supports simple timer scheduling, as shown in the screenshot below.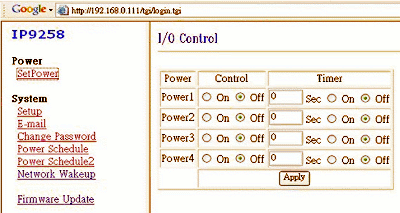 The IP Power 9258's simple Web-based interface
More advanced control can be done using bash scripts, according to Waldie. He said, "You can imagine how simple it would be to write a bash script that pings a server, and then reboots it and sends an alarm if the ping fails."


CM-4001
(Click to enlarge)
The IP Power 9258 can also be controlled through its front-panel serial port, for example from Opengear's CM4001, pictured at right. One of the CM4001's serial ports can connect to the IP Power 9258, while its other serial port can be attached to a modem, for dial-up, out-of-band management.
Together, the two Opengear devices can be used to securely power-cycle servers at distant branch offices and remote customer sites, or to reconfigure and remotely reboot firewalls and network infrastructure using out-of-band (dial-up) access, Opengear says. In addition to providing dial-up access, the CM4001 can serve as an SSL-based Ethernet VPN device for up to 10 concurrent users. The company offers a discount when the two products are purchased together.
In related news, Opengear says it is shipping IPMI (intelligent platform management interface) software that enables any of its remote access devices, including CM4000- and IM4200-series devices, to power-cycle servers and appliances with embedded IPMI service processors or BMCs (baseboard management controller), even when the remote device's OS is not responsive.
Waldie stated, "Our products are designed to provide the administrator with access to all levels of control when managing remote sites, including the ability to switch the power through to BIOS, operating system, and application control. We have built-in support for the widest range of power control devices and interfaces. With the IP Power 9258, we can now offer solutions for enterprises with small remote sites, branch offices, and large data centers."
Availability
Opengear's IP Power 9258 switch with four power outlets is available now, direct from Opengear, priced at $199.
The company's IPMI power management software for all Opengear gateways can be freely downloaded here.
Opengear competitor Digi International earlier this month shipped a family of "all-in-one" console servers that resemble Opengear's remote access devices, in that they offer not only serial console access, but also support secure, IP-based remote graphical user interface protocols, such as VNC and X servers. Asked for a reaction, Waldie replied, "It's the same feeling as when people start to use an open source application you maintain, like our SDTConnector. It's a validation, because it means you're not totally crazy."
---

This article was originally published on LinuxDevices.com and has been donated to the open source community by QuinStreet Inc. Please visit LinuxToday.com for up-to-date news and articles about Linux and open source.