Mar 1, 2010 — by LinuxDevices Staff — from the LinuxDevices Archive — 7 views
Diamond Systems and seven other companies announced a new expansion standard that employs a single low-cost connector and expansion modules "three-fifths the size of a credit card." Supporting any host form factor and processor, FeaturePak is intended mainly for SBCs (single board computer), COMs (computer on modules), and other embedded products, but could come to future netbooks and notebooks, too.
First outlined earlier this month, the new standard has now been christened and is being shown off at this week's Embedded World 2010 show in Nuremberg. FeaturePak defines application-oriented I/O modules — measuring 2.55 x 1.70 inches, as shown below — that will snap into low-cost, low-profile sockets on host devices, Diamond says.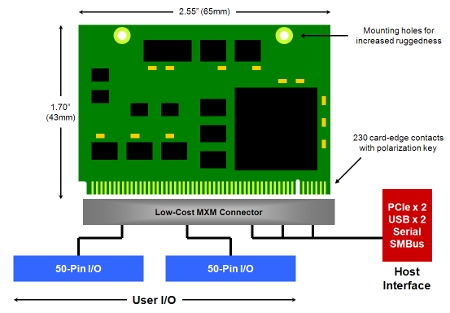 FeaturePak
Source: FeaturePak.org (Click to enlarge)

Diamond, which originated FeaturePak, has attracted support from seven other companies, some of which have already released products based on it (detailed later in this story). The supporters are Arbor, Cogent, Congatec, Connect Tech, Douglas, Hectronic, and IXXAT.
Jonathan Miller, founder and president of Diamond Systems, stated, "Following the FeaturePak initiative's initial launch, we intend to turn the FeaturePak specification, trademark, and logo over to a suitable standards organization so it can become an industry-wide, open-architecture, embedded standard." Use of the standard will be completely free and open, but use of a FeaturePak logo will be restricted to members of the maintaining organization, the company adds.
According to FeaturePak.org, a website created by Diamond to promote the new standard, FeaturePak sockets and modules will be applicable to a wide variety of embedded products, including:
Standalone single-board computers (SBCs) in standard form-factors such as EBX, EPIC, 3.5-inch, Mini-ITX, and Nano-ITX
Application baseboards for COM Express, Qseven, and other COMs (computer on modules)
Stackable expansion modules such as the PC/104 Consortium's PCIe/104 and the SFF-SIG's SUMIT-ISM
Backplane expansion boards such as standard PCI Express cards
Industrial slot-boards such as PICMG's CompactPCI Express
Fully custom embedded computer boards
Given that FeaturePak is small enough to fit into notebook computers, it's also possible the standard will break out into the wider computing market. After all, FeaturePak, including PCI Express, USB, and I2C signaling, offers a superset of the capabilities presently found in Mini PCI Express, which is already a popular addition to netbooks.
Diamond says FeaturePak (pictured earlier in this story) uses the same low-cost MXM (mobile PCI Express module) connector — originally designed for notebook graphics modules — as the Qseven COM specification. Utilization of the 230-position "golden finger" interface is different, however, and includes the following three groups, according to the company:
Host interface — includes 2 PCI Express x1 links, 2 USB (1.1 or 2.0) channels, 1 serial port (TX, RX, RTS, CTS), SMBus, reset, JTAG, auxiliary signals, a slot ID, +3.3V, +12V, and ground.
Primary I/O signal group — includes 50 I/O signals, +5V, and ground. Within this group, 34 signal pairs are implemented with enhanced isolation for use in applications such as high precision analog, Ethernet, and opto-isolated I/O.
Secondary I/O signal group — includes 50 general purpose I/O signals, +5V, and ground.
In an interview with Rick Lehrbaum, strategic development specialist for Diamond Systems, he told us that while in theory FeaturePak could itself become a COM format, that's not the standard's intent. After all, he noted, Qseven already uses the same connector and could yet shrink to a similar size.
But, Lehrbaum added, it's certainly possible FeaturePak modules will host their own processors, enabling distributed processing under the guidance of a host's CPU. (Note: Lehrbaum created the PC/104 spec while he was CTO of SBC vendor Ampro, and later went on to found LinuxDevices.com and its sister publication, WindowsForDevices.com, though he now has no formal connection with either site.)
J. Eric Gulliksen, senior analyst with VDC Research's embedded hardware and systems practice, stated, "VDC Research has believed in the modular approach to embedded computing since the introduction of COMs. FeaturePak provides a logical next step to this concept, providing versatile I/O in a standardized, small form factor, interchangeable module, with a value proposition similar to that of COMs."
Initial products
According to Diamond, a "broad range of functions and interfaces can be expected to show up on FeaturePaks, including the following:
Data acquisition I/O interfaces
Precision timing controllers
Wireless interfaces including WiFi and cellular radios
GPS receivers and other positioning technologies
CAN, MIL-STD-1553, and other field buses
Relay and opto-isolated I/O
Multiple serial ports
Framegrabbers
Specialty graphics and alphanumeric display controllers
Multiple Ethernet interfaces including gateway/router functions
Motion controllers
Four FeaturePak-related products were announced concurrently with the new standard. Diamond itself has fielded the Magellan, a COM Express form-factor boardset that we will cover in the near future, plus the FP-DAQ1616 data acquisition I/O module pictured below left. The latter device offers sixteen 16-bit A/D inputs, sixteen 16-bit A/D outputs, and seven eight-bit digital I/O ports, among other features, the company says.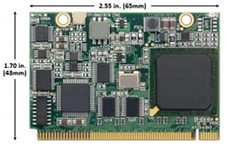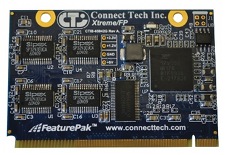 Diamond Systems' FP-DAQ1616 (left) and Connect Tech's XtremeFP
(Click either to enlarge)
Connect Tech, meanwhile, announced two products, including the XtremeFP (above right), a FeaturePak that includes four high-speed RS232 ports and 26 digital I/Os. The company's PCI Express to FeaturePak adapter board, meanwhile, lets users install a FeaturePak module into any PCI Express slot, the company says.
Availability
Extensive information on FeaturePak may be found at the FeaturePak.org website, here.
Data sheets in PDF format for Diamond Systems' Magellan and FP-DAQ1616, plus Connect Tech's XtremeFP and PCI Express to FeaturePak adapter board, may be found here, here, here, and here, respectively.
---
This article was originally published on LinuxDevices.com and has been donated to the open source community by QuinStreet Inc. Please visit LinuxToday.com for up-to-date news and articles about Linux and open source.