Jun 18, 2010 — by Eric Brown — from the LinuxDevices Archive — 2 views
The Fedora project's community-driven Fedora 13 Linux distribution has been reviewed by eWEEK, which was impressed with its cutting-edge enterprise features. The review praises Fedora's new security and permissions features such as the AccountsDialog user management utility, and author Jason Brooks also likes the new command line interface for NetworkManager.
As was noted in a story on the beta release of Fedora 13 in our sister publication DesktopLinux, back in April, the new Fedora release has introduced a number of key features including automatic print-driver installation, the Btrfs filesystem, and enhanced 3D driver support. Released last month in final form, Fedora 13 has now been given the once over from the enterprise angle by eWEEK's Jason Brooks (see farther below).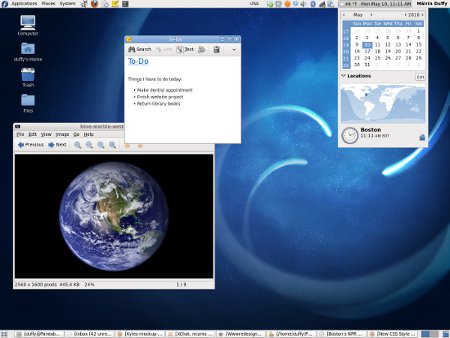 Fedora 13, showing default GNOME 2.3 desktop environment
(Click to enlarge)
The latest release of this cutting-edge, community-driven upstream contributor to
Red Hat Enterprise Linux
(RHEL) follows the final release of
Fedora 12
in November. In Fedora 13 ("Goddard") the Fedora project has focused on automating commonly used functions, for greater ease of use.
The automation is primarily due to enhancements to the RPM and PackageKit, which now offers automatic installation of printer drivers, according to the project. PackageKit is designed to respond to a wide variety of user actions, including the insertion of an unfamiliar CD type, and then offers to install appropriate software helpers, says the project.
In addition to PackageKit improvements, automatic print-driver installation, Btrfs, and 3D driver enhancements, Fedora 13 offers a new Zarafa groupware package, says the project, and has improved the distro's Python bindings. A parallel-installable Python 3 stack has now been supplied, letting developers write and test code using either Python 2.6 or Python 3. (For additional desktop-oriented details on the Fedora 13, see our earlier coverage, here, and check out the release notes link at the end of the story.)
eWEEK: Fedora still pushes the envelope
As Jason Brooks notes in his Fedora 13 review on eWEEK, Fedora is still the best place to track what's on the leading edge of Red Hat, as well as other Linux distros and open-source software.
"Of course, the trouble with running on the leading edge is that it's easy to get cut, and the Fedora distribution's fast development pace has required a certain amount of bug-squashing tolerance from its users," writes Brooks.
Despite a few rough spots in Fedora 13, Brooks is impressed by the "leading edge enhancements" in the distribution, especially in security and permissions, where the Fedora Project now offers more granular rights management through Fedora's PolicyKit framework. Brooks also likes the implementation of the SELinux (Security-Enhanced Linux) framework that has remained, "for the most part, tucked away unobtrusively in the background."
One advantage of Fedora, at least for techie types, is that compared to other Linux distros, it tends to offer the most up-to-date versions of desktop-oriented open source software. In the case of Fedora 13, this means version 2.30 of the GNOME desktop environment, version 3.2 of the OpenOffice.org productivity suite, and version 3.6.3 of the Firefox web browser, says the review.
Fedora 13 ships with an optional new user management utility called AccountsDialog that Brooks notes will eventually replace Red Hat's system-config-users tool. "The new tool puts a graphical face on some of the work that Red Hat has been doing to whittle away at the all-powerful superuser account in favor of more granul arly parcelled permissions," writes Brooks.
The review praises the utility's option to configure users as Standard, Administrator or Supervised. "This change in permissions management sets the stage to give certain administrative rights to certain users, thereby allowing for finer-grained control over the system," writes Brooks.
The review also liked the fact that NetworkManager, based on Red Hat's "handy network management framework," has picked up a command line interface (CLI) to go along with its GUI interface. The CLI is said to be welcome to those who work with headless Fedora servers, and would prefer to work with a similar interface.
Finally, Brooks was intrigued by the BFO function, which he calls "a Fedora take on the BKO (boot.kernel.org) project that enables administrators to boot a machine from a very small disc image and run or install Fedora from the network." He found the installation process more streamlined than with previous Fedora versions.
Availability
Fedora 13 Desktop Edition is available for free download, here, and the release notes may be found here.
The eWEEK review of Fedora 13 may be found here.
---
This article was originally published on LinuxDevices.com and has been donated to the open source community by QuinStreet Inc. Please visit LinuxToday.com for up-to-date news and articles about Linux and open source.