Mar 9, 2002 — by Rick Lehrbaum — from the LinuxDevices Archive — 7 views
Updated: Mar 19, 2014 — A growing number of companies offer small SBCs that fit within a size gap between the PC/104 (13 sq. in.) and EBX (46 sq. in.) form-factors. Unfortunately, no dominant standard for such "half-EBX" sized boards has emerged, so each supplier's product family tends to implement a unique approach and few are interchangeable with each… other.
Being 1.5 to 2 times the size of PC/104 modules, and given the availability these days of highly integrated system-on-chip processors as well as highly integrated peripheral controllers, SBCs in this size range have sufficient board space to fit just about all the functions a small Embedded Linux based system is likely to require. In addition, many of these SBCs can also be expanded using PC/104 or PC/104-Plus modules, or via PCMCIA or CompactFlash cards. Another benefit of the larger size of these SBCs, in comparison with PC/104 form-factor SBCs, is that they can more readily accommodate the size and heat dissipation requirements of high performance CPUs — in case your application needs it.
Although no formal standardization effort for this size domain (in the gap between PC/104 and EBX) is currently underway either on the part of the PC/104 Consortium or elsewhere, several candidate form-factors appear ready and willing to serve this niche . . .
---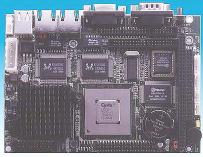 Advantech's "Half-Biscuit"
— called a 3.5-inch disk drive form-factor by its originator, this family of 5.7 x 4 in. form-factor SBCs typically contains all of the functions of a full PC system. Versions are available from Advantech based on 486, National Geode, and Transmeta Crusoe processors (
details here
). The form-factor is also reportedly supported by several other Taiwanese manufacturers including
Aaeon
,
Axiom
,
ICP
, and
Lanner
. Unlike the Ampro and JUMPtec-Adastra alternatives, the Half-Biscuit provides "real world" I/O and power connectors, and does not require a baseboard for use in a system.
---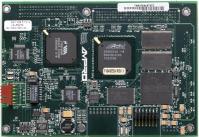 Ampro's EnCore
— Each compact (100 x 145 mm; 3.9 x 5.7 in.) EnCore module includes a processor, system and Flash storage memory, plus a set of standardized peripheral interfaces (IDE, floppy, Ethernet, serial, parallel, USB, and sound), while some also provide graphics controllers for CRTs and flat panels. The modules interface with customer-developed "custom logic boards" via a combination of PCI bus and standardized I/O signals, without regard to processor architecture. Since all EnCore modules have consistent feature-sets, physical dimensions, and interface connector locations, a single custom logic board design can support multiple processor architectures simply by exchanging Encore modules. The modules implement the PC/104-Plus
PCI bus
, but not the
ISA bus
. Ampro currently supports the EnCore form-factor with 486, Pentium, Pentium III, MIPS, and PowerPC processors, making the form-factor an interesting candidate for a
processor architecture independent
module standard (
details here
).
---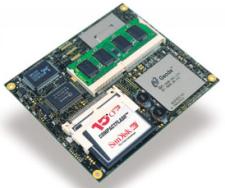 Kontron's ETX COMs
— ETX COMs (computer-on-modules) are highly integrated and compact (3.7 x 4.4 in.) SBCs that can be used in a design application much like an integrated circuit component. Each ETX COM integrates core CPU and memory functionality, the common I/O of a PC/AT (serial, parallel, etc.), USB, audio, graphics, and Ethernet. All I/O signals as well as a full implementation of ISA and PCI buses are mapped to four high density, low profile connectors on the bottom side of the module. JUMPtec-Adastra launched the standard before being aquired by Kontron. Kontron sells ETX COMs with National Geode, Intel Pentium, and Intel Pentium III processors (
details here
). At least two other companies now support the ETX form-factor, including
Advantech
and
TMC Technology
. Additionally, Kontron
recently announced
plans for an upgrade to its ETX format based on PCI Express, called ETXexpress.
---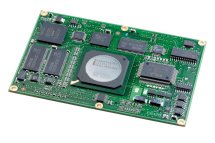 Kontron's E2Brain
— Kontron says it hopes its E2Brain specification can do for RISC boards what standards such as PC/104, EBX, EPIC, ETX, and COM Express have done for x86. The company has shipped at least one
Linux-friendly E2Brain board
, and
published the E2Brain specification
. It hopes to establish a consortium of OEMs and board vendors around the specification, it says.
---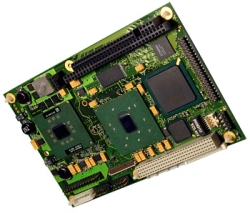 Kontron's SpeedMOPS
— Kontron is positioning its 5.8 x 3.8 inch (22 sq. in.)
SpeedMOPS form-factor
as a "stretched" version of PC/104-Plus that approximately matches the footprint of a 3.25-inch disk drive. Kontron says that by positioning the processor outside the PC/104-Plus stack envelope, the SpeedMOPS format enables optimal cooling of high-performance CPUs. The company has said that it is negotiating for an extension to the PC/104 specification to accomodate the speedMOPS form-factor for high-performance applications.
---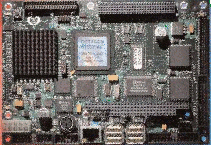 PC/104 Consortium's EPIC standard
— Five SBC vendors
launched EPIC
(the "Embedded Platform for Industrial Computing" standard) in March 2004. The EPIC spec defines a 4.5 x 6.5 inch (29.4 sq. in.) board, and allows I/O connections to be implemented as either pin-headers or PC-style ("real world") connectors. The standard provides specific I/O zones to implement functions such as Ethernet, serial ports, digital and analog I/O, video, wireless, and various application-specific interfaces. EPIC was subsequently
adopted
by the PC/104 Consortium, and has been picking up vendors ever since.
---
VITA's ProcessorPMC
(PrPMC) — VITA's
PrPMC
standard generalizes the PCI Mezzanine Card (PMC) specification (which was developed for CompactPCI board expansion) so that the PMC form-factor can be used to implement CPU modules. PrPMC modules provide board-to-board connectors which provide PCI and I/O signals to a baseboard, and also have a "front bezel" for optional external I/O connectors. The highly compact (2.9 x 6.0 in.) modules can operate both as host and slave modules on an appropriately configured PCI bus. A number of vendors have announced PrPMC SBC modules which support operation under Embedded Linux, including
RadiSys
and
Technobox
. One notable disadvantage of PrPMC is that its dimensions are highly constrains due the requirements of being a mezzanine bus.
---
— Continued —
---
Story navigation . . .
---

This article was originally published on LinuxDevices.com and has been donated to the open source community by QuinStreet Inc. Please visit LinuxToday.com for up-to-date news and articles about Linux and open source.