Aug 2, 2007 — by LinuxDevices Staff — from the LinuxDevices Archive — 19 views
[Updated Aug. 6] — A free GNOME-based Linux distribution for mobile devices such as smartphones and PDAs has achieved a major release. OpenedHand's Poky Linux 3.0 ("Blinky") is based on X11, GTK+, and the Matchbox window manager, and includes an impressive-looking new application framework and theme called "Sato… 0.1."
The new "Blinky" release of Poky is based on X11/GTK+/Matchbox, much like the Nokia-sponsored Maemo.org project. However, in place of the Hildon GUI layer used by Maemo, Intel Moblin, and Ubuntu Mobile and Embedded (among others), Poky includes a new "Sato 0.1" component. OpenedHand described Sato as "a simple fast GTK+ based PDA/Smartfone fully featured theme and application framework." The screenshots below show Sato 0.1 in action.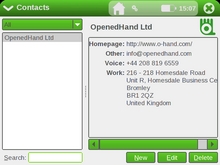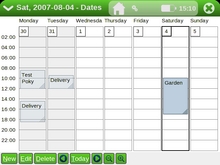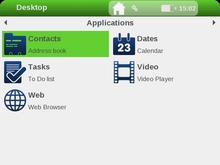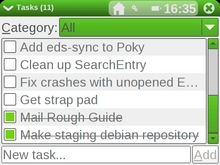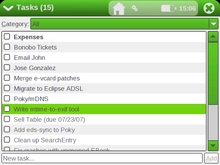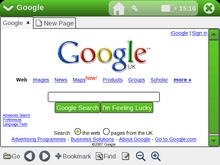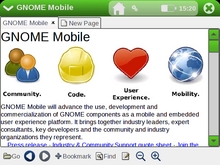 Poky 3.0 / Sato 0.1 screenshots
(Click any to enlarge)
Poky Linux is meant to be used with cross-platform development tools maintained by the
OpenEmbedded
project. The tools are designed to help users cross-compile custom Linux kernels and filesystems, essentially creating their own customized Linux distribution. Poky initially supports popular development platforms, including
OpenMoko's Neo1973 (GTA01)
, Nokia's
N800 web tablet
, and various Sharp Zauri.
The Blinky release is based on a 2.6.21 kernel for most platforms, but uses a 2.6.18 kernel for the OMAP-based N800 device. Touted Poky Linux 3.0 changes include:
Latest Pimlico Packages (Contacts, Dates and the new Tasks)
Matchbox Panel-2 and Matchbox Desktop 2
Improved customised version of Puzzles
bitbake 1.8 series based – faster and more efficient builds than ever before including multi-process build support
Latest X.org X11 packages (X11R7.2 based)
Package Epoch support
Standalone/External/Prebuilt toolchain support
Improved QEMU images including distcc support and improved integration
Introduction of 'formfactor' – physical hardware abstraction layer
GTKTerm replacing rxvt
GTK Input Method support
Latest oprofile including support for oprofileui, a remote control interface for oprofile.
Improved/new profiling tools such as exmap and valgrind (qemux86 only)
Addition of gdbserver for remote debugging
Improved ease of image control/creation/customisation through FEATURES
Experimental Nokia N800 and FIC-GTA01 support
Experimental bootable x86 cd image support
OpenedHand is a U.K.-based embedded Linux services company long known for maintaining Matchbox, a lightweight window manager for X11 (aka, the "X Window System"). The company joined GNOME's advisory board in October of 2005.
Matchbox was selected by Nokia a couple of years ago for use in its Linux-based 770 and N800 web tablets, which eschew traditional embedded application frameworks like Qt in favor of a full-fledged X11 client-server architecture, and the GTK+ desktop graphics framework.
Availability
OpenedHand is offering pre-built Poky 3.0 kernels, modules, and root filesystem images for a several popular development targets, including:
Nokia N800 web tablet (experimental)
OpenMoko GTA01 (FIC-GTA01) (experimental)
Sharp Zaurus Akita (SL-C1000)
QEMU ARM
QEMU x86
Additionally, an experimental "bootable CD" image is available for x86.
More details, including screenshots and downloads, can be found here.
This story originally referred to Hildon as a "proprietary" GUI. In fact, Hildon is available under the GNU LGPL (less/library general public license).
---

This article was originally published on LinuxDevices.com and has been donated to the open source community by QuinStreet Inc. Please visit LinuxToday.com for up-to-date news and articles about Linux and open source.