May 31, 2010 — by Eric Brown — from the LinuxDevices Archive — 6 views
[Updated: June 1] — Freescale announced an heir to its i.MX51 family of ARM Cortex-A8 SoCs that boosts video decode performance to 1080p HD. The i.MX535 processor offers 720p video encode, up to 2GB of external memory, and improved peripheral support including new DDR3, SATA, and LVDS, and is compatible with Android, Linux, Windows Embedded CE, and Chromium.
Due to ship in volume in the first quarter of 2011, the i.MX535 is the first member of a new i.MX53 family of system-on-chips (SoCs), says Freescale. Like the netbook-oriented Freescale i.MX515 system-on-chip (SoC) announced in Jan. 2009 — the first of the company's i.MX51 family of applications processors — the i.MX535 incorporates an ARM Cortex-A8 core running at up to 1GHz, with 32KB each of L1 instruction and data cache, and 256KB of L2 cache (see farther below for more background on Freescale's i.MX51 SoCs.)
The i.MX535, however, also provides 1080p video decode, compared to the i.MX515's 720p decode capability. In addition, the processor supports 720p video encode, while duplex video in HD "delivers outstanding video conferencing experiences and supports the growing media/V2IP market," says Freescale.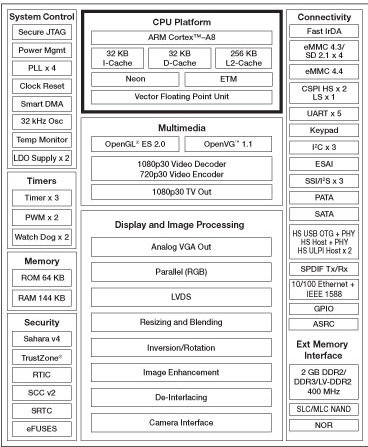 i.MX535 block diagram
The new SoC is touted for its improved graphics performance, offering support for "faster windowing, accelerated gaming, and more responsive user interfaces," says the company. Like the i.MX515, the i.MX535 provides an OpenGL ES graphics engine and H.264 video cores, but also appears to have added some new graphics and video effects (see spec list below).
Improved flash support and LVDS
External memory support up to 2GB "prepares end devices for cloud computing applications, as well as future operating systems and browsers," says Freescale. Here, the company appears to be referring to the SoC's stated support for Chromium, the name of the current open source, pre-release version of the Google's Linux-based, cloud-oriented Chrome OS operating system.

A new 400MHz-capable external memory bus, meanwhile, enables larger LCD screens, says the company. The i.MX535's integrated LVDS and support for analog TV outputs up to 1080p at 60 frames per second are said to be "ideal for smartbooks." The i.MX515 was similarly targeted at "smartbooks" — small-scale netbooks and tablets, such as Sharp's recent i.MX515-based Netwalker PC-T1 tablet (pictured).
The i.MX535 integrates more peripherals than does the i.MX515, "thereby boosting scalability and lowering bill of material costs," says Freescale. New features compared to the i.MX515 include support for DDR3 memory, SATA storage, and LVDS. The device is also said to offer support for four USB ports instead of the previous three, while offering some unexplained improvements to Ethernet, which remains at 10/100Mbps.
Specifications listed for the i.MX535 include:
Core processor — 1GHz ARM Cortex-A8
Cache — 32KB L1 instruction; 32KB L1 data; 256KB L2 cache
Co-processors — NEON SIMD media accelerator; vector floating point co-processor
Memory — External interface for up to 2GB DDR2 or DDR3 SDRAM, 16/32-bit, 400MHz; supports SLC/MLC NAND flash, 8/16-bit
Video and graphics:

OpenGL ES 2.0 and OpenVG 1.1 hardware accelerators
Multi-format 1080p video decoder and 720p video encoder hardware engine
24-bit primary display support for up to WSXGA resolution
18-bit secondary display support
Analog 720p component TV output
Hardware video de-interlacing
Image and video resize, inversion and rotation hardware
Alpha blending and color space conversion
Video/graphics combining four planes plus hardware cursor
Color correction, gamut mapping, and gamma correction

Networking — 10/100 Ethernet controller
Other I/O:

1 x High-Speed USB OTG with PHY
1 x High-Speed USB Host with PHY
2 x additional High-Speed USB controllers
Serial interfaces, including SDIO, SPI, I2C, and UART
I2S and S/PDIF audio interfaces
PATA
SATA

Security:

Security controller, including secure RAM and security monitor
High assurance boot, JTAG controller, and real-time clock
Cipher and random number generator accelerators
Run-time integrity checker
Universal unique identification
Tamper detection

Operating system — Android, Linux, Chromium, Windows Embedded CE
Android and Chromium join the party
While not apparently pin-compatible with the earlier i.MX51, the i.MX535 shares OS support and multiple peripherals with the processors, thereby simplifying code migration to the newer device, according to Freescale. The i.MX535 is said to support, Android, Linux, Windows Embedded CE, and Chromium. In addition, Adobe Flash Player 10.1 is optimized to run on the i.MX535's OpenGL ES graphics engine and H.264 video cores, says the company.
The i.MX535 has qualified for the Freescale Energy Efficient Solutions mark, says the company. This designation is said to represent the achievement of "optimal energy savings as relevant to a particular application space." No specific claims were made for energy consumption, however.
Freescale tips new multicore SoC family for tablets
Freescale also announced it is developing "in a new family of single, dual and many core processors leveraging the very latest core technology from ARM, Ltd." It is unclear how compatible the mystery multicore processors will be to the i.MX535 and i.MX515, but they all appear to be heading for the same markets. According to Freescale, the new processors will be "optimized specifically for tablets, eReaders and other select smart mobile device markets." The processors are said to be scheduled for initial sampling during the first half of 2011.
i.MX51 background
The original Freescale i.MX515 processor announced in Jan. 2009 was not only the first member of the company's i.MX51 family of ARM Cortex-A8 applications processors, but was only the second major Cortex-A8 SoC family to ship after Texas Instruments' OMAP3x family of processors. In December, Freescale followed up with four new i.MX51 SoCs: the automotive-focused i.MX514 and i.MX516, as well as the i.MX512 and i.MX513, which target various industrial and consumer devices.
In February, Freescale announced an e-reader-focused i.MX508 SoC, featuring an 800MHz Cortex-A8 core with a display controller from E Ink. Like the i.MX535, however, this is not formally a member of the i.MX51 family.
According to Freescale, the i.MX51 has garnered more than 50 design wins, including smartbooks, e-readers, smartphones, automotive infotainment systems, and media phones. Among the latter are Lumigon's Android 2.1-based T1, S1, and E1, which were announced in February around the same time Freescale introduced an i.MX51 evaluation kit (EVK) for Android, joining similar kits for Linux and Windows Embedded CE.
Stated Bernd Lienhard, VP and GM of Freescale's Multimedia Applications Division, "The i.MX535 delivers a compelling blend of features, functionality, performance and energy efficiency that consumer device manufacturers need to take smart mobile device design to new levels."
Availability
The i.MX535 processor is expected to ship in volume in Q1 2011, says Freescale. More information should soon be found here.
---
Related Stories:
This article was originally published on LinuxDevices.com and has been donated to the open source community by QuinStreet Inc. Please visit LinuxToday.com for up-to-date news and articles about Linux and open source.