Jun 29, 2011 — by LinuxDevices Staff — from the LinuxDevices Archive — views
Google launched its long-anticipated foray into the social networking world with a Facebook alternative that focuses on more nuanced social sharing. Available initially as an app on Android Market, Google+ offers features that lets users sort friends into separate "Circles," set up "Sparks" discussion forums, and "Huddle" to quickly set up a group date.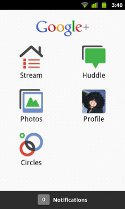 Targeting the world's leading social network where it stumbles most, Google June 28 unveiled its Google+ project, the company's long-rumored social network intended to take back some of the swagger it lost to Facebook in the last few years.
Seizing on the market leader's seemingly cavalier attitude toward user privacy, Google envisions Google+ is billed as a more nuanced approach to social networking. The service endeavors to give users complete control over what content they share online and with whom they share it.
Available to users as a free Android app, the service is nonetheless open by invitation only for now. According to Stephen Levy, writing in Wired, the chief designer behind Google+ is none other than the original Macintosh UI designer Andy Herzfeld.
Google+ comprises four major components: Circles, Sparks, Hangouts, and mobile. The latter includes instant photo and video uploads, as well as group messaging.
Circles is a sharing service that lets users add circles, or groups of users united by common interests by dragging and dropping their profiles in a circle. Circles could include family, friends and colleagues.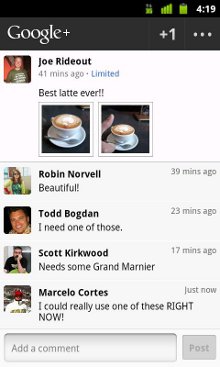 Google+ Android app
(Click on either to enlarge)
Sparks enables users to start conversations online with other users around certain topics, such as restaurants, cooking, or sports. Google+ users can add their interests to gain access to content regarding relevant topics in the future. Hangouts enable users to connect from their computers via multiuser video. Users may simply click to join a Hangout.
Mobile may be the most crucial information-sharing aspect of Google+. The tool leverages an Android smartphone's GPS, cameras, and messaging to improve connections between users. Specifically, users may choose to include their location with any status updates.
Another feature that follows the Facebook pattern is Instant Upload. It apes existing mobile applications that push information quickly to Facebook, and lets Google+ users upload pictures and videos they shoot from their smartphone to a private photo album in Google's cloud. Finally, Huddle is a group-messaging application that lets users make plans with everyone in their circle.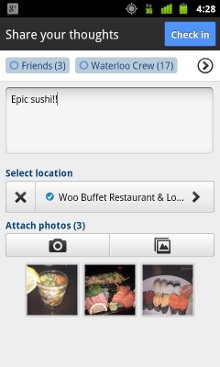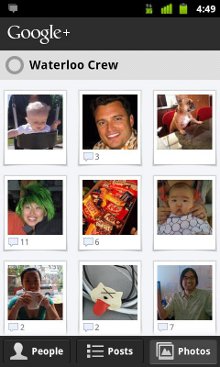 More Google+ views
(Click on either to enlarge)
Google is aiming to improve on Facebook's one-size-fits-all approach to friending. "Not all relationships are created equal," explained Vic Gundotra, Google senior vice president of engineering, in a blog post. "So in life we share one thing with college buddies, another with parents, and almost nothing with our boss."
Gundotra, who heads up the Google+ project, added a thinly veiled swipe at cross-town rival Facebook. "The problem is that today's online services turn friendship into fast food — wrapping everyone in 'friend' paper — and sharing really suffers."
Facebook's premise assumes that a user wants to share with all of their connections. However, in its Google+ announcement, Google argues that what's good for friends to read or see may not be good for bosses to read or see.
To be fair, Facebook has added a Facebook Groups feature last year to address this issue. In April of this year, the company updated Groups with a "Send" button to let Groups users share links, photos and other content with individual Facebook friends or Facebook Groups.
Facebook has racked up some 700 million users in six-plus years, allowing users to post photos, videos, and status updates to share with friends. The service began as a walled garden from which little data escaped once it was added. Yet the company has recently allowed third-party websites to connect with the site via Like buttons and other social plugins.
Facebook has endured a handful of privacy black eyes along the way, starting with the failed Beacon ad campaign in 2007. Earlier this month, Facebook added facial-recognition software without reminding users that it was coming, inciting a probe from the European Union.
Google is not going to "catch" Facebook by any means, but it does have one billion regular searchers. If it can convince even a couple hundred million of those users to spend time sharing on Google+, it will give the search engine a nice ramp to the social advertising it desires to pad its massive online-ad arsenal. At worst, Google+ may join Google Buzz in its sea of social anonymity, relegated to Google fans and/or niche users.
For an amusingly sarcastic take on Google+ and social networking in general, check out Dave Neal's screed on The Inquirer, in which he calls the new app/service the "anti-social network."

Google+ demo on YouTube
Source: Google (Click to play)
Availability
The Google+ mobile application, announced here, is available on Android Market. eWEEK was able to install it to an Android smartphone, but upon attempting access the service was told, "Google+ is still in active development and not yet available to everyone. You need an invitation to sign in. Please check back later." Soon after, eWEEK received an application form to take the Google+ field test, which allows up to 15 participants.
Clint Boulton is a writer for eWEEK.
---
This article was originally published on LinuxDevices.com and has been donated to the open source community by QuinStreet Inc. Please visit LinuxToday.com for up-to-date news and articles about Linux and open source.