Apr 22, 2011 — by Eric Brown — from the LinuxDevices Archive — views
A Texas jury ordered Google to pay $5 million in damages to Bedrock Computer Technologies for infringing on a patent related to Google's use of Linux on its servers. The ruling could enable Bedrock to extract settlements from many more Linux-related firms, and it also suggests that Google will struggle to defend itself against Oracle's lawsuit over Android, writes patent expert Florian Mueller.
In 2006, Texas-based Bedrock Computer Technologies sued Google, as well as firms including Yahoo!, Amazon.com, PayPal, and AOL, claiming they infringed on a patent filed in January 1997. On Apr. 15, an Eastern District Texas jury ruled that Google has infringed a patent held by a small Texan company and must pay $5 million in damages, according to a report in the ChannelRegister. The ruling was posted publicly on April 20.
The court has yet to rule on a Bedrock-petitioned injunction to prevent Google from infringing on its patent, the story adds. Meanwhile, Red Hat, which has not yet been sued by Bedrock as far as we know, has intervened with its own declaratory judgment suit , asking the Bedrock patent be ruled invalid.
Bedrock's cited patent describes "a method and apparatus for performing storage and retrieval … that uses the hashing technique with the external chaining method for collision resolution."
The jury, based in a Texas district that has long ruled favorably for patent holders, claimed that Google infringed two claims in the patent, says the ChannelRegister. The first claim describes certain specified uses of linked lists and record searches in an information storage and retrieval system, says the story. The second claim was said to include a "means for dynamically determining maximum number for the record search means to remove in the accessed linked list of records".
According to the jury, Google failed to provide a "preponderance of evidence" that the clams were invalid, says the story.
Major implications for Linux?
While the $5 million settlement is a pittance to Google, the ruling nevertheless has "major implications for the IT industry in general and for Linux in particular," writes open source patent expert Florian Mueller in his FOSS Patents blog on April 21.
In part this is because of the broad focus of the patent suit against the Linux kernel itself, portions of which are identified as "Accused Instrumentalities," writes Mueller. The claim appears to have broad applicability against Linux server applications, he added.
"Bedrock is now in a pretty strong position to collect royalties from other Linux users, especially those utilizing Linux for large server operations," writes Mueller. In fact, Red Hat itself may be next in line, Mueller predicts: "It seems that Bedrock is sitting on a patent gold mine and likely to make a fortune, thanks to the patent system on the one hand and the Linux kernel on the other hand."
Many of the other defendants in the original 2006 lawsuit appear to have settled out of court. While most of these use Red Hat Linux, Google uses its own Goobuntu Linux flavor on its servers and desktops.
The suit was filed before Google started using Linux in its own products, such as software based on the open source Android and Chrome OS. It remains to be seen whether the patent may also be ruled to cover Linux-based client applications such as Android apps, writes Mueller.
If certain Android apps do appear to violate the patent, "Google might have to modify the Linux kernel it distributes with Android in order to remove the infringing code," he adds.
It should be noted that Mueller similarly warned that Google might need to rewrite Android in the case of recent allegations about Google violating GPL licensing related to its use of Linux header files in Android. However, the allegations, made originally by Brown Rudnick partner Edward J. Naughton, have been called into question by open source experts including Linus Torvalds and Eben Moglen, founding director of the Software Freedom Law Center.
Can Google defend itself?
According to Mueller, the Bedrock ruling is also significant in that Google's world-class legal team was unable to sufficiently plead its case, even though it was asked only to provide a "preponderance" of evidence overruling the suit rather than prove its case definitively. This suggests that Oracle's lawsuit against Google — also related to Android, but unrelated to the Bedrock patent claims — may prove even more troubling for Google's lawyers.
"This doesn't bode well for the 41 Android-related patent infringement suits that are going on at this stage," writes Mueller. "For example, if Google can't defend itself successfully against one patent held by a little non-practicing entity from Texas, what does this mean for Oracle's lawsuit over seven virtual machine patents?"
This week, U.S. District Court Judge William Alsup said that he expected the Oracle suit against Google to be heard by a jury in October, according to the Inquirer.
When asked by the ChannelRegister to comment on the Bedrock patent ruling, a Google spokeswoman stated:
Google will continue to defend against attacks like this one on the open source community. The recent explosion in patent litigation is turning the world's information highway into a toll road, forcing companies to spend millions and millions of dollars defending old, questionable patent claims, and wasting resources that would be much better spent investing in new technologies for users and creating jobs.
Samsung countersues Apple — and the legal beat goes on
Patent lawsuits have always been part of the IT business, but in recent years things seem to have gotten out of hand, especially in the mobile arena. What's more, as Linux, Android, and open source software in general have risen to prominence, companies profiting from all three have increasingly become targets.
Apple's Android-related lawsuit against Samsung is only the latest of many slaps from Apple, Microsoft, and others against the Android ecosystem. On April 22, Bloomberg reported that Samsung filed a countersuit against Apple in courts in Seoul, Tokyo, and Mannheim, Germany, alleging Apple infringed patents related to mobile technologies. The patents are said to cover communication standards and a technology that connects mobile phones to personal computers for wireless data transfers, says Samsung.
Considering how difficult it is to keep track of all the recent lawsuits in the mobile industry, Technologizer's Harry McCracken put together a helpful chart (pictured at right) called "The Mobile Patent Mess: Who's Suing Who?".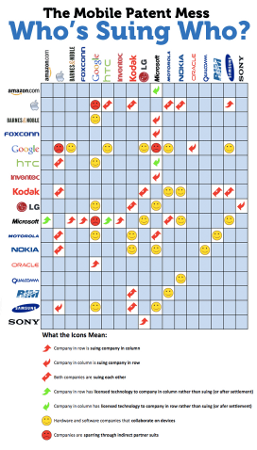 The Mobile Patent Mess: Who's Suing Who?
Source Technologizer
(Click to enlarge)
Writes McCracken: "I may update the graphic as future events warrant…although the mere thought of even more mobile legal spats cropping up is depressing me…"
---
This article was originally published on LinuxDevices.com and has been donated to the open source community by QuinStreet Inc. Please visit LinuxToday.com for up-to-date news and articles about Linux and open source.