Apr 19, 2011 — by Eric Brown — from the LinuxDevices Archive — 1 views
[Updated: 11 a.m] — Apple sued Samsung Electronics, claiming its Android-based Galaxy smartphones and tablets illegally copied Apple's iPhone and iPad. Meanwhile, a preliminary finding by the ITC favored HTC and Nokia in two similar Apple lawsuits, and South Korean search-engine firms have lodged complaints with their government, claiming Google has illegally required Google search on Korean Android devices.

Apple filed its lawsuit against Samsung Electronics on April 15, in the U.S. District Court of Northern California, reports the Wall Street Journal. The 38-page suit patent and trademark suit claims that Samsung's Android-based Galaxy S phones and Galaxy Tab tablets copied the iPhone and iPad, respectively.
Apple alleges that Samsung "copied the look, product design, packaging and user interface of its products, violating its patents and trademarks," according to the story by Yukari Iwatani Kane and Ian Sherr. Apple showed photos that identified similarities in product design and packaging for Galaxy products, as well as icons for applications such as music, phone, texting, and contacts, says the story.
Apple's complaint was said to have stated, "Instead of pursuing independent product development, Samsung has chosen to slavishly copy Apple's innovative technology, distinctive user interfaces, and elegant and distinctive product and packaging design, in violation of Apple's valuable intellectual property rights."
A Samsung spokesman told the Journal that the company will "actively" respond to the lawsuit.
ITC says HTC and Nokia not guilty in preliminary finding
Apple sued HTC Corp. in March 2010, and Motorola Mobility in November, both over alleged Android patent infringement. Another lawsuit targeted Nokia over its Symbian-based phones. Last month, Steve Jobs and company sued Amazon.com over the use of the term "Appstore" in the new Amazon Appstore for Android.
According to eWEEK today, an initial report by the staff of the U.S. International Trade Commission found that neither HTC or Nokia violated Apple's technology patents on the iPhone. While the findings are not binding, the report is a setback for Apple, which had its first day in court against HTC April 18.
Apple has not gone after Google itself over Android, as has Oracle,. However, like Microsoft and its equally active team, it is aiming at major device manufacturers who have recently been thriving on Android.
Apple has more leverage over Samsung than it does with HTC and Motorola. As the Wall Street Journal points out, Apple accounted for four percent of Samsung's overall 2010 revenue of $142 billion, mostly from microprocessor and memory chip sales. Apple spent about $6 billion at Samsung last year, second only to Sony Corp., which buys chips and liquid crystal displays from Samsung, says the story.
The Galaxy S design has appeared in numerous Samsung and carrier-branded variants around the world, including models offered by all four major carriers in the U.S. under names like Captivate, Fascinate, and Epic 4G.
The basic design — which features Android 2.1 or 2.2 running on a 1GHz Samsung Hummingbird-powered battery, as well as a 3.7-inch Super-AMOLED display — has proven quite popular, quickly bringing Samsung up to speed with Android mainstays such as HTC and Motorola. In January, Samsung claimed that it had shipped some 10 million Galaxy S smartphone variants worldwide.
The Galaxy S has clearly been a major factor in Android phones eclipsing the iPhone, with Gartner recently projecting Android will represent 38.5 percent of global smartphone sales this year, with Apple in second place with 19.4 percent.
The Galaxy brand has more recently been extended to lower-end models, such as the Ace, Fit, Gio, and Mini. It has also been used in high-end models like the four-inch, Galaxy S 4G offered by T-Mobile. Samsung also offers a number of Android phones that don't use the Galaxy name, including last week's 2.8-inch Samsung Replenish, featuring a "green" design, and solar battery charger.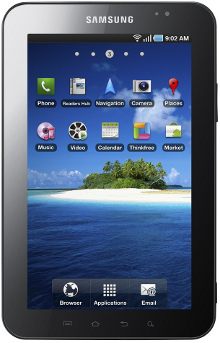 Samsung's seven-inch Galaxy Tab (pictured at left) led Android tablet sales in 2010 with 17 percent in the fourth quarter — its first full quarter of sales — according to IDC. This was said to have made it second only to the 9.7-inch iPad (pictured below, at right), which garnered 73 percent. Other Android tablets represented less than 10 percent, said the report.
Since then, Apple has shipped the popular iPad 2, and many more Android 2.2 tablets have also appeared. There have also been a few Android 3.0 tablets beginning to reach market, including the Motorola Xoom and Samsung's upcoming Galaxy Tab 10.1.
In the tablet market, the iPad line may have a solid lead over Android, but despite the rough edges of the early Android tablets, they are collectively expected to chip away at the iPad, and according to some studies, surpass it.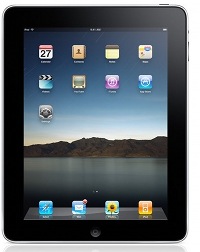 Dan Burk, a professor at the University of California Irvine School of Law, told the Journal that Apple's challenge in its trademark allegations will be to override Samsung's expected defense that features were similar because of functional necessity. In its patent claims, Burk said there would likely be a challenge from Samsung on the validity of the Apple patents themselves.
Google accused of Android-related search mischief in Korea
In other Android-related legal news, South Korean search powers NHN and Daum Communications have lodged complaints against Google with the country's Fair Trade Commission. The search giant is accused of blocking local phone carriers and phone makers from adding their search applications to handsets and tablets running Android, says an eWEEK story. NNH, for example, alleges that Google has delayed certification of the use of Google-enhanced versions of Android for handset makers that refused to offer Google search, says the story.
Google's search share is dominant worldwide, but is particularly low in South Korea, where NNH and Daum together make up 90 percent of desktop web searches, says eWEEK. Meanwhile, the Federal Trade Commission is mulling a broad antitrust investigation of Google for its search and ad practices, says eWEEK.
Recent reports have claimed that Google has grown increasingly heavy handed in forcing Android device vendors to hew to a pure Google Android installation free of UI skins. The reports were later denied by Google's Android chief Andy Rubin.
---
This article was originally published on LinuxDevices.com and has been donated to the open source community by QuinStreet Inc. Please visit LinuxToday.com for up-to-date news and articles about Linux and open source.