Jan 5, 2010 — by Eric Brown — from the LinuxDevices Archive — 1 views
Google shipped its first branded phone, the HTC-manufactured, Android 2.1-ready Nexus One, and announced a mobile web store. Initially available unlocked at $530 from Google or with a T-Mobile plan at $180, the Nexus One boasts a 1GHz Snapdragon processor, a 3.7-inch AMOLED touchscreen, five-megapixel camera, and voice activated controls.
Anticipated, feared, and craved for several months, the Nexus One will first appear on HTC's and Google's original carrier partner for Android, T-Mobile. However, signaling that this is more than just a one-shot concept phone to reestablish control over an increasingly fractured Android platform, Google says the Nexus One will be available later in the year for Verizon Wireless in the U.S. and Vodafone in Europe.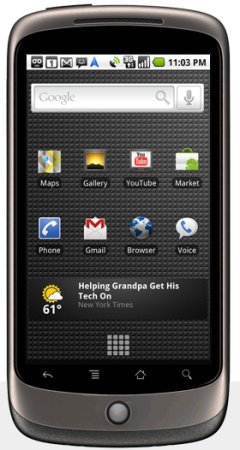 Google's Nexus One
With its Snapdragon processor and AMOLED display, the Nexus One, previously code-named
HTC Dragon
, offers state-of-the-art features. Yet its only major "first" on the hardware side, at least compared to other Android models, appears to be its incorporation of dual microphones, which enables noise cancellation technology for better voice quality. This in turn holds the key to its biggest software breakthrough: extensive speech-to-text and other voice-activated controls. These features are tied in part to Android 2.1, which adds 3D support and other new features (see farther below).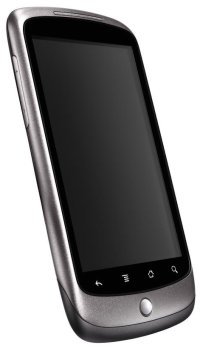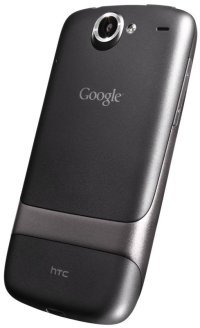 Angled views of Nexus One


(Click on either to enlarge)
Like several recent Android phones including the
LG Eve
and
Acer Liquid
, the Nexus One moves up to Qualcomm's 1GHz
Snapdragon QSD8250
processor. This appears to be considerably more powerful than the processors used in other Android phones, such as the ARM11, 528MHz Qualcomm MSM7200A processor found in the
HTC Hero
, the 800MHz Samsung S4C6410 found in the
Samsung Moment
, or in the case of Verizon's popular
Droid by Motorola
, TI's 550MHz OMAP3430 system-on-chip (SoC).
In a story in our sister publication, eWEEK, Clint Boulton quotes Google Android Senior Product Manager Erick Tseng as saying at the Nexus One event that the Snapdragon's greater power shows up most noticeably during multitasking. "It's just really fast, especially if you've got multiple apps running simultaneously," Tseng was said to have told the audience. "You've got your music running in the background, you're synching your email, you're broadcasting your location to your friends using Google Latitude and meanwhile you're browsing the Web."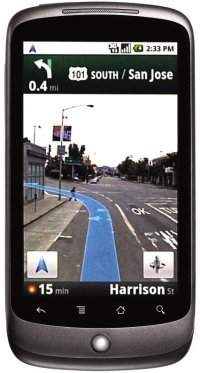 Nexus One's Android 2.1 communications menus (left) and navigation features (right)


(Click on either to enlarge)
The Nexus One offers 512MB each of RAM and flash memory, and supplies a microSD card slot pre-installed with a 4GB memory card, expandable to 32GB. By comparison, Verizon's slightly pricier Droid by Motorola comes standard with a 16GB SD card.
Like recent Samsung Android phones, such as the Moment, the Nexus One also offers an AMOLED display, which is said to offer better contrast and richer colors. The 3.7-inch size is the same as the Droid, with slightly lower resolution, at 800 x 480. (Along with most other phones, the Droid lacks AMOLED.) Neither phone - or any Android phone we know of for that matter — supports the iPhone-esque multi-touch capability, although according to several reports, the underlying hardware would support it.
The T-Mobile version of the Nexus One supports GSM networks, including 7.2Mbps HSDPA downloads, says Google. The unlocked version won't work with the frequency band used by the AT&T and Rogers networks for 3G data and is incompatible with CDMA networks such as Verizon and Sprint, writes Boulton in eWEEK. According to the story, the Nexus One model being prepared for the Verizon network will not include a GSM radio, and hence will be incompatible with T-Mobile, AT&T, or other GSM networks.
The Nexus One moves up to 802.11n as opposed to Droid's 802.11g WiFi, but other features, including GPS, Bluetooth 2.0, micro-USB port, 3.5mm headset jack, and speakers, match up closely with the Droid.
Both phones have five-megapixel cameras with LED flash and autofocus, although the Droid's goes up to 4X zoom instead of the Nexus One's 2X. (According to Google, Nexus One users can use the camera to record MPEG4 video and upload it to YouTube in one click.)
Both models also offers accelerometers, as well as proximity, light, and digital compass sensors. One extra that should prove handy is a clickable trackball with a tri-color notification LED that alerts the user about new email, chats, and text messages.
Nexus One voice (left) and messaging (right) features
(Click on either to enlarge)
Aside from the processor and AMOLED display, the major difference between the Nexus One and the Droid is the latter's tactile keyboard, which adds a noticeable 1.4 ounces over the 4.6-ounce Nexus One. Despite its lack of keyboard, however, the Nexus One is sized about the same at 4.7 x 2.4 x 0.5 inches. Both phones have 1400 mAh batteries, with the Nexus One claiming up to seven hours of 3G talk time (see spec list below).
Android 2.1 and Google voice features
The Nexus One's greatest claim to fame is its software which, for now, anyway, is the only phone to feature the Android 2.1 ("Eclair") platform. (According to several reports, however, Verizon's Droid and Eris phones, among other Android phones, will soon get the upgrade.)
Like the Droid's Android 2.0, version 2.1 of the Linux-based OS offers the Google Maps Navigation app, which supplies turn-by-turn driving directions with voice output. Other Android 2.1 features are said to include multiple Gmail accounts, universal inbox and Exchange support, and aggregate phone book contacts from multiple sources, including Facebook. Android 2.1 is also said to offer a "Quick Contacts" feature that easily switches users between communication and social applications. As with any Android phone these days, the phone provides access to Android Market, which according to Google already boasts more than 18,000 applications.
In addition to Android 2.1, the Nexus One introduces cutting-edge proprietary features developed by Google. Most of these are based on the company's continually evolving voice technologies, including voice to text, and the ability to use a voice-enabled keyboard for all text fields, including those for text messages, IM, tweets, Facebook updates, or email. Nexus One users can also speak into their phone to search Google, call contacts, or get driving directions, says Google.
The Nexus One offers additional twists on text-to-speech, as well, including the ability to read voicemail messages, says Google. In addition, it can receive transcribed voicemail with Google Voice integration "without changing your number."
In addition to voice features, the Nexus One offers new personalization and UI features, such as additional widgets, five customizable home screen panels, and "dynamic, interactive, live wallpapers." The phone is also said to offer some 3D capabilities that take advantage of the Snapdragon, including the ability to view pictures and Picasa Web Albums in a new 3D Gallery.
Finally, according to Boulton, the Nexus One supports Google Earth, which he calls "a first among Android phones." The phone is also said to support Google Voice and other standard Google Apps. Missing, however, is any additional social networking synchronization and UI layer, such as Motorola's MotoBlur or HTC's Sense UI, although Android appears to be gradually improving along these lines on its own.
Specifications listed for the HTC-manufactured, Google Nexus One include:
Processor - Qualcomm Snapdragon 3G QSD8250 @ 1GHz
Memory — 512MB
Flash — 512MB
Flash expansion — 4GB microSD card included (expandable to 32GB)
Display — 3.7-inch WVGA (800 x 480) AMOLED touchscreen; 100,000:1 typical contrast ratio; 1ms typical response rate
Cellular:

UMTS Band 1/4/8 (2100/AWS/900)
HSDPA 7.2Mbps
HSUPA 2Mbps
GSM/EDGE (850, 900, 1800, 1900 MHz)

WiFi — 802.11b/g/n
Bluetooth - Bluetooth 2.1 + EDR; A2DP stereo
GPS — Assisted global positioning system (AGPS); cell tower and WiFi positioning
USB - Micro-USB port
Camera - 5-megapixel with LED flash, auto focus, 2X zoom, white balance, color effects, and geotagging support
Video — H.263 (encode and decode) MPEG-4 SP (encode and decode) H.264 AVC (decode)
Audio:

Dual microphones
Dynamic noise suppression from Audience, Inc.
3.5mm stereo headphone jack with four contacts for inline voice and remote control

Voice controls:

Voice-enabled keyboard for all text fields: speak a text message, instant message, or complete an email
Voice commands for search Google, call contacts, or get driving directions
Voice shortcuts in noisy environments

Other hardware features:

Digital compass
Accelerometer
Proximity and light sensors
Haptic feedback
Clickable trackball with tri-color notification LED
Personalized laser engraving with up to 50 characters on the back of the phone

Battery:

Removable 1400 mAh battery
Charges at 480mA from USB, at 980mA from supplied charger
Talk time up to 10 hours (2G) or up to 7 hours (3G)
Standby time up to 290 hours (2G) or up to 250 hours (3G)
Internet use time up to 5 hours (3G) or up to 6.5 hours (WiFi)
Video playback up to 7 hours
Audio playback up to 20 hours

Dimensions — 4.7 x 2.4 x 0.5 inches (119 x 59.8 x 11.5mm)
Weight — 4.6 oz (130 g)
Operating system - Android 2.1
Google Phone store
At the new Google Phone web store, consumers can purchase an unlocked Nexus One phone without service, enabling any GSM network SIM card to be inserted into the device. The phone site will also point to services available from one of Google's operator partners, says the search giant.
Tossing a bone to carriers and vendors who might fear that Google could muscle them out of the Android market, the company states, "As new phones come to market through this channel, consumers will benefit from the ability to match a phone of their choice with the service plan that best meets their needs. Operator prices and plan details will be featured on the site." Google goes on to say that in the coming months it plans to establish partnerships with additional operators, launch more phones with Android handset partners available on the site, and expand the web store to more countries.
Whaddya gonna do?
According to eWEEK's Boulton, Google Android VP of Engineering Andy Rubin said during the event that HTC built the phone entirely on its own, and while Google had greater direction over software than usual, contrary to some reports, HTC had input there as well.
"In short," writes Boulton, who appears to suggest that the controversy over the phone may be overblown, "this is another Google Android phone, just one that happens to be a little closer to Google's idealization of what a Web-enabled phone should be."
Still, carriers and vendors can't be pleased. Priced competitively at $180, branded with the magic Google logo, and offering what is for now an exclusive pre-installation of Android 2.1, the Nexus One would appear to have an unfair advantage over the Android phones offered by Google's partners. Just to name the vendors with branded phones, these would include HTC (the Sprint-provided Hero, etc.), Motorola (the Verizon-sold Droid and the T-Mobile carried Cliq), Samsung, Sony Ericsson, and many others, including T-Mobile itself (MyTouch 3G).
Yet, Google appears to have timed its rather ruthless strategic move perfectly, right after the Droid and other phones have launched an Android gold rush that can no longer be denied. According to most reports, Android phones and apps have been in very high demand during the recent holiday season. Any carriers who decided to jump ship would miss out on what appears to be the most popular smartphone platform around aside from the iPhone, and possibly the BlackBerry. And then, what are they going to do — go back to Windows Mobile?
There is an argument that only a Google brand will be enough to boost the Android platform over the iPhone (not to mention the too often dismissed RIM BlackBerry). We'll never know for sure now whether such a move was necessary. However, there is also the risk that if Google dominates Android hardware sales as well as software — much of the most popular items are actually Google's proprietary Android add-ons — the dream of having a vibrant, open source mobile operating system may be left to others, such as LiMo and possibly Symbian.
In the meantime, though, the Nexus One looks like a cool phone.
Stated Andy Rubin, VP of Engineering, "The Nexus One belongs in the emerging class of devices which we call 'superphones,' with the 1GHz Qualcomm Snapdragon chipset making it as powerful as your laptop computer of three to four years ago."
Stated Peter Chou, CEO of HTC Corp., "The Nexus One represents the unique combination of design and innovation two companies like Google and HTC can have when they collaborate."
Availability
Nexus One is initially available from the Google web store in the U.S. without service for $530 or starting at $180 with a two-year contract from T-Mobile USA, says Google. In the near future, Verizon Wireless in the US and Vodafone in Europe plan to offer services to customers in their respective geographies. Google will initially take orders for its unlocked phone from the U.S., U.K., Singapore, and Hong Kong.
More information on the Nexus One may be found here, which is also the site of the fledgling Google Phone web shop. Additional information may be found here, and at a PR site, here.
The eWEEK story on the Nexus One announcement should be here.
---
This article was originally published on LinuxDevices.com and has been donated to the open source community by QuinStreet Inc. Please visit LinuxToday.com for up-to-date news and articles about Linux and open source.