Sep 18, 2007 — by LinuxDevices Staff — from the LinuxDevices Archive — 5 views

[Updated Sept. 18] — Trolltech will release its entire application development framework for Linux-based mobile phones under the GPL license, it announced on Sept. 18. Additionally, the development tools and software stack vendor plans to support FIC's iPhone-like GTA01 ("Neo1973") as an… open phone development platform.
Trolltech has long offered Qtopia Phone Edition (QPE) under a dual-license model. However, some portions — such as the telephony stack, DRM, and safe execution environment — are currently available only under a commercial license. The "Greensuite" diagram below shows where these commercial-only components fit into the rest of QPE.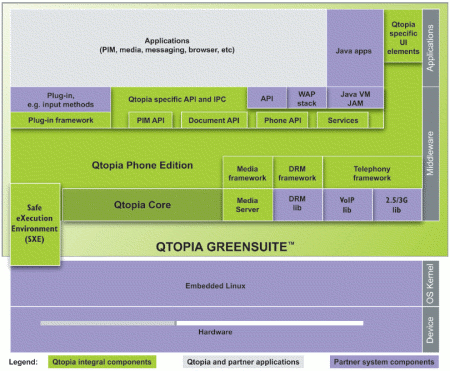 Components of the QPE "Greensuite" stack
(Click to enlarge)
Trolltech said that in "late October," it will release a beta version of the entire QPE 4.3 stack under the GPL. It appears likely that instead of Trolltech's own telephony stack, DRM module, and safe execution environment, the open source version of QPE will include open source analogs sourced from the OpenMoko project, a community effort that is sponsored by FIC, and creates software for FIC's open hardware platforms, such as the GTA01, or Neo1973.
Meanwhile, Trolltech has posted a "preview" release of "Qtopia opensource" version 4.3 to its ftp server. That 100MB+ source code release includes device configuration files for not only the FIC GTA01, but also for popular Linux-based handhelds that include the Sharp Zaurus C3200, Nokia 770 and N800 Internet tablets, and Trolltech's own Greenphone reference design.

QPE opensource supports Sharp's C3200, Nokia's 770 and N800 Internet tablets, and Trolltech's Greenphone reference design
(Click each device for details)
Currently, the Greenphone is the only actual target development hardware available to application developers who use Qtopia and require cellular phone functionality. Announced at LinuxWorld 2006 and shipped shortly thereafter, the Greenphone has a somewhat dated hardware feature set, however, and costs about $700 — beyond the reach of many potential open source developers. Still, Trolltech said it plans to continue supporting the Greenphone as a development platform for QPE.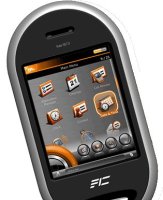 FIC Neo1973
(Click for details)
The Neo1973 (photo at right) starts at $300, includes a GPS receiver and, like Apple's iPhone, a large, high-resolution LCD color touchscreen. QPE should support the touchscreen quite well, having included touchscreen support since the release of the original Linux-powered Sharp Zaurus in 2001.
The Neo1973 comes standard with a completely GPL-licensed Linux-based software stack of its own. That stack is based on GTK+ and other GNOME software, and is maintained by OpenMoko.org, a community project sponsored by FIC spinoff OpenMoko. The OpenMoko stack is also available with the free OpenEmbedded cross-development tools.
Trolltech's free release of QPE for the Neo1973 will provide an alternative development environment based on the low-level Qt graphics library, instead of GTK+. It will also potentially provide a forward migration path for the hundreds of PDA applications originally written for Qtopia-based PDAs like the Sharp Zaurus.
Video of Qtopia running on the GTA01
In a statement, Sean Moss-Pultz, president of OpenMoko, said, "We welcome Trolltech extending the reach of our Neo1973 and the OpenMoko platform. And we applaud their efforts at simplifying application development for mobile devices. I look forward to a closer collaboration between our two communities."
Benoit Schillings, Trolltech CTO, added, "We applaud OpenMoko's vision to make the Neo an open platform and the excellent work they have done with this phone. We want to showcase the versatility of Qtopia by porting our application platform to the Neo phone, which has had a positive impact on the open mobile ecosystem."
The FIC GTA01 (aka, "Neo1973") is currently available in limited quantities to open source phone hackers. Trolltech will release a final, complete open source version of QPE 4.3 for the Neo1973 in "mid-October," it said. Meanwhile, a preview release can be found here.
Another free GNOME-based distribution targeting the Neo1973 is OpenedHand's Poky Linux 3.0 stack.
---

This article was originally published on LinuxDevices.com and has been donated to the open source community by QuinStreet Inc. Please visit LinuxToday.com for up-to-date news and articles about Linux and open source.