Sep 26, 2003 — by LinuxDevices Staff — from the LinuxDevices Archive — views
IBM Business Consulting Services has released its annual Retail CIO Survey for 2003, with findings that suggest a growing opportunity for Linux in point of sale (POS) and other retail systems. According to the report, Linux as an in-store operating environment grew from 0% in 2002 to 5% in 2003, while more than a quarter of respondents expected to implement Linux-based in-store operating environments… within 3 to 5 years.
The IBM report coincides with an interesting story by LinuxJournal publisher Phil Hughes, who identifies an opportunity for embedded Linux in the retail market, where it has made few inroads to date. Hughes, a former custom retail systems hacker, wrote in response to seeing two ads in the Sep., 2003 issue of Retail Systems Reseller for embedded platforms touting Linux compatibility.
The LinuxJournal appears here.
An executive summary of the IBM survey, "Executive Technology 2003 Retail CIO Outlook," is reproduced below.
---
Retail CIOs Worldwide Predict Significant Increase in Outsourcing — Aim to Boost Employee Productivity, Customer Responsiveness, Inventory Management, and Enterprise Flexibility, Amid Constant Marketplace Change
SOMERS, NY, September 24, 2003 -- According to the 2003 Retail CIO Survey, released today by IBM Business Consulting Services, information technology spending for 2002 increased to 2.1 percent (from 1.8 percent) of total retail industry sales. In addition, the survey highlights several investment areas — including outsourcing, point-of-sale overhauls and enterprise reporting and analytics — that retail industry CIOs are now prioritizing. These investments are being made in an effort to improve customer responsiveness, boost productivity and increase enterprise flexibility.
The survey is based on interviews with CIOs and senior IT executives from leading retail companies in North America, Europe and Asia. All companies surveyed have annual revenues of more than $100 million with approximately half reporting revenues of over $1 billion per year.
Among the most significant predicted shifts in IT spending, retail CIOs indicated a dramatic increase in IT outsourcing over the next three-to-five years, with nearly 40 percent of retailers expecting to deploy at least 20 percent or more of their IT budgets on outsourced projects. This is more than double the current outsourcing rate in the retail industry. The key objectives cited include reducing operating costs, increasing responsiveness to unexpected events and disruptions, gaining access to key skills and capabilities, and freeing up capital to invest in core businesses.
In addition, in such areas as call centers, store infrastructure and application management, approximately one-third of retail CIOs expect to work with partners who can deliver variably-priced, usage-based outsourcing models.
In terms of in-store IT investments, the majority of retailers expect to deploy IT solutions that solve their most important recurring business issues:
Executive reporting and analytics - the number-one corporate priority for 72 percent of surveyed retailers is to improve executive reporting and analytics, providing an increasingly real-time view of enterprise activity and performance.
Upgrading point-of-sale (POS) systems - almost all retailers expect to upgrade or overhaul POS systems, the primary drivers including: enabling new customer-facing applications; speeding up customer checkout; reducing total cost of ownership; and improving reliability.
Systems and business process integration - retailers are focusing on the necessity of systems integration, with approximately 60 percent acknowledging problems stemming from "disconnects" among business processes and systems.
Inventory and merchandise management techniques - 84 percent of retailers believe that inventory management transformation represented the greatest opportunity to cut costs and improve efficiency.
Deployment of Linux as the in-store operating environment is expected to increase fivefold over the next 3-5 years.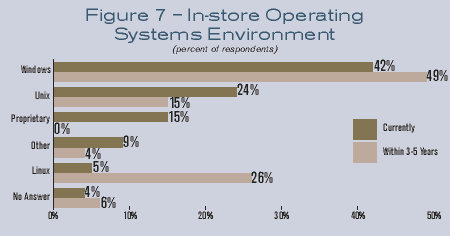 Specific questions on radio frequency identification (RFID) determined that while it is not an immediate priority for most retail CIOs, more than 40 percent expect to be deploying some form of RFID solution within the next two years to transform a wide range of key business processes. These include item and pallet level tagging, security surveillance, RFID-enabled shelf management and smart checkout.
"This survey demonstrates that retailers are faced with an increasingly challenging marketplace in which the rules of competition are changing constantly," said Ming Tsai, Partner, IBM Business Consulting Services. "This environment requires more than ever that retailers fuse information technology with business strategy to compete effectively."
About the 2003 Retail CIO Outlook
Conducted in association with Executive Technology magazine, The 2003 Retail CIO Outlook provides helpful benchmarking guidance for progressive retailers around the globe. More information is available here.
---

This article was originally published on LinuxDevices.com and has been donated to the open source community by QuinStreet Inc. Please visit LinuxToday.com for up-to-date news and articles about Linux and open source.