Jul 29, 2010 — by Eric Brown — from the LinuxDevices Archive — 34 views
Berlin-based Raumfeld is shipping a Linux-based, UPnP and AV/DLNA-ready multi-room audio system claimed to be "hacker/DIY friendly." The Raumfeld System comprises a handheld controller with a 4.3-inch capacitive touchscreen, Wi-Fi-enabled speakers, a 160GB music server and access point, and a "Connector" box that integrates existing A/V equipment, says the company.
The Raumfeld System pools digital music from UPnP and AV/DLNA compatible devices on a home network, including Macs, PCs, NAS (networked-attached storage) devices, or UPnP-based Internet radio appliances. It then streams all this content via Wi-Fi to the system's speakers, says Raumfeld.
According to Raumfeld, its algorithms enable the synchronous and lossless transmission of audio files over a standard wireless LAN. This patent-pending technology supports high quality and fully synchronized music playback in many rooms, claims the company.
The Raumfeld System can be a free-standing digital music system or work in conjunction with existing stereo equipment via the Connector, the company adds.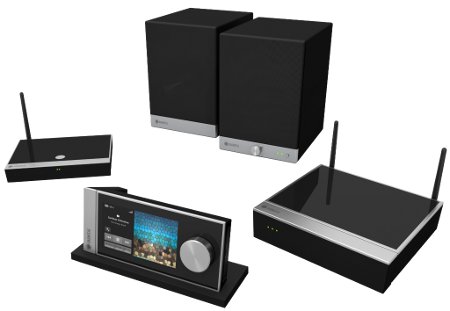 Raumfeld System


(Click to enlarge)
The system includes a touchscreen Controller, two types of speakers, and the Connector unit, as well as a Base unit that acts as a Wi-Fi access point and media server. The controller, speakers, and Connectors are all equipped with Marvell's 624MHz
PXA310
(Monahans-LV) system-on-chip (SoC), as well as 128MB of RAM and 128MB of flash memory, says Raumfeld.
Each of these units is also said to supply 802.11b/g WiFi connections. In addition, the Controller and speakers feature large analog volume controls.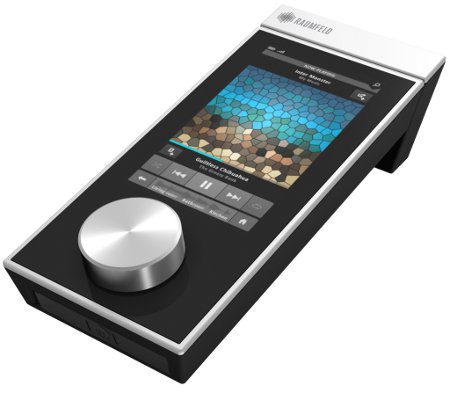 Raumfeld Controller
(Click to enlarge)
Controller
The Controller is a Wi-Fi-enabled remote weighing 11 ounces (312 grams) and featuring a 4.3-inch, 480 x 272 capacative touchscreen. The entire unit measures 7.1 x 3.1 x 2.2 inches (18 x 8.0 x 5.5cm), and the screen measures 3.74 x 2.1-inch (9.5 x 5.4cm), says Raumfeld. In addition to the aforementioned PXA310 processor, the Controller is equipped with hardware-accelerated graphics with DirectFB support, says the company.
Other features are said to include a USB 1.1 port and an accelerometer for shifting to between landscape and portrait views. The unit consumes 2400mW in operation, and offers a 3400mAh Li-Ion battery that supports five hours of use, as well as several weeks in sleep mode, claims Raumfeld. There is also a charging cradle that also acts as a tabletop stand.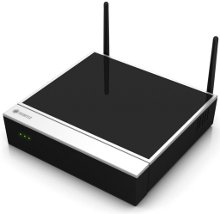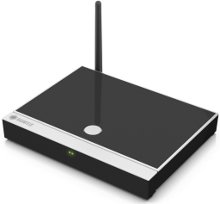 Raumfeld Base (left) and Connector
(Click on either to enlarge)
Base
The 6.9 x 6.1 x 1.6-inch (17.5 x 15.5 x 4.0cm) Base is an access point and media server. The box is is equipped with a 160GB hard disk drive, and loaded with pre-installed music services like Napster, Last.fm, and RadioTime (see farther below). There are also two USB 2.0 ports for connecting more storage.
Additional Base features include an 802.11b/g access point, and two 10/100 Ethernet ports, says Raumfeld. Music stored on the Base can also be played on other UPnP and AV/DLNA devices connected device like a PC, says the company.
Speaker S
Measuring only 7.9 x 7.1 x 5.5 inches (20 x 18 x 14cm), this Wi-Fi-enabled speaker set includes built-in amplifiers (2×15 W RMS, 2x25W music), as well as a 0.75-inch tweeter, and a four-inch woofer, says Raumfeld. The units are also said to include a Cirrus Logic 94KHz, 24-bit DAC, as well as an RCA input and a USB 1.1 port.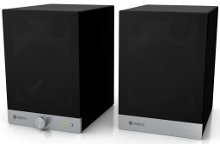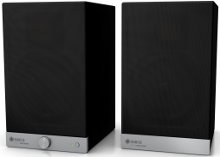 Raumfeld Speaker S (left) and Speaker M sets


(Click on either to enlarge)
Speaker M
Developed in cooperation with ADAM Audio, the high-end Speaker M set contains amplifiers (2x 30 Watts RMS), as well as ART tweeters and 5-inch Rohacell woofers. The speaker set offers the same Cirrus Logic DAC, RCA input, USB 1.1 port, and Wi-Fi radio used in the S series speakers, says Raumfeld. Each speaker measures 11.2 x 7.5 x 6.8 inches (28.5 x 19 x 17.2cm).
Connector
Both a transmitter and a receiver, the Connector encodes music from connected devices in real time and transmits it through the Raumfeld network, thereby integrating existing audio system or home cinema inputs, says the company.
Measuring 6.1 x 5.1 x 1.2 inches (15.5 x 13.0 x 3.0cm), the device offers the same Cirrus Logic DAC, RCA input, Wi-Fi, and USB 1.1 port as the S series speakers. In addition, it supplies an RCA output and an Ethernet port.
Raumfeld software
The Controller's software (see below) offers access to a music library that integrates tracks from the Base or other networked sources. Features include most recently played tracks (favorites), and playlists, including iTunes playlists.
The Controller also displays a waveform of the current track displayed in real-time, offering a visual update on the playback status of the current track, says Raumfeld (see Controller image farther above).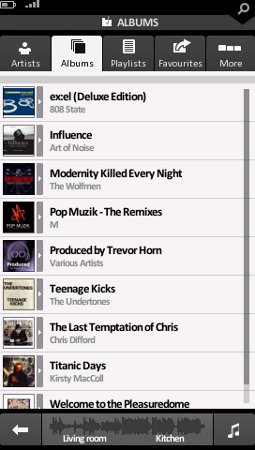 Controller interface

Each Raumfeld system includes a one month free trial of Napster Unlimited, offering more than ten million songs from 790,000 artists, says Raumfeld. Other music services loaded on the Base component include the Last.fm music service, which suggests new music based on user song selections, and RadioTime, which offers access to 10,000 radio stations.
The Raumfeld System supports file formats including MP3, WAV, FLAC, OGG Vorbis, ASF, WMA, and AAC, says Raumfeld. The system is said to support playback at almost any data transfer rate, including variable bit rates.
While the Raumfeld System supports playback from UPnP and AV/DLNA devices, the company has extended the standard so that the components do not currently work interchangeably with other UPnP and AV/DLNA controller devices. Fortunately, Raumfeld plans to make it possible in the future to "use certain system components independently from the Raumfeld system." The first devices to support other UPnP and AV/DLNA controllers will be the Speaker sets as well as the Connector, says the company.
Raumfeld says it plans to add more integrated online music services to the line-up soon. These are in addition to whatever services are available on networked UPnP and AV/DLNA compatible devices, such as iTunes music stored on a desktop computer. The iTunes folders can also be copied to the Base unit, says the company.
Hacker-friendly
The Raumfeld System is touted as being standards-based, modular, and open, making use of standard Wi-Fi routers, and "easy to expand and enhance." The "hacker/DIY friendly" firmware is based on mainline Linux 2.6.34 code, and includes a SSH server, says the company.
The firmware is "predominantly" built using open source software, says the company. However, there was no mention about the availability of an open software development kit (SDK). Presumably, this will come later.
Stated Michael Hirsch, CTO of Raumfeld, "The Raumfeld software technology combines the flexibility and compatibility of UPnP with the mandatory features of a multi room audio system, such as synchronous playback, integration of streaming services, and easy setup and distribution of audio data through the existing, standard based home network."
Availability
The Raumfeld System is available now, exclusively from its online store, starting at 1,064 Euros (about $1,388) for an entry-level system comprising a Controller, Base, and two Connectors, including 10 percent and 15 percent discounts for two- and three-room bundles.
Individual Raumfeld System components are priced as follows:
Controller — 399 Euros ($521)
Base — 285 Euros ($372)
Speaker — 399 Euros ($521)
Speaker M — 749 Euros ($977)
Connector — 249 Euros ($325)
More information and online sales may be found here.
---
This article was originally published on LinuxDevices.com and has been donated to the open source community by QuinStreet Inc. Please visit LinuxToday.com for up-to-date news and articles about Linux and open source.