Sep 14, 2009 — by Eric Brown — from the LinuxDevices Archive — 30 views
Control4 announced a home energy management system designed for "smart grid" interaction, and announced version 2.0 of its Linux-based Control4 Home Automation software. The Control4 Energy Management System (EMS) 100 combines an "EC-100" home area network (HAN) controller with ZigBee-enabled "WT-100" wireless thermostats and energy-management software, the company says.
The EMS 100 adds energy management features to the same Linux-based Control4 OS software used by Control 4's ZigBee-compatible Control4 Home Automation system. The software, which includes a music server, runs on a growing number of Control4 controller devices, which are connected to Control4-manufactured wireless touchscreens, "speaker-points" and other devices. It has now been upgraded to version 2.0 (see farther below).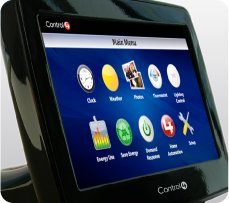 Control4 EC-100
The new EMS 100 system is aimed at utilities that want to offer their customers a home automation network (HAN) that can interact with emerging "smart grid" deployments. The system aggregates energy usage data from various household loads and presents the information in a GUI display, enabling customers to monitor and adjust energy usage. The system can be programmed to automatically turn devices on and off or make other adjustments, Control4 adds.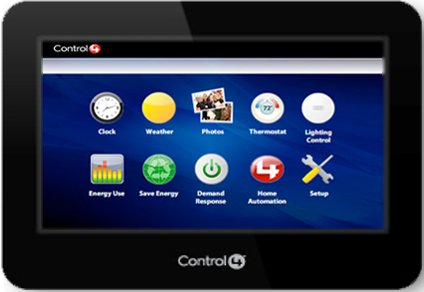 EC-100 display
Depending on the services offered by a utility, the system enables customers to:
Track energy usage of devices over time
Compare energy consumption to other homes in the same area
Track billing information
Display emails and text messages to help manage energy use in real time
Participate in demand response programs
Learn about promotions and rebates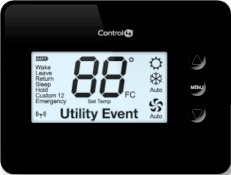 WT-100 thermostat
The EMS 100 system is said to include the following components:
Control4 Energy Controller EC-100 — The heart of the EMS 100, the controller is equipped with a 4.7-inch touchscreen that delivers data on energy usage and costs. It also lets users power down lights or adjust shades to reduce energy use. The device provides WiFi 802.11b/g for communications with the utility and with other Control4 systems, if available. It also offers support for the SE and HA modes of the ZigBee Pro short-range wireless technology. The Home Automation (HA) profile was implemented in the new ZigBee Pro standard, enabling a greater number of interoperable devices to be added, says Control4. In addition, the EC-100 provides touchscreen apps for checking the weather, displaying photos, listening to podcasts, and other features. (See spec list for more technical details.)
WT-100 Thermostat — The WT-100 (pictured above) is a programmable wireless thermostat that connects to the EC-100 via ZigBee Pro to control heating and cooling throughout the home. The WT-100 is managed through the EC-100 display, and is claimed to run from two to three years on battery power.
Control4 platform — The Linux-based Control4 software platform incorporates Adobe Flash Lite technology and is secured via ZigBee SE, SSL, and OpenSSH technology (see farther below for version 2.0 updates). The extensible Linux platform enables utilities and other third parties to develop new applications, such as monitoring of gas, water, or carbon dioxide output.
Control4 Network Management Software — Enabling the monitoring, optimization, and reporting of deployed energy controllers, the software includes network management tools that provide Tier 1 technical support and remote diagnostic capabilities, says Control4.
Control4 Home Automation — Using ZigBee, WiFi, and Ethernet standards, Control4 Home Automation gives homeowners the ability to control and automate thermostats, lights, a spa or pool, sprinklers, and other devices via a single interface.
Control4 ECO Software — This Energy Consumption Optimizer (ECO) software collects, analyzes, and compresses data on energy use and behavior on the EC-100, then communicates with a utility's load management software. Analysis features are said to include load factor, kWh savings opportunity by event/hr, and the revenue impact of each event.
Features listed for the EC-100 include:
4.7-inch color LCD touchscreen with 480 x 272 resolution
ZigBee SE and HA support
WiFi 802.11b/g
Audio and visual emergency alerts or reminders
Electro-piezo buzzer for alerts (user selectable tones)
AC wall power supply with battery back-up for 6-8 hours
USB 2.0 port for memory and bridge devices
Adaptable base for future HAN communications
Remote firmware updates
Optional wall mount
Although Control4 has not made any claims along these lines, it is easy to see HAN energy management systems such as the EMS 100 evolving to support the next stage of smart grids: controlling the uploading of electricity to the grid. Once electrical grids have been further refurbished with smart grid technology, HAN products should eventually enable customers to sell back energy from home solar panels or other sources to the grid during peak load periods.
Control4 OS 2.0
In addition to announcing the EMS 100, Control4 released version 2.0 of its Linux-based Control4 Home Automation software. Control4 OS 2.0 offers an upgraded interface, new home-control functionality, improved integration of third-party applications, and enhanced media management, says the company.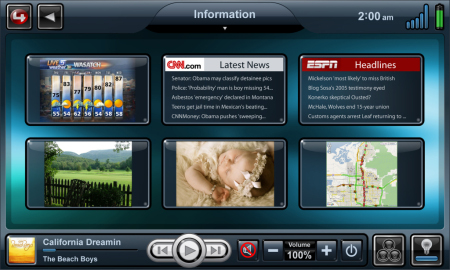 Control4 OS 2.0's Navigator 2.0 display


(Click to enlarge)
The new software is available for the EMS 100, as well as the full line of Control4 Home Automation controllers. At the time of our original story in March 2008, the company said the controllers ran Ubuntu Linux on a Linux 2.6 kernel.
The HC-500 controller, shown below, was said to be based on an undisclosed Texas Instruments DaVinci processor. It offers a 160GB hard drive, compared to the HC-1000's 500GB drive and no storage on the HC-300. The HC-500 is equipped with two USB ports, one Ethernet port, four serial ports (DB9), analog and digital audio I/O jacks, and optional WiFi connectivity.
The controllers are available with a variety of touchscreen displays, tuners, switchers, amplifiers, remotes, temperature and lighting controls, and other accessories. Since our original coverage, the company has introduced a new single-room controller, the HC-200, as well as an iPod dock, and additional touchscreens and other devices (see link at the bottom of the story for the full line-up).

HC-500 controller
(Click to enlarge)
One key addition to Control OS 2.0 is a new Adobe Flash-based software development kit (SDK). Third-party companies can use the SDK to create applications that provide information to the customer, ranging from local weather and traffic reports to RSS feeds, says Control4. Installers can download and modify applications that have been developed by third parties, or customize the interface without using the SDK, using pre-set macros and system shortcuts, says the company.
Control4 OS 2.0 implements the new ZigBee Pro standard, including the HA profile, as mentioned above. Version 2.0 also supports the Digital Living Network Alliance (DLNA) standard, enabling media served up by other products to be automatically available for playback within the Control4 system, says the company. New "whole-home" capabilities, meanwhile, are designed to improve developer and user interaction with media management, lighting, HVAC, and security subsystems.
The Control4 OS 2.0 consists of the following software components:
Navigator 2.0 — This updated UI software is based on Adobe Flash, offering touchscreen support and "improved whole-home functionality."
Director 2.0 — The core of the Control 4 software, Director 2.0 adds new security settings, updated system components, and support for ZigBee Pro.
Composer 2.0 — Designed for installation and configuration, Composer 2.0 adds license activation, enabling authorized dealers to "specify the installers allowed to use Composer 2.0 and to lock projects to prevent inadvertent changes," says the company.
Additional features new to Control4 OS 2.0 are said to include:
Digital Living Network Alliance support — New support for the DLNA protocol enables Control4 systems to automatically access audio files located on DLNA servers, including network-attached storage (NAS) devices and Control4 controller hard drives, says the company.
Support for third-party media manager software — The platform now supports media management tools including iTunes, Windows Media Player, and MediaMonkey.
Improved Media Database — Director 2.0's updated media database is touted for improved performance, scalability, and new features including song and artist selection.
Information Apps — Navigator 2.0 offers new applications, including weather, temperature, and RSS feeds, and makes it easier for developers to create new apps, says the company.
Control Apps — Third-party developers and Control4 dealers can now create and edit control applications to provide customized control interfaces for specific devices or systems.
UI customization — Version 2.0 is touted for easier customization of UI features.
Localization — Version 2.0 offer language localization to support the 37 countries where Control4 sells its products today.
In other news, Control4 announced that Texas-based utility Bluebonnet Electronic Cooperative has selected the EMS 100 for use in its smart meter rollout in 2010. In July, Control4 announced $17.3 million in financing to fund its Energy Systems division.
Stated Will West, Control4's CEO, "Our products support today's regulatory requirements to proactively engage the residential consumer by delivering data via the smart grid to facilitate energy efficiency. But the ability to control devices in the home, particularly during peak load and demand response events, is the key component to energy management that only Control4 provides."
Availability
Control4 did not offer pricing or availability information about its Control4 Energy Management System (EMS) 100. More information may be found here. For a look at new Control4 controllers and other devices introduced since our previous coverage, please go to Control4's home automation website, here.
---
This article was originally published on LinuxDevices.com and has been donated to the open source community by QuinStreet Inc. Please visit LinuxToday.com for up-to-date news and articles about Linux and open source.