Sep 10, 2010 — by Eric Brown — from the LinuxDevices Archive — 13 views
Parrot S.A. is shipping a hackable $300 "quadrocopter" flying drone that runs Linux on a 468MHz ARM9 processor and may be remotely controlled by an iPhone. The AR Drone uses Wi-Fi to receive navigation instructions and transmit video from one of its dual cameras, and it ships with an SDK for developing multiplayer augmented reality games.
The AR.Drone can fly at five meters per second (18 km/h), or 16.4 feet per second (11.2 miles per hour), and supports three dimensional flight, as well as hovering, says Parrot.
With four rotors, quadrocopters are more stable and easier to control than twin-rotor remote helicopters, Parrot claims. In addition, it's said the propellers lock up when they make contact with an object, and an emergency button is available to kill theie motors.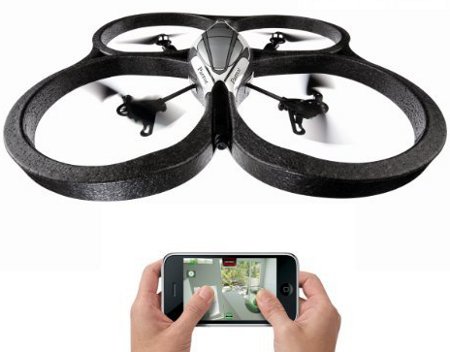 AR.Drone with indoor hull
To be on the safe side, however, the drone's hull is said to be constructed of carbon fiber tubes and PA66 plastic for greater durability. An extra, removable hull for indoor use is also provided, although it's said to worsen aerodynamics somewhat.
Without the indoor hull, the AR.Drone measures 17.7 x 11.4 inches (45 x 29cm) and weighs 0.8 pounds (380 g), says Parrot. With the hull, the system stretches out to 20.7 x 20.3 inches (52.5 x 51 5cm) and weighs 0.9 pounds (420 g).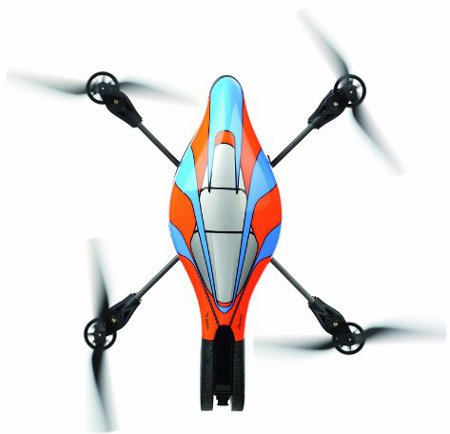 AR.Drone without indoor hull
At the heart of the AR.Drone is an unnamed 468MHz ARM9 processor with 128MB of DDR RAM. A DSP (digital signal processor) is said to be used for video processing.
It's unclear whether the DSP is separate, or if — more likely — it is integrated with the ARM9 CPU, as found in a Texas Instruments DaVinci system-on-chip. (DaVinci processors are typically used for just such low-power, video-aware applications.)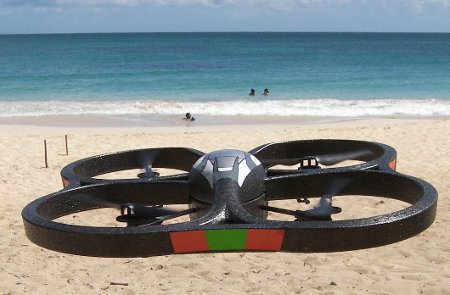 AR.Drone stalking the beachfront
(Click to enlarge)
The AR.Drone is equipped with a USB port and an 802.11b/g Wi-Fi access point, a sort of flying hotspot that enables two-user access. The device can be controlled from "meters away," Parrot claims.
The device is equipped with two cameras. The front-facing model provides a pilot's-eye view to the remote iPhone controller at 15 frames per second (fps). It offers 640 x 480 resolution, and is equipped with a 93 degree wide-angle, diagonal lens and a CMOS sensor, says the company.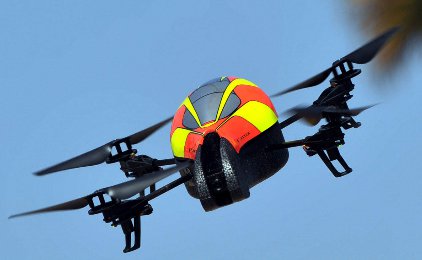 The AR.Drone is limited to 11.2 miles per hour, an 802.11b/g radius, and 12 minutes of battery life, but it looks awesome.
The ground-facing camera, meanwhile, is a high-speed model used by the drone's internal guidance systems to stabilize flight, "even with a light wind," says Parrot. Equipped with a 64 degree diagonal lens and a CMOS sensor, the bottom-mounted camera is said to capture 60fps video.
The internal guidance system also depends upon a 40KHz ultrasound altimeter, which has a range of six meters (19.7 feet), says the company. The guidance system uses Microelectromechanical Systems (MEMS) technology, and includes a three-axis accelerometer, a two-axis gyrometer, a one-axis yaw precision gyrometer, and an inertial measurement unit (IMU) says Parrot.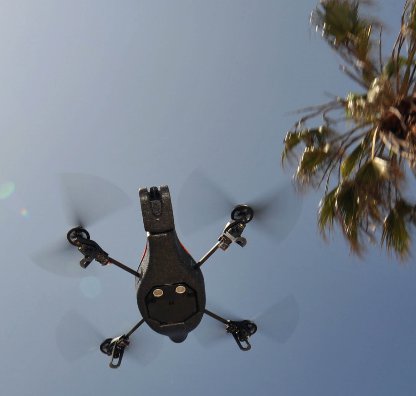 The ground-mounted camera helps stabilization, and is especially useful for stable hovering.
The device is powered by four brushless, 35,000 rpm motors and consumes 15 Watts. Unfortunately, this means only 12 minutes of flight time using the three-cell Li-Ion 1000mAh battery, which requires 90 minutes to recharge. Replacement battery packs cost $30 apiece.
The Linux firmware running on the ARM processor handles communications between the device and any Wi-Fi and video-enabled controller device. The system ships with an iOS app that runs on the Apple iPhone, iPod Touch, or iPad. However, other platforms will be announced in the next few months, says the company, and we would be very surprised if Android were not among them.
The software development kit (SDK) includes augmented reality (AR) functions such as detecting other AR.Drones in flight, as well as detecting and positioning markers on the ground and on walls.
The software relies on 2D or 3D gametags in the real world to create virtual tracks or display virtual enemies. Tag detection features are said to include positioning of virtual objects, calculation of virtual markets, and detection from between 30 centimeters to five meters (one foot to 16.4 feet).
In the real-world, meanwhile, the AR.Drone can detect fellow craft up to a distance of five meters (16.4 feet). Features include estimation of distance and validation of virtual laser shots fired at enemy drones.
The SDK is said to include an open game API, and is available to developers who register on the site. Developers keep all revenue from sales of compatible apps, says the company. Parrot has created an App store where it currently offers only a basic free flying app, although an AR.Flying Ace multiplayer battle game is said to be coming soon.
Demo video of AR.Drone on YouTube


(Click to play)
Availability
The AR.Drone shipped yesterday and is available on Amazon.com for $300, here. More information on the device and numerous videos may be found at Parrot's site, here.
---
This article was originally published on LinuxDevices.com and has been donated to the open source community by QuinStreet Inc. Please visit LinuxToday.com for up-to-date news and articles about Linux and open source.