Sep 14, 2009 — by Eric Brown — from the LinuxDevices Archive — views
LG Electronics announced its first Android phone, the Europe-targeted, keyboard-enabled LG-GW620. In other Linux-related smartphone news, HTC plans to dump Windows Mobile for Android on its next-generation "Touch HD 2,"and a Samsung phone compliant with the LiMo spec is heading for Vodafone, industry reports claim.
According to LG, the Android-ready LG-GW620 will offer a 3-inch touchscreen and a slide-out QWERTY keypad, and will ship to a European audience in the fourth quarter. The Korean electronics giant offered few more details, apart from a pair of images (below) that show a stylish slider with a USB connection.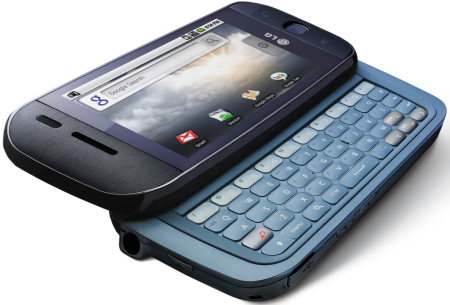 LG-GW620


(Click to enlarge)
The announcement of the LG-GW620 does not appear to suggest any major trend away from LG's support for Windows Mobile. The company also announced it would offer three new Windows Mobile 6.5 smartphones in the next few weeks, plus at least ten more WinMo models that will roll out through the end of 2010.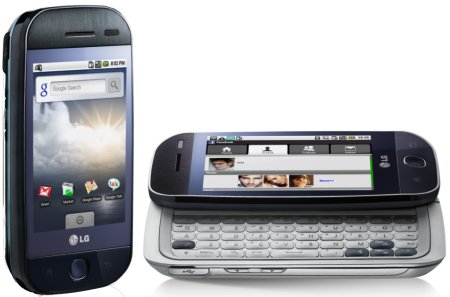 LG-GW620 in portrait and landscape modes


(Click to enlarge)
Stated Skott Ahn, President and CEO of LG Electronics Mobile Comm. Co., "The LG-GW620 will appeal to first-time smartphone customers by offering a new and different kind of user experience. Our objective is to provide a wide selection of smartphones to satisfy the diverse preferences of today's consumers. This Android phone is just one of many smartphone models we plan to introduce worldwide in the years ahead."
Touch HD going Android?
While LG's Android play appears to be a mere side-dish to LG's Windows Mobile entrée, rival HTC appears to be edging steadily away from Windows Mobile toward Android. The latest sign came from the Register Hardware earlier this month, which claimed to have received confirmation from a source within HTC that the next version of its Windows Mobile-based Touch HD smartphone will instead run Android. The source appeared to make the surprising suggestion that the company would not offer a Windows Mobile version of the "Touch HD 2."
Another source was said to have informed the publication that the Touch HD 2 (pictured in a Register Hardware shot at right) would be much faster than the original Touch HD, with its Qualcomm chip clocked at up to 628MHz instead of 526MHz. The phone, however, will stand pat with its already large 3.8-inch touchscreen, offering the same 800 x 480 resolution, said the story.
HTC has manufactured the lion's share of smartphones running the Linux-based, Google-sponsored Android operating system, including all the phones offered by U.S. carriers to date. Most recently, it introduced an HTC Tattoo model, which is a sort of scaled down version of its HTC Hero.
Report: Samsung's LiMo phone headed for Vodafone
Samsung is prepping a smartphone for Vodafone that adheres to the LiMo (Linux Mobile) specification from the LiMo Foundation, says a story in BoyGeniusReport. The phone may well be the same as the "Linux-based" Samsung phone rumored in late August, as well as the Linux-based Samsung i8320 phone that appeared around the same time on an FCC approval page. Then again, the i8320 may be an entirely different phone, or even a U.S.-targeted version of the "Samsung Riedel l8305" model mentioned by the BoyGeniusReport as a possible match for the mysterious LiMo phone.
The BoyGeniusReport story had few details on the Samsung LiMo phone, aside from some photos, one of which is pictured at left. The report says the Vodafone-destined phone has a touchscreen with haptic feedback and an 8-megapixel camera.
The phone is also said to debut a new "Vodafone People" social networking service, rumored to be based on Vodafone's acquisition of Zyb last year. This appears to be yet another spin on syncing and integrating messaging services and social networking updates. Similar attempts to organize social networking and general messaging input include Palm's "Palm Synergy" in its Linux-based WebOS (Palm Pre and the new Palm Pixi), and the MotoBlur service introduced last week with Motorola's first Android phone, the T-Mobile-targeted Cliq.
LG is also expected to join Samsung in offering a LiMo phone this fall, although no details have emerged to date. In a recent interview with LinuxDevices, LiMo Foundation executive director Morgan Gillis said there would be a number of major LiMo-compliant smartphone announcements from new handset makers in October. The new phones will support LiMo's second-generation R2 version of its Linux-based mobile phone specification.
Earlier this year, the foundation announced that six major carriers would be shipping LiMo compliant phones this year. One of those was Vodafone, which said it had tapped U.S. software firm Azingo to develop Linux-based mobile applications for the phone, based on the Azingo Mobile 2 middleware and browser stack.
In August, LiMo announced nine new LiMo phones, as well as a new mobile carrier member, Japan's KDDI. The new phones, however, were relatively slight variations on the same downscale smartphone models from Panasonic and NEC, all aimed at NTT DoCoMo's Japanese network. Aside from a few Motorola models, all of the LiMo models to date have been DoCoMo phones from Panasonic and NEC.
Earlier this year, Samsung launched an Android-based i7500 phone for Telefonica's O2 network in Germany.
Availability
The Android-based LG-GW620 phone will be available in the fourth quarter in select European markets, says LG. The Register Hardware story on the Touch HD 2 may be found here. The BoyGeniusReport report on the Vodafone-destined, LiMo-compliant Samsung phone should be here.
---
This article was originally published on LinuxDevices.com and has been donated to the open source community by QuinStreet Inc. Please visit LinuxToday.com for up-to-date news and articles about Linux and open source.