Jun 2, 2009 — by Eric Brown — from the LinuxDevices Archive — 3 views

The LiMo Foundation announced the completion of its second-generation R2 specification for its LiMo (Linux Mobile) Platform. The spec offers new location-based services (LBS), multimedia, personal information management (PIM), and security features for LiMo smartphones, plus support for OMTP's BONDI web-app… interoperability spec, says LiMo.
(Click for larger view of NEC's LiMo-compliant Docomo Prime series N-01A )
APIs corresponding to the R2 platform will be released publicly in the early Fall, says the LiMo Foundation. Handsets based on the platform will begin to appear by the fourth quarter, says the 33-member group.
LiMo announced the R2 spec in February, along with nine new LiMo compliant handsets from NEC and Panasonic. It also announced six new members: Telefonica, Aromasoft, Casio Hitachi Mobile Communications, Marvell Semiconductor, Opera Software, and Swisscom.
More importantly, LiMo announced at the time that six major carriers would be shipping LiMo compliant phones this year. The commitments came from Orange, SK Telecom, Telefonica, Verizon Wireless, Vodafone, and Japanese carrier NTT DoCoMo, which has already started distributing the new NEC and Panasonic phones. LiMo also announced that five R2-compliant Linux phone stacks had been contributed to the organization, from Access, Azingo, LG Electronics, Purple Labs (now part of the Myriad Group), and Samsung Electronics.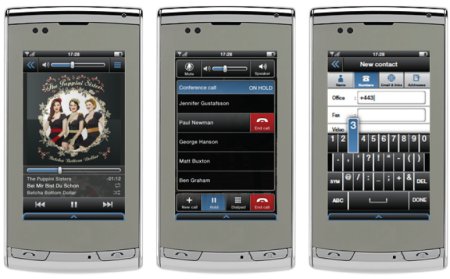 Different views of LiMo-compliant Azingo Mobile 2.0 stack
(Click to enlarge)
R2's key enhancement, according to LiMo, is its support for BONDI v1.0 specification, which standardizes a set of device interfaces for web applications and widgets. Established by OMTP (Open Mobile Terminal Project), an industry standards group backed by major mobile operators, BONDI enables developers to employ common web authoring tools to create rich-media apps and and widgets that that can run on all LiMo R2 handsets that support web runtimes, says the foundation.
BONDI includes APIs that widgets can use to perform actions such as interface with peripherals (such as cameras), launch applications, and invoke messaging calls. LiMo is said to be the first industry handset platform to provide explicit support for BONDI technologies. (For more information on BONDI, see our previous coverage.)
First Android, now Pre: LiMo challenge gets tougher
The acceptance of R2 may prove pivotal for the LiMo spec as it struggles to gain traction in the crowded smartphone market. Competition is fierce even among the small, but growing market for Linux-based mobile stacks. Google recently announced that 18 Android smartphones would ship this year, and Verizon Wireless recently said it would join Sprint in offering the Palm Pre, which is due to ship in a few days. Meanwhile, Windows Mobile continues to do good business in smartphones, Apple and RIM are as competitive as ever with their iPhone and BlackBerry phones, respectively, and Nokia's struggling, but still dominant Symbian may well be reignited as it transitions to an open source phone OS.
So far, the majority of LiMo handsets have been NEC and Panasonic phones destined for Japan's NTT DoCoMo users, as well as a number of Motorola phones. Although Motorola has continued to roll out LiMo-compliant phones, its struggling handset division has announced that it will focus its future smartphone development on Android, starting with an Android smartphone due to ship this Fall.
In March, VisionMobile Research Director Andreas Constantinou published a white paper that appeared on LinuxDevices stating that LiMo had missed the boat by focusing too much on hammering out standards for the nuts and bolts of the lower layers of the telephony stack. While LiMo members squabbled over plumbing details, the industry had moved on to focusing on higher level application and service layers, he argued. Among other criticisms, he said LiMo membership fees were too high for smaller firms, and that the R1 spec left too many gaps that have to be filled in by handset developers.
Constantinou suggested there was still time for LiMo to regain a leadership position by moving higher up the stack, especially if it focuses on its strengths compared to Android in regard to its "IP safe harbor" component and more flexible development environment. A recent blog post on OpenSourceToGo by LiMo developer David Schlesinger (aka "Lefty") argued that Android locks developers into a "walled garden" that makes it difficult to adapt applications to other platforms or even re-purpose skills learned from Android's Java-centric development environment.
Clearly, Android phones and the Palm Pre have an organizational advantage over LiMo by being dominated or controlled, Apple-iPhone style, by single companies. That corporate dominance has its drawbacks, especially from a carrier's point of view, but it seems to translate into faster, more cohesive execution.
Limo: 10 new members, 20 new phones in '09
Still, the completion of R2 offers LiMo a solid shot at making an impact for the holiday season, assuming of course that smartphone sales continue to stand up against the recession. In a recent story in Reuters, LiMo executive director Morgan Gillis was quoted as saying he expected LiMo to add add about 10 members and launch 20 new models this year, which certainly sounds like progress.

LG LiMo Phone design
One of the new handsets is expected to come from LG. Its LiMo Phone handset (pictured at right) is said to offer a touchscreen interface, with WebKit-based connectivity and browser, a Web Runtime for widgets, and rich multimedia support, says LiMo. Samsung, meanwhile, will show two LiMo-ready handsets as reference devices.
In February, Access showed off its new LiMo-compliant Access Linux Platform (ALP) 3.0, which NTT DoCoMo has selected as a successor to its MOAP/L Linux platform, long used by Panasonic, NEC, and Esteemo in dozens of popular Linux phones. DoCoMo will begin distributing 3G FOMA phones based on ALP in the second half of 2009, Access said.
Earlier this year Azingo demonstrated its touchscreen-enabled Azingo Mobile 2.0 (pictured farther above), which offers a new runtime, homescreen interface, browser, and UI toolkit. Together these are said to enable a smartphone-ready touchscreen- and web-widgets interface. Azingo's new stack will run on an upcoming Vodafone phone.
Stated LiMo's Morgan Gillis, "By integrating support for BONDI frameworks, R2 makes a major leap towards democratizing mobile application development and unlocking true innovation from millions of web developers around the globe for the benefit of mobile consumers everywhere."
Availability
LiMo Platform R2 APIs will be released in the early Fall, and handsets based on R2 will begin appearing in the fourth quarter, says the LiMo Foundation.
The Reuters interview with LiMo's Morgan Gillis may be found here. The David Schlesinger blog on OpenSourceToGo about Android's "walled garden" development environment may be found here.
---

This article was originally published on LinuxDevices.com and has been donated to the open source community by QuinStreet Inc. Please visit LinuxToday.com for up-to-date news and articles about Linux and open source.