Feb 23, 2009 — by Eric Brown — from the LinuxDevices Archive — 38 views
Working through the OSADL, German embedded-systems vendor Denx is seeking community participation and funding for a Freescale MPC512x Linux BSP (board support package) suitable for inclusion in mainline Linux. Based on a PowerPC core, the MPC512x targets automotive telematics, building automation, medical diagnostics, surveillance, digital home, and gaming applications.
According to Denx's Andreas Widder, Denx's Linux BSP for the MPC512x will be based on a 2.6.29 kernel. The BSP will be partially funded by the OSADL (Open Source Automation Development Labs), an industry group sponsoring various community projects around real-time and industrial Linux. The OSADL can support only a third of the ambitious project, however, and Denx hopes others interested in making a mainline MPC512x port happen will join the OSADL and/or pitch in.
Freescale's support for these SoCs is currently based on Linux 2.6.24, and is "certainly not in a shape to be ever suitable for upstream submission to mainline," according to Widder. According to Denx, the company had considered "developing in parallel a wide variety of half-hearted ports, none of which may ever be accepted in mainline Linux," but decided it would be better to use the OSADL process to develop a single port, aimed eventually at integration with mainline Linux. The advantage is not only convenience for MPC512x developers, but lower costs, says Denx.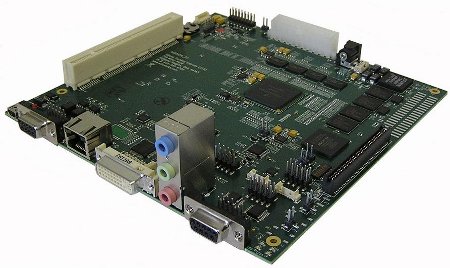 Freescale's ADS5121 mini-ITX dev board
(Click to enlarge)
Denx will use the Freescale ADS5121 evaluation board as a starting point, wrote Widder. The porting project aims to start with priority MPC512x features, including CPU, serial console, and Ethernet. Denx then plans to move on to real-time support, memory, I2C, and PCI, before concluding with support for various peripherals.
Freescale's telematics and industrial workhorse
The Freescale MPC512x is considered the successor to the popular MPC5200. Denx's Embedded Linux Development Kit (ELDK) SDK, an open-source Linux distribution and development tool suite that is popular in Europe's industrial Linux community, has often been used with the MPC5200. For example, ELDK was used to build Neuronics's Katana Robotic Arm.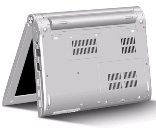 CherryPal's Bing:
MPC5121e inside
(Click for details)
The initial release of the MPC512x family was the MPC5121e telematics processor introduced in 2007. The Linux-ready SoC is aimed primarily at automotive OEM and aftermarket vendors, but has found a wider market, including use in a netbook (pictured). In October, Wind River announced a Linux development kit for the processor.
Based on an e300 PowerPC core clocked up to 400MHz, the MPC5121e integrates an XGA (1024 x 768) LCD controller, along with a PowerVR MBX Lite 2D/3D graphics core from Imagination Technologies. Additionally, a "fully programmable" 32-bit RISC-based multimedia acceleration core is said to accelerate the decompression of popular audio formats, as well as support key features for speech recognition and in-vehicle hands-free applications based on Bluetooth.
In April, Freescale announced an MPC5123 version with more memory, and a display controller supporting wider resolutions (see diagram below). Targeted at a broader market of industrial and display applications, the MPC5123 dispenses with the PowerVR core.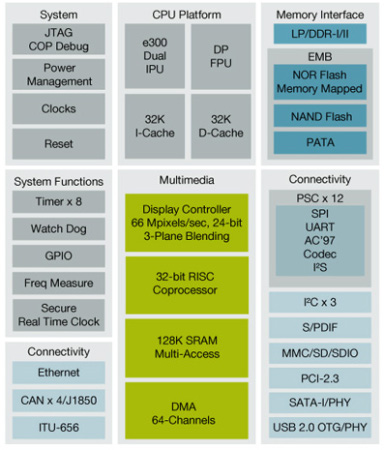 Freescale MPC5123 architecture
The OSADL, which has grown to 26 members, aims to standardize and promote Linux support for automation, in much the way the Linux Foundation works as an organizing group for Linux in general. Last month, the group, integrated the Real-Time Linux Foundation (RTLF) within the OSADL. More information can be found on the organization's website, here.
---

This article was originally published on LinuxDevices.com and has been donated to the open source community by QuinStreet Inc. Please visit LinuxToday.com for up-to-date news and articles about Linux and open source.