Sep 22, 2010 — by Eric Brown — from the LinuxDevices Archive — 13 views
Freescale Semiconductor announced a Home Energy Gateway (HEG) "smart grid" reference platform that can be based on three existing ARM processors or a yet-to-be-announced mystery SoC (system-on-chip). Supported with Linux and Windows BSPs by Adeneo Embedded, the HEG offers features for collecting power consumption data over ZigBee networks from Home Area Network (HAN) appliances, controlling power activation, and communicating with utility networks.
Freescale's reference platform is designed to support smart grid features including collecting power consumption data from multiple HAN sources, providing appliance control menus, and supporting WAN links for remote control/readout, says the company.
The HEG platform's remote metering capabilities will let service providers and utility companies respond to demand by varying pricing according to time of usage, says Freescale. According to IMS Research, more than one hundred million smart meters with HAN connectivity are forecast to be installed during the 2010-2014 period, says the company.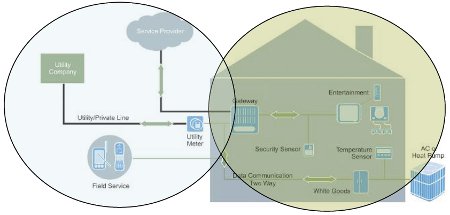 Freescale's conceptual diagram for HEG/HAN interchange
(Click to enlarge)
Freescale's Home Energy Gateway (HEG) reference platform will integrate a variety of connectivity options "to meet the different regional standards and preferred communication protocols associated with smart grid deployments planned around the world," says Freescale.
The HEG reference platform is said to feature "plug and play" connectivity interfaces to meter(s) and home automation systems within the HAN. These include a ZigBee Smart Energy 1.0 component based on Freescale's MC13224V part, which is said to be certified by the ZigBee Alliance that oversees the low-bandwidth, short-range ZigBee wireless standard. There is also a sub-GHz radio component based on Freescale's 9S08QE32 8bit MCU (micro-controller unit), says the company.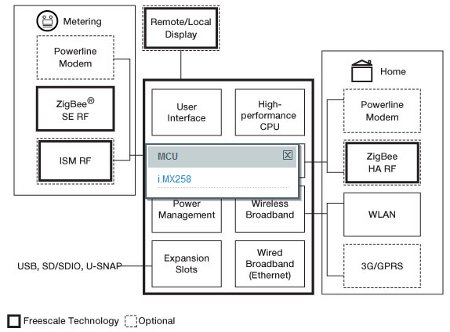 Freescale HEG reference platform block diagram
(Click to enlarge)
The HEG platform offers Wi-Fi and Ethernet communications, as well as RS-232 and RS-485 serial fieldbus interfaces for connecting to microgrid generation units, says Freescale. The block diagram above also indicates a USB port and SD/SDIO expansion slot.
Meanwhile, expansion ports are offered for future options such as powerline modems, 3G or GPRS data modems, and U-SNAP (Utility Smart Network Access Port) extension cards for connecting to utility's smart meters.
In addition, the HEG provides "user interface connectivity options to raise consumer energy awareness and simplify household management through engaging and intuitive HMIs (human-machine interfaces)." We're only guessing here, but this would appear to refer to web-based interfaces to a utility site that most likely run on connected touchscreen displays.
The HEG also supplies ProSyst's OSGi/ProSyst mBS Smart Home option, which provides a multi-services and multi-applications execution environment with remote management capabilities. These are said to include software and firmware lifecycle management, provisioning, remote configuration, and remote monitoring.
OSGi is a Java-based middleware standard for embedded and server environments. MicroDoc also appears to play a role in the OSGi implementation.
A mystery SoC and OS
Adeneo Embedded is offering HEG board support packages (BSPs) for Linux and Microsoft Windows Embedded Compact 7, says Freescale. Adeneo will also support customers for hardware adaptations, OS integration, and software development. Meanwhile support for QNX and Neutrino will be offered by other vendors.
Somewhat cryptically, however, Freescale says that the HEG platform is powered by one of its ARM9-based i.MX system-on-chips (SoCs), "which will launch soon and runs on a pre-release operating system." The OS is said to "provide powerful tools and a streamlined development environment to fuel the proliferation of connected, immersive and intelligent in-home devices." (By "operating system," Freescale may be referring to something like the Linux-based MeeGo, or else to some unnamed, cross-platform HAN stack.)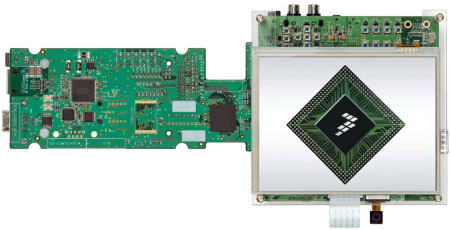 i.MX25x PDK
A Freescale rep confirmed, however, that the announcement relates to a Freescale HEG page adorned with the block diagram farther above, which shows an existing ARM9-based i.MX258 SoC. Also listed under "recommended devices" for the HEG platform are the ARM9 i.MX233 and the Cortex-A8 i.MX515. (Adeneo, meanwhile, offers generic BSPs for both the i.MX25x PDK pictured above and the i.MX23x EDK shown below, but not for an i.MX515 development board.)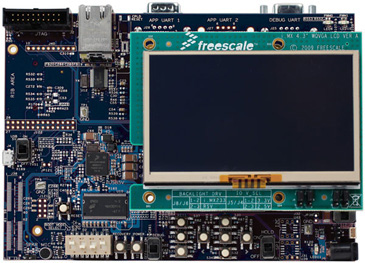 i.MX23x EDK
Although Freescale says the SoC will "launch soon," all the above SoCs are already in production. Considering that Freescale touts the HEG as running its "latest ARM9 i.MX application processor with rich peripheral integration and embedded power management," we're guessing the announcement presages an addition to the i.MX product line.
Regarding the existing processors mentioned above, the 400MHz, ARM9 i.MX258 SoC is the high end industrial/retail model in Freescale's line of i.MX25x SoCs. Announced last year, the i.MX258 features a resistive touchscreen controller, camera sensor interface, two smartcard interfaces, two CAN interfaces, and an ESAI interface for audio applications. Security features include an on-chip security engine and tamper detection circuitry, says Freescale.
The ARM9-based, 454MHz i.MX233, meanwhile, is touted for its mixed-signal technology including analog audio, integrated power management, and a monaural audio amplifier. The 1GHz, Cortex-A8 based i.MX515 SoC is known primarily for its use in netbooks, "smartbooks" and tablets, such as the detachable Android tablet on the new HP Photosmart eStation All-in-One printer.
Stated Daniel Schellhoss, executive vice president of ProSyst, "Our technical expertise on Java and OSGi complements perfectly the HEG reference platform of Freescale to allow device makers building faster and more cost effectively advanced energy management solutions.
Availability
Freescale's Home Energy Gateway reference platform will be available worldwide in the fourth quarter from systems integrator partner Adeneo Embedded, which will provide hardware manufacturing and BSP customization and support for Linux and Windows Embedded Compact 7.
More information may be found at Freescale, here. More information may eventually be found at Adeneo's Freescale i.MX BSP page, here.
Freescale is demonstrating the HEG platform at the Metering Europe conference in Vienna, Austria, this week.
---
This article was originally published on LinuxDevices.com and has been donated to the open source community by QuinStreet Inc. Please visit LinuxToday.com for up-to-date news and articles about Linux and open source.